Cashing in on the growth prospects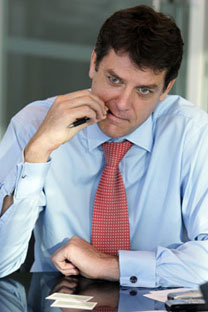 CEO of Renaissance Group, Stephen Jennings
Russia's asset management business is up for grabs. The CEO of Renaissance Group, Stephen Jennings argues that Russia has just begun a new "super cycle" and is looking at about a decade of stellar returns.
New Zealand born and only foreigner to have been dubbed "oligarch" in Russia, Jennings founded the group in the mid-1990s and was worth over a billion dollars just before the crisis struck. But the banking group survived and on Febraury, he launched the new fund Renaissance Asset Management (RAM) with $800 mn in assets, which he hopes will be worth $10 bn in five years' time.
"RAM will be the pre-eminent asset manager in Russia, emerging Europe and Africa," Jennings said in lilting accent of his homeland that is slightly out of place on the frozen streets of Moscow. "A huge amount of development already has been archived in Russia with equities, banks and the like, but asset management has yet to start. The largest firms in 5-7 years' time will be very large and valuable."
Predicting this kind of growth anywhere else in the world would raise scoffs of disbelief – but not in Russia. Over the last ten years, the Russian equity market returned just under 750 pc, easily beating out the second best performing market in the world, China, which was up 190 pc, according to equity rating company Morningstar (and that is including the loses made in the recent crisis).
The trouble is that over the last 13 years, Russia has always been in either the three best performing markets in the world – or the bottom. Investing into Russian stocks is all about timing and if you get it right, the returns are huge.
This is why Jennings has chosen now to launch the fund. The Russian stock market lost nearly 80 pc of its value in just a few weeks after a "death spiral" of selling began in September 2008. The market bounced back at the start of 2009 and returned nearly 150 pc for investors brave enough to go back in.
But as RAM's manager Bulgarian born Plamen Monovski points out, the market needs to rise 400 pc just to attain all the ground it lost last year. Thanks to Russia's bad image, it remains the cheapest of all the world's significant equity markets on a price to earnings basis.
"The time to invest is now," says Monovski. "Emerging market discounts are currently at a all time high. Russia had a horrible crisis but unlike last time, this crisis didn't decimate the economy. You will pay a lot less for growth and profits in Russia. We are certain that this market will grow for a long time."
And if anyone can realise Jenning's dream, the London-based Monovski can. He joined RAM as a chief investment officer, got designated in February coming from leading US hedge fund Blackrock, where he built up their emerging Europe fund from a $80 mn exotic oddity into a $9 bn powerhouse and top ten performing fund in the world during the 1990s. And Monovski hopes to do it all over again; the crisis has knocked Russia's equity market back several years of development and he argues that it will simply repeat the same performance of the last decade.
"There will be a boom of unprecedented proportions," says Monovski. "Russia is currently amongst the cheapest markets in the world and we have just started out on the next cycle. The market seems like it has done a lot already, but really it still has a lot to do.
Currently, the funds in the company are being offered to institutional investors, but as the fund will receive UUU status approval in June, it will become available to retail investors around the world.
"Building up the fund is going to be a long, slow process as we are in the business of winning trust and you can only do that by consistent long-term performance," says Monovski. "The goal is to be the best in breed and give access to investors large and small to opportunities that are currently unavailable to them."
All rights reserved by Rossiyskaya Gazeta.