Stakes are high for stocks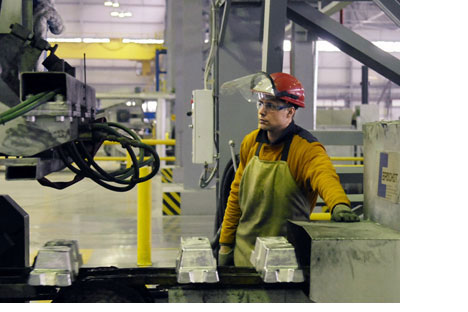 The world's largest aluminium producer RusAl's successful IPOin Hong Kong opened doors for other Russian and CIS issuers
Major US oil fields returning to production will not satisfy global energy demand, says General Director of Zerich Capital Management Alexander Shcheglov.
Has the Russian stock market recovered?
Yes. Based on all conventional indicators such as turnovers, price benchmarks, etc., we can confidently say that the Russian market has seen a rebound.
We are past the global crisis and will see a growth trend for another 5-10 years until the next downturn. If you want to make long-term investments, it is just about time to enter the Russian stock market and start generating value.
The credit crunch is over but the RTS index is about 25 pc below its pre-crisis level. Why?
It is important to recognise that the price peak before the collapse was driven by the bubble effect. As early as 2007, serious financial experts were warning that all financial markets had been heavily oversold. These were not simply alarmists who make it their business to horrify the public with apocalyptic predictions. In 2008, everybody understood that things were too overheated to buy any stock. Still, investors could not bring themselves to believe that the obviously soaring market would soon collapse. That is why when trouble eventually struck as the fall was so steep.
It will take some time before the market can scramble back to its historic highs. We won't see it for another year or two, but the current level already reflects good progress.
The Russian economy has been slower to recover than the stock market. What are the reasons for this?
The Russian stock market is considerably different from the classic American model. The stock market in the United States is one of the major financial sources that fuel the economy. Most American companies are public corporations, private but owned by teams of shareholders, rather than one person. The stakes of the biggest shareholders hardly exceed several percentage points.
Although Russia is moving in that direction, right now, our stock market is nothing but a minor auxiliary tool for attracting investment into the economy. The bulk of capital comes from oligarchs, the government or foreign investors.
We are trying to make our economy public, but we have to overcome many challenges. One of them is the mindset of corporate leaders who prefer the model, under which businesses are controlled, either by a physical person or government agency. Therefore, even IPOs are seen as a way of tapping larger capital sources rather than increasing the value of the business.
Alexander Shcheglov, General Director of ZCM
What is happening in the IPO market?
The Russian IPO market is already stirring to life. RusAL is a great example. Although the aluminum giant had government anchor investors to back it, the floatation did raise some public money. The bond market does not look bad, demonstrating even faster recovery. But I would rather not make any specific forecasts.
What issuers could be of interest to investors?
The retail sector is getting back on track. It had to pay huge debts, but the business itself has not been affected because all people, wherever they are, have to eat. Consumers are about to start regaining their purchasing power. Salaries will go up. Additionally, the share of retail chains on the Russian market is not as big as in Europe. So even if consumers do not get any richer, the big retailers will be able to grow by acquiring smaller competitors.
Realty developers have brilliant prospects. Home ownership is limited in Russia and people will be looking to buy one. Russia did not have the subprime problem, which triggered the credit squeeze in the United States. American lenders offered mortgage loans to people who by definition could not have a home due to their marginalised situation in life. Russia, conversely, was short of housing even before the recession and the industry was struggling to catch up with demand. Companies had procurement problems with all kinds of supplies, including cement and construction vehicles.
There are also conventional drivers such as commodity markets. As we can see, oil and gas prices have been recovering too.
Can the shale gas fever affect this recovery?
Not much, really. The Americans have created excessive petroleum supply in the market. But let's look beyond the short-term horizon. Energy demand is bound to grow. There will be two centers of demand. The emerging Asian economies, the traditional pre-crisis demand drivers, will be joined by the United States and Europe. In this context, bringing large hydrocarbon fields back online in the United States makes sense, as this will smooth over the spike, but it will not be able to satisfy all the demand.
This dual-sourced increase may lead to substantial energy shortages that will take all kinds of resources, including shale gas and alternative energy, to alleviate. But the challenge is that shale gas has little time left to make it to the market, because the unconventional fields will be able to reach planned production targets only in 5 to 10 years. As for alternative fuel, its share is too small in the global energy mix. It is more of a political tool, which is used to put pressure on producers.
Another BRIC summit has been held in Argentina. How could it influence the global and Russian economy?
What unites us, perhaps, is the fact that western countries who are so far the real global leaders have acknowledged our presence.
Today, we are witnessing a dramatic transformation of the classic three-world model. Whereas the developed economies are happy with 2 or 3 pc growth, the third world is facing wider financial gaps between its members. One part of that world, including BRIC and such countries as Indonesia, Vietnam, South Africa and some others are edging closer to the leading nations. The other part, mostly in Africa, is degrading into even starker poverty.
All rights reserved by Rossiyskaya Gazeta.