Russian Embassy hosts Washington National Opera Ball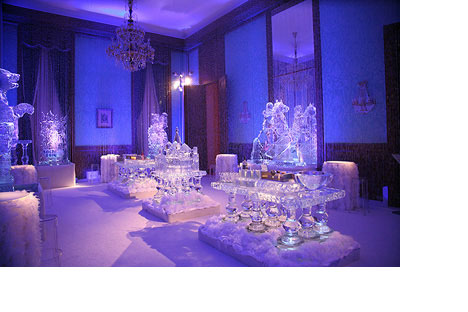 It was snowing outside the Embassy of the Russian Federation in Washington, D.C. last Friday night, and sylph-like dancers were playing in it, pushing around a large orb in the snow. Once inside the embassy, guests waded through a Narnia-like entrance of white birch trees with fake snow and clear beads until they noticed—could it be?—Boris Gudonov on the steps.
For the first time since its inception in the 1950s, the Russian Embassy hosted the Washington National Opera Ball. For 10 days and 10 nights in advance of the ball, local designers took over the embassy to create a fantastical take on the ancient and epic country. The result was a celebratory night of high theatrics that hit on every image of Russia from the bear, sculpted in ice, to a replica of New York's Russian Tea Room.

Embassy staffers did not seem to recognize the place. The Petrovskii Hall, a blue room dedicated to the Russian Navy, became the ice room, a fantasy of ice tables, ice bowls filled with Caspian Sea Beluga caviar and Russian vodka. The area was packed with DC socialites, diplomats and Russia-watchers squeezing in for a spoonful of caviar on blini with a cool shot.

Similarly, the famed Golden Hall was replete with Faberge eggs made of chocolate cake and delicate, filigree-style icing, much of it applied with tweezers. And if that did not grab one's attention, the Bolshoi's youngest emerging singers performed more than once.

Russian Ambassador Sergey Kislyak, an opera buff, helped fulfill a cultural mission: With six hundred guests, the event raised more than $1.5 million for the Washington National Opera, which has seen artistic growth (and more Russian singers onstage) under artistic director and famed tenor Placido Domingo.

Creating new cultural ties and traditions between the United States and Russia is a priority for the ambassador.

"This year's opera ball serves as a broad reflection of the positive direction of the U.S.-Russia relationship," said Susan Lehrman, chair of this year's ball.
All rights reserved by Rossiyskaya Gazeta.