Kudrin floats idea of spending cuts as budget remains under pressure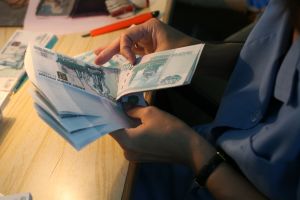 The situation is beginning to get serious for Finance Minister Alexei Kudrin, who floated the possibility of cutting government spending on May 20.
The Russian budget has been doing better than expected this year after oil prices rose to an average of about $76 per barrel, a big improvement over the $58 rate planned for in this year's budget. The higher oil prices mean the forecast deficit will be a lot lower this year than expected in January. Official predictions have fallen from 6.8 percent for the year to about 4 percent now, and analysts say it could be even lower. This also means that the state will probably not spend all its reserve fund this year on supporting the budget, as was thought at the start of the year.

However, as the debt crisis in Europe deepens, it seems that Kudrin has become even more cautious than the underestimate for oil prices in this year's budget would imply. Caution is Kudrin's hallmark; his ability to build up $600 billion in reserves while oil prices were high is one of the major reasons the Russian economy only contracted in 2009 and didn't collapse outright.

Economic growth this year has been propped up by state spending, which has ballooned in the last five years. The budget breaks even now at an oil price of about $110 per barrel. In 2007, Russia had a federal budget surplus of 5.1 percent of GDP with oil priced at $71 per barrel, Kudrin said, but the state has increased spending by about a third since the crisis hit to keep the economy on the rails.

Kudrin has already said that budget spending will be frozen at current levels for the next four years, after which the government should go back into the black. However, last week Kudrin hinted that more radical changes are on the way, saying that Russia could reduce the deficit to zero even if oil stays at $70, but it would be "necessary to reduce budget spending."

More details of this change in the plan are now trickling out. At a recent cabinet meeting, Kudrin said that the government plans to pack all federal spending into long-term programs from 2012, "in an effort to drastically cut the costs of running the country," after it exhausts cash reserves inherited from years of an oil boom. However, attendees of the meeting were tight-lipped on just what this means.

"It's about moving to state programs as a key tool of long-term planning," said Kudrin, talking about the plan after the cabinet meeting. "That's how we are moving - in a revolutionary way, in fact - to an analysis of all the options available for the government to achieve specific goals," he said.

There will be no long-term programs in next year's budget, as the government will take a year to work out what needs to be done and what can wait. Budget spending for 2012 will then probably be cut to 9.7 trillion rubles ($321 billion) from this year's projected 9.9 trillion rubles.

Prime Minister Vladimir Putin has already promised to, "mercilessly cut out the expenses that are ineffective or of secondary importance" and look for the least expensive options, he said last week.

Russian president Dmitry Medvedev will give a big speech on Russia's economics at the St Petersburg forum in June which he is likely to use to announce the grand plan going forward.
All rights reserved by Rossiyskaya Gazeta.