A revolution in the film business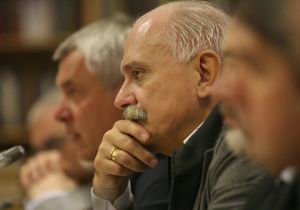 Russia's film industry has blossomed in the past decade and, despite recent waverings, is poised for both artistic and financial growth. Both art-house and action films are flourishing.
After a decade of anticipation, Nikita Mikhalkov's sequel to the 1994 Academy Award winning "Burnt By The Sun" opened at the Kremlin's Grand Palace last month. Laden with anvil-sized symbolism, the film revives the characters—a colonel, a KGB officer, and the love they both shared—thought to be dead when the first film ends at the height of Stalin's Terror.

Russia's critics dismissed his $55 million epic as a woefully unsuccessful sentimental journey. But the sequel already has its place at the table right now in competition at Cannes, where "Burnt By the Sun" won the Grand Prix.

Mikhalkov, compelling and controversial, was once considered a one-man film industry; and while the art he has shepherded is in flux, business is booming. Russian filmmaking has experienced a dynamic revolution and restored reputation in the past decade. The past two years have proved troublesome to this trend, but the industry is poised for growth.

"Some of the expectations of the past five years could not and have not been met," said Stephen Norris, Russian historian at Miami University and author of a forthcoming book on Russian cinema. "But at the same time, a lot of the huge strides the industry has made since 2000 have held."

The gains that have held include thousands of cinemas in swish new malls in Russia's urban centers. The revival in the Russian movie business that started in the early 2000s is regaining some of its stride.

While directors may begin to take a second look at patriotic blockbusters after Mikhalkov's recent stumble, Soviet-era directors and art house films have made a small but promising comeback. Films in recent years, from Andrei Zyagintsev's haunting "The Return," to Kira Muratova's macabre "The Piano Tuner," have shown a return to Russia's real cinematic strength—its Soviet-era avant garde.

Some of Russia's most popular films in recent years have shown an overt nostalgia, critics have noted, but that trend may begin to wane. "There is a certain wariness developing toward using cinema as a way to discuss national identity," Norris said.

More interesting is the reassertion of the values of the Soviet-era avant garde among directors, Norris added. Among Russia's best directors, one can see an assertion of the less populist and more cinematic principles of the great Russian masters, from Eisenstein to Tarkovsky.

Ironically, it was the collapse of the Soviet Union that brought the Russian movie juggernaut almost to a halt, with just 13 Russian-made films released in 1997, when total box office sales amounted to a paltry $6 million.

Over the next decade, the number of domestically produced films increased. Then in 2004, the vampire cult classic "Night Watch" grossed more than $16 million. It was followed by a procession of top-grossing Russian films, such as "Company Nine" (soldiers in Afghanistan during the Soviet invasion) and "Turkish Gambit" (a detective story during the Russo-Turkish war) in 2005.

Revenues fell sharply in 2009, as dozens of projects languished, but the Russian economy has picked up ahead of expectations and people are going to movies again.

The reemergence of Soviet directors is also the result of good business; in the 1990s, there were no theaters to show their movies in; now there are 2,100 theaters. However, art films have distribution difficulties despite international critical acclaim.

James Cameron's "Avatar" almost single-handedly boosted first-quarter 2010 ticket sales 73 percent from last year, and its success, along with "Alice in Wonderland" and "How to Train Your Dragon," show how the investment in new theaters, including 3D, pushed the market in Hollywood's favor.

U.S. films may have benefited the most from the business boom, but Russian producers made up half of this year's top 10. That earning power, coupled with state support for the industry that began in 2002, has led to bigger-budget movies and encouraged international studios to get in on the act.

Mikhalkov's disappointment could lead other directors to rethink the formula of recent patriotic films. If blockbuster producers take interest in any of Russia's significant avant garde directors, the result could be a winner, all the way to Cannes.
All rights reserved by Rossiyskaya Gazeta.