Russian Internet goes Cyrillic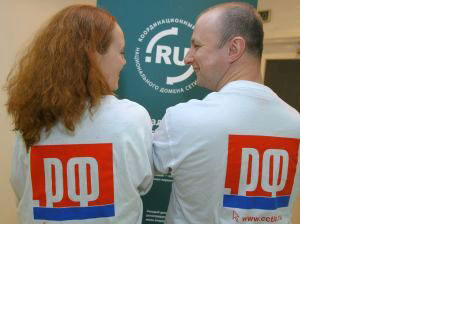 Representatives of the Internet Corporation for Assigned Names and Numbers (ICANN) handed Russia its Cyrillic domain administration certificate at an Internet forum that kicked off in Moscow. The arrival of Cyrillic on the Internet, where Latin characters have long held a monopoly, follows a similar switch a week before, when websites in Egypt, Saudi Arabia and the United Arab Emirates began using Arabic script in their web addresses. ICANN chief executive Rod Beckstrom said the new native-script domains will help make the World Wide Web even more global.
"It's a very big move. The Internet's been around roughly for four decades and this is the first time that domain names are opening up to people's native tongues and scripts," Beckstrom says. "So for the many people in the world that speak Cyrillic or Arabic-based languages or Chinese-based languages, this is very significant, and Russia is a very important part of ICANN, which is a global organisation. So we are very excited to see this happening."

Igor Shchyogolev, Russia's minister of communications and mass media, was among the top officials who came to the forum to hail what many have already described as a "birth certificate" for Cyrillic Internet domains.

Shchyogolev told the forum that the changes mark the end of the Latin script's domination of the Internet — although certain challenges remain.

"The wonderful little character @, which is used to write all Internet addresses, does not exist on the Russian keyboard," Shchyogolev notes. "To type this character, users have to switch their keyboard from Cyrillic to Latin. This is a detail, but it shows that we have so far been oriented towards the Latin script."

ICANN approved the use of non-Latin characters in Internet domain names last autumn. According to ICANN, more than half of the world's 1.6 bn Internet users speak a native language that is not written with the Latin alphabet.

In Russia, only two Cyrillic addresses were launched in mid May: президент.рф and правительство.рф, the web sites of the country's president and government.

Gradually, more and more web address holders will be able to "Russify" their domains. Following private companies, media outlets and political parties, ordinary users will be able to register for domains in Cyrillic starting October 1.

President Dmitry Medvedev and Prime Minister Vladimir Putin, both self-professed Internet buffs, have actively lobbied for the introduction of Cyrillic domains in Russia.

Supporters say the changes will make the Internet more accessible to Russians who feel intimidated by the Latin script. The Cyrillic web addresses, they say, will also help boost web use in the provinces, which still lag far behind big cities in terms of Internet penetration.

More than 30 mn Russians are regular Internet users, out of a total population of some 140 mn and the country has the fastest-growing Internet community in Europe.

Aleksandr Amzin, an Internet expert at the online news agency Lenta.ru, predicts that Cyrillic domains will prove a success.

"The Russian Internet represents a massive audience, an audience that does not necessarily know English or the Latin alphabet and for whom it is much simpler to write in Russian than in English," he said. "For businesses, it's not a bad thing either."

www.rferl.org
All rights reserved by Rossiyskaya Gazeta.