The struggle from stair to door (+ video)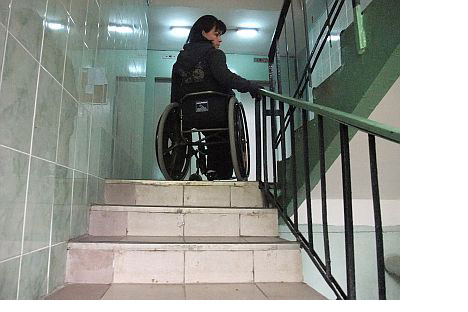 Liliana Fyodorova must descend a staircase backward to leaveher home
Individual Russians have started grassroots organizations to open doors for the disabled, but progress is achingly slow. Some hope that Sochi's Paralympics will provide a model of access.
Living with a disability in Russia is an epic struggle. Take Liliana Fyodorova. To leave her apartment building, she must descend six steep and narrow concrete steps. Backwards. In a wheelchair. Then there's the curb from the sidewalk to the street. And another curb after that. Three times she's fallen, bouncing her head off the unyielding tile floor so sharply that she was hospitalized.

The disabled face a vast array of problems—in employment, housing and medical care. They confront public indifference or blatant discrimination. But lack of access remains their most formidable barrier.

Things have improved in recent years, but only a bit. The collapse of the Soviet system meant advocacy groups were free to organize. Russia's drive for international respect and acceptance led to measures that, at least on paper, suggested solutions. The rush to capitalism brought malls with, thanks to a 1992 law, handicapped access. The Internet lessened their cold isolation.

But progress is as slow and painful as Fyodorova's trip from home to city street, and often comes only through exceptional personal will or ingenuity.

"In Russia, a disabled person is excluded from life with very few exceptions," she said. "If the government could create a ghetto and exile all the disabled like in Stalin's time, they'd do it. But because we want to be treated like a civilized country, we don't do that."


Fyodorova was 27, a wife and the mother of a 5-year-old daughter, when botched surgery for a ruptured disc left her paralyzed from the waist down. A surgical nurse herself, she had sought out the best doctors at one of the best hospitals, to no avail.

"I came to the hospital in high heels; I left in a wheelchair," she said. And in a despair so deep she'd begged her doctors for a fatal overdose.

A year later, while she was still bedridden, her husband left her, demanding custody of their child. "He said a disabled person shouldn't raise a child." Fierce anger banished the despair. "I said: 'I'm going to live!'"

The disabled in Russia are invisible people. Alexey Nalogin said he'd never seen anyone in a wheelchair until he was stricken himself. Like Fyodorova, he awoke from surgery a paraplegic. A series of bone grafts gone wrong had left him with an S-shaped spine so deeply curved he couldn't sit up. He was just 14.

The system wrote him off, expecting him to die young. "In Russia, someone who's disabled is treated as someone whose life is over," he said.


Russia's paralympic taekwando team has taken the highest honors at leading international tournaments
He spent the next 8 1/2 years in bed. Enraged and unwilling to accept his fate, he and his family searched for a cure. Finally, when he was 19, they found doctors who'd operate but gave him only a 5 percent chance of surviving. The odds were too grim. Nalogin faced the fact he'd never walk.

But as one door slammed closed, another opened: the Internet.

From bed, Nalogin taught himself computer skills, created a charity website for a children's hospital and started a web design business. Inspired by pictures of Western leg braces on the Internet, he invented his own full-body brace. It enabled him to use a wheelchair; he was finally mobile. But, like Fyodorova, he faces a daunting obstacle course just leaving his apartment.

Fyodorova and Nalogin are among the 13 million Russians with disabilities, many of whom endure lives constricted by the walls of their homes. Russia's top leadership recognizes how deep and broad the problem is.

"When a disabled person can't go to the store, get easily on a plane or train, visit a museum, gym or cinema, or get a decent education, it's not just indifference or carelessness, it's a direct violation of the Constitution," President Dmitri Medvedev said in a speech last year.

Under Medvedev, Russia has signed a United Nations convention on the rights of the disabled. It promised to make Sochi a model of accessibility when the city hosts the 2014 Winter Olympics. There are new programs and services, mainly in Moscow. It's now possible, for example, for a disabled Muscovite to call a special taxi. But there is almost no access to public transportation.


Alexey's Armor

After Alexey Nalogin was left a bedridden, paraplegic teenager, he spent years surfing the Internet. One day, he noticed a photo of a polio victim in the West wearing leg braces. Nothing like them existed in Russia, and he was inspired. After several years of trial and error, he'd adapted the idea for his own body, inventing a full-body brace that supported his damaged, badly curved spine enough to enable him to use a wheelchair. He called it his armor, and it opened up the world for him. He was 22 years old and had been horizontal for more than eight years. Nalogin now has a small company, Armor, that makes similar braces for people afflicted with spinal problems. He employs 11 people and has two workshops in Moscow. Each brace is made to order with a plaster cast that mirrors the recipient's upper body.

See Alexey Nalogin's armor at www.dospehi.com
When Nalogin got his first wheelchair in 2000, he called the city for a list of places with handicapped access. "I was told the disabled don't go to restaurants and theaters," he recalled.

Many of the new laws are flawed or get only token compliance. "Russia has much more bureaucratic inertia than other countries," said Mikhail Terentiev, a member of parliament and secretary-general of the Russian Paralympic Committee.

The success of Russia's Paralympians, who took top honors at the Vancouver games this year, is helping change attitudes. "They show the rest of society that we can make a contribution to improving the image of our country," said Terentiev, who won seven Paralympic medals in 1998, 2002 and 2006 in biathalon and ski racing.

But even these star athletes got no government support until 2005. Russian broadcasters didn't bother to televise the Vancouver Paralympic Games even though the team far outshone their able-bodied Russian counterparts. Jobs for the disabled are scarce. The government says 40 percent, around 5 million people, are able to work. But fewer than a million do.

"They think people with disabilities will be a huge burden to them," said Denise Roza, executive director of the advocacy group Perspectiva, a pioneer in employment programs for the disabled. Similar barriers mean inclusive education remains a distant goal.

After winning custody of her child, Fyodorova spent years in rehab. Then, in 2002, she went to work at Perspectiva. "I started feeling like someone who was useful to society."

She spent two years working on employment issues. The job inspired her to go to law school. She was the first wheelchair-bound student at her university, which installed ramps for her.

Fyodorova plans to devote her life to disability law: "There are so many people like me in Russia."
All rights reserved by Rossiyskaya Gazeta.