War II allies at V-Day parade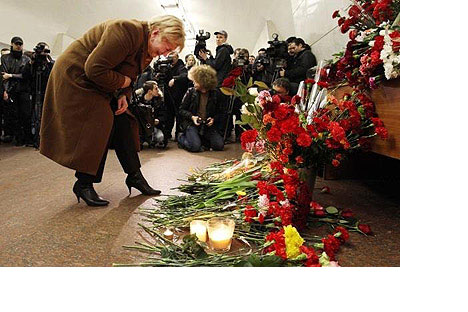 Veterans are honored each year on May 9 inan elaborate parade on Red Square
For the first time in history, the V-Day parade saw wartime allies of the Soviet Union joining Russian troops to celebrate the defeat of the barbarism epitomised by Hitler's Germany.
Soldiers from Britain, France, Poland and the US, allies of the Soviet Union, and now NATO members, marched step in step with 10,500 Russian troops and military contingents of the former Soviet republics as they shouted hurrah, showing how the Cold War rivalries has receded in the face of the shifting international equations.

The celebrations, costing around $40 mn, involved over 10,000 personnel, 200 veterans from 24 foreign countries, 150 tracked and wheeled military vehicles and 127 aircraft.

Many international leaders, including German Chancellor Angela Merkel, acting Polish President Bronislaw Komorowski and Chinese President Hu Jintao, flew to Moscow for the celebrations.

The former allies' participation in the V-Day parade has, however, revived an old debate about the Second World War and Russia's role in this epochal event, what Russians call the Great Patriotic War. In a recent poll conducted by the All Russian Public Opinion Research Center, 91 pc of respondents said the Soviet Union made the biggest contribution to victory over Nazi Germany, while only 3 pc cited the US, and only 1 pc of respondents believed it was Britain and France.


Photos by Konstantin Zavrazhin and Victor Vasenin, Rossiyskaya Gazeta.
Click to stop the slideshow. Click again to continue.


Patriotism apart, the World War II remains a touchstone of widely varying emotions in Russia, ranging from nostalgia to probing soul-searching. But ignorance about basic facts of the World War II is pervasive. Heroic myths continue to proliferate. But despite this, most Russians believe the victory in 1945 was the greatest in the country's history. In May 2008, Medvedev set up a commission to "Counter Attempts to Falsify History to the Detriment of Russia's Interests". The commission's task, the president said, was to "defend Russia against falsifiers of history and those who would deny the Soviet contribution to the victory in World War II".

"The Second World War, however, remains one of the biggest myths in Russians' mass consciousness and it is still a taboo topic," says Karolina Soloyed, an associate professor at the Institute of Practical Psychology in Moscow. Now, there is a genuine psychic probing into what exactly happened, a trend that started after citizens of the former Soviet Union started to travel abroad after the fall of the Berlin Wall. "Many Russian people today are interested in the history of their families and the country in general. Some of them search for the graves of soldiers who died during the war. It is very important because this is a way to recovery," says Soloyed.
All rights reserved by Rossiyskaya Gazeta.