Ballet and blinis can win hearts (+video)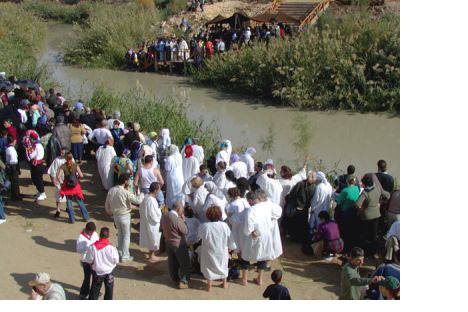 Russians make pilgrimage to the River Jordan whereJesus Christ was baptised by John the Baptist
Russia is seeking to recover its lost global influence. This time it's coming not with weapons, but with ballet and blinis.
On a warm night in moist Mediterranean air, luxury SUVs slow down and park along the pavement of a busy road trimmed with lilac and pink bougainvilleas. "Bystree! [hurry!]" a little girl yells at her father. "Ya seichas [I'm coming]," he says with a thick Middle Eastern accent.

Hand-in-hand they run towards a five-storey building and into a basement theatre. Here, away from the noisy construction sites of booming Beirut, a performance by a Russian folk ensemble feels almost surreal: "And the birch tree stands in sleepy silence. And the snow flakes burn in golden light." The gentle melody of accordion and guitar covers the audience with a blanket of melancholy.

In its 60-year history, the Beirut Centre of Russian Culture and Science has learned how to transform from a school of Russian language and ballet classes on each of its five floors during the day into a party and amusement centre in the evenings; or, when war hits the tiny country, into a bomb shelter for the Russians of Beirut.

The Russian community in Beirut arose on its own, with roots tracing back to Russian orthodox pilgrims who for centuries made their way on foot to Jerusalem on a months-long journey, some staying in what is now Lebanon. It was reinforced by exiled White Russian officers brought to Beirut by the French occupying army in the Twenties, to work as surveyors.

Eventually, about 3,000 White Russians lived in the city, holding an annual Russian Ball from the Thirties onwards. The Soviets offered scholarships to Lebanese communists.




Medvedev's approach

There is something new today. In order to strengthen Russia's dwindling power in the world and promote Russian language and culture, president Medvedev founded a federal agency, Rossotrudnichestvo (Russian Collaboration), two years ago.

The new agency's funding has increased at least by 50pc since last year – this year, the state invested £350m in various humanitarian programmes and salaries for employees working in 72 Russian cultural centres around the world. Rather than starting with a blank page, they build on the existing Russian diasporas, adjusting to the peculiarities and interests of even little-known pockets of Russian culture like that in Beirut.

According to the deputy head of the agency, Mikhail Kozhokhin, the Middle East is a geopolitical priority region for developing Russia's influence. The Centre representing the agency in Damascus educates 500 students; the Russian Centre in Tel Aviv runs successful youth contests of writing and poetry among the huge Russian-speaking diaspora there. Last year, the agency opened a new Russian Centre in Amman, Jordan.

However, Yekatherina Sokirianskaya of the Memorial Human Rights group sounded sceptical about the amount of money Russia is investing into its Centres of Culture and Science in the Middle East.

She suggested that the money would be better spent on some of the republics in the territory of the Russian Federation: "I have never seen any palaces of culture in Grozny or Nazran. Children in Chechnya and Ingushetia do not see Russian people dance ballet or sing opera: they think that all Russian men wear uniforms and patrol their streets."

A home in the Middle East

"The Middle East has traditionally been in the sphere of serious Russian interests. A huge number of people in Palestine, Lebanon, Jordan and Syria had their higher education in the Soviet Union – they now occupy high positions in governments, businesses and science. These people, as well as Russian expatriates living in the region, look forward to the improvement of Russia's presence in the Middle East," Mr Kozhokhin said.


Remote co-operation through distance learning

To help Russian language teachers such as Marina Yermilova-Sarieddine, Rossotrudnichestvo is working on a programme for distance education funded by Gazprom. The idea is that Russian professors would work with foreign students without leaving their campuses in Moscow or St Petersburg. The agency is also sponsoring youth exchange programmes for 400 students from different countries this year; that number should be at least 3,000 in two years' time. "The US and Russia have stopped their military competition in Middle East," says Sergey Vorobyev, a cultural attaché at the Russian embassy in Lebanon. "Now we are back to compete with the USA and France in Lebanon, but this time in economy and culture." Mr Vorobyev adds that a survey of 50 countries conducted last year showed that Lebanon was in the top spot for positive attitudes toward Russia.
The community of 10,000 or so Russians and another 10,000 Lebanese educated in Soviet universities back in Eighties and Nineties look forward to Moscow's promises to help solve the main issue they have in Lebanon – security.

In the last 10 years of life in Beirut, Russian-language professor Marina Yermilova-Sarieddine saw multiple bombings of the city. In 2006, Marina was one of thousands of Russian expatriate women and children evacuated from Lebanon to Russia. Some of them ran from home to the Russian Centre in their slippers, she remembers.

"We really wish Medvedev could play a peacemaker's role in the Middle East; the ongoing possibility Israeli bombs will fall on us tomorrow feels devastating," she said from her Beirut classroom.

Russia's traditional role as arms broker and industrial engineer to the Arab countries has not gone away. In search of support for military and business deals, president Michel Suleiman travelled to meet president Medvedev last February – for the first time in history a Lebanese leader travelled to Moscow. At their meeting, Mr Medvedev said that the issues of global and regional security was "the most acute topic" in Russian-Lebanese negotiations. Prior to his recent visit to Syria, Mr Medvedev wrote in his article for Syrian Al-Vatan that Russia makes "serious efforts to support the 'reset' of Arab-Israel dialogue… to stimulate the movement towards peace and stability" in the Middle East.

Common history

The first wave of Russian immigrants escaping the Bolshevik revolution formed a kernel of Beirut's European professional class. The White Russian officers topographic society drew maps of Lebanon for the French army. One of them, Alexander Serov, was the son of a famous Russian artist, Valentin Serov.

The Serov family still lives in the same Ottoman-era house, a block away from the American University of Beirut, they have occupied since the Forties.


Representation abroad
Grigoriy Serof, who prefers the older transliteration of his name, teaches architecture at AUB and is also an artist who paints beautiful watercolour landscapes and city views of Lebanon.

Last year, Vladimir Putin awarded Serof and his French wife Florance medals for their input in promoting Russian culture in Lebanon.

"When I was in Moscow, I told everybody that after 80 years of my life in Beirut, I stayed 100pc Russian, but I am also 100pc Lebanese," Serof said with a smile.

The director of the Russian centre in Beirut, Mansur Khasanov, said that to have more leverage in the Middle East, Russia needs to build up an information bridge, translate Russian literature into Arabic and publish newspapers as was the common practice in the Soviet period.

"The good news is that with help of Rossotrudnichestvo we installed a satellite and flat-screen TV set at the Russian Centre, so our visitors can watch the new Russian channel Al-Yaum in Arabic from 9am to 9pm," Khasanov said.

The wave of immigration that came in the past two decades was peculiar: Russian women have their own way of building cultural bridges. Natalya Samaan runs a Russian women's club in Beirut for 57 Russian women who married some of the thousands of Lebanese men who went to study in Soviet universities, then returned to Lebanon. Some of their husbands are Suni, some Shiite, some Druz, some Christian.

"When we married our husbands, we also married their religions and political views," she said. "But at our tables covered with dishes full of pancakes or 'herring under a fur coat' they forget about all their contradictions," she added.

One result is a large number of dual-nationality Russian/Lebanese children, another group the Centre would like to remind of their Russian ties through parties and theatre evenings.

A new role?

Students at the American University of Technology in Lebanon celebrated Russian traditional students day by reciting Pushkin poetry, and Maslenitsa, the pancake holiday, by eating plenty of Russian blinis.

Nobody should have illusions that Russia will mediate the conflicts in the Middle East by teaching ballet or cooking blinis, Mr Kozhokhin said. But it's a start to restoring Russian influence in the region, he added.
All rights reserved by Rossiyskaya Gazeta.