Flotations tank as fear returns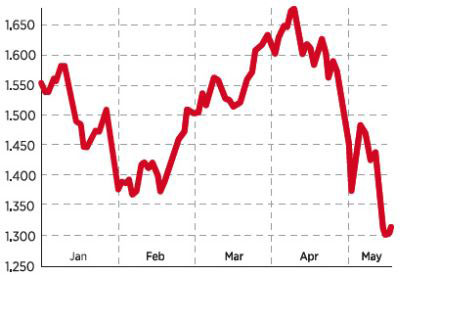 Russia's benchmark RST index: 2010
A combination of factors, such as European financial downshifting and market volatility, have caused some Russian companies to cancel or rethink planned IPOs.
"The external environment heavily affected the dynamics of the Russian stock market, as the volatility is huge," said Yaroslav Lissovolik, chief economist for Deutsche Bank in Moscow.

Russian agribusiness Rusagro which, in April, had initially declared its domestic IPO on MICEX and RTS, recently announced the cancellation of the placement due to volatility. This setback came a few days after Oleg Deripaska's Strikeforce Mining and Resources, a world leader in molybdenum alloys, cancelled its IPO for the same reason.

"As global market instability increased, it was very difficult for Russian managers to assess what the market will be when they were moving towards pricing of an offer," said Roger Monson, chief strategist at Unicredit in London. With doubts emerging from sellers and buyers alike, investors now require higher risk premiums, he added.

One relatively successful IPO was held by Russian seafood firm Russkoye Morye, just before the May stock market nosedive. Although the placement was conducted at the low end of the spread – about $6 per share – it attracted $90m.

Russian domestic factors, such as lack of corporate transparency, must be taken into consideration in assessing the Russkoye Morye offering, said Mr Monson. "Some Russian companies find global markets attractive, but the level of disclosure required is higher than they are comfortable with.

"Regulations for listing and transparency requirements in London are higher than they were – and higher than they are now in Shanghai and Hong Kong."

This dilemma, of whether to switch their listings to less demanding Chinese stock markets, is now taxing Russian companies. "A listing [in China] for any company is more likely to have more visibility," added Mr Monson.

But a listing in China could be a double-edged sword. "Failure in China will lead to lower world prices for commodities, and Russia will be affected," said Alexei Minayev, head of research at Rue, Man and Gore.

"We have to admit that conditions for raising funds externally aren't the best now; the main source of investment for industrial companies is their own profit."
All rights reserved by Rossiyskaya Gazeta.