Foreign policy with a smile on its face (+video)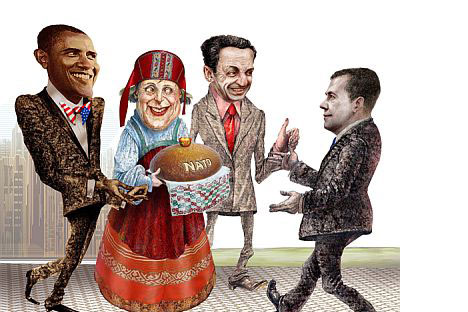 This was sparked by the appearance of a foreign ministry document released to Russian Newsweek on how Russia could exploit certain external factors to help modernise the country and strengthen its position in the global arena.
The document assumes that the global financial crisis has created new conditions in which the traditional global leaders – the US and the EU – are losing their advantage and new global power centres are emerging. Russia should take advantage of these trends and should create "alliances for modernisation" to promote its own development and strengthen its positions domestically and globally.

But the West is not the only focus of the document. It puts particular importance on integrating the economies of the former Soviet republics, opposing attempts by forces outside the region to weaken Russia and using the crisis to extend its economic influence into the Baltic states "given the sharp fall in their investment attractiveness for the EU states and the serious drop in value of their assets". In addition, the document takes a firm stance on Russia's strategic interest in the Arctic and on "limiting access to the Arctic by players from outside the region, including Nato and the European Union".


Media leaks Russia's foreign policy plans



One of the document's main leitmotivs, however, is that Russia should take advantage of the fact that the West is becoming weaker and less self-confident. Russia should assist the EU in solving its major international problems in exchange for addressing the Kremlin's concerns and proposals on a new European security architecture. The main message for Europe is that Russia wants closer business and political ties with the EU, but on an equal basis.

There were no surprises in the list of countries that Russia considers priority. Russia is placing its bets on Germany, France, Italy and Spain, while relations remain chilly with Britain. The final draft of this document will include an expanded list of priority countries and "national interests" once industry lobbyists have had their say.

The document has interesting references to China, suggesting that Russia "pay special attention to the growing role of China in international affairs, including the impact that activities by Beijing have on our global and regional interests". That is probably the strongest language that Russia can afford to use publicly to express its concern over China's steadily growing influence. This section of the document also mentions that Russia enjoys leverage in the United Nations Security Council where "under current conditions, the Chinese more frequently need our support than we need theirs."

Furthermore, Moscow expects to receive concrete economic benefits in return for supporting Iran, Syria and Cuba – states subjected to international pressure and sanctions. At the same time, Moscow apparently wants to avoid the type of experience it had with Libya. After Tripoli voluntarily gave up its nuclear weapons programme, cooperated with the West on cracking down on global terrorism and was removed from the West's list of pariah states, it promptly forgot the support it had received from Russia during all the years that it was on that list.

The foreign ministry took a firm stance toward Russia's strategic interests in the Arctic and the former Soviet republics, areas where the Kremlin feels the most pressure from the West, it is clear that the document places high priority on strengthening business interests with the West. But this is nothing new. For most of his presidency, Vladimir Putin attempted to establish business relations with his Western partners on a mutually beneficial basis. Starting with the now-forgotten idea of "debt for investment" in 2000 and ending with the desire to build relations based on an energy "asset swap" in 2005, all of Russia's proposals envisioned an intensive rapprochement with the West.

But all of these plans fell through. The US and the EU were focused on ideological, political and economic expansion, while Russia was repeatedly turned away by the West. Competitiveness, envy and inflammatory rhetoric eclipsed rational, pragmatic approaches. Europe and the US had planned to base their relations with Russia on the idea of common values, but Moscow decisively rejected that approach. In addition, Putin's style of behaviour and peculiar sense of humour did not go over well in the West. Putin, who has always despised international political hypocrisy and who considers public candour to be a virtue, only managed to find a common language with a handful of Western politicians who shared his views. That was not enough to achieve closer overall ties with the West.

But relations are more balanced now. Both sides have de facto recognised the limits of their own capabilities. The West does not have the resources to dominate the former Soviet republics, and Europe is drowning in its own problems. Russia has recognised the vulnerability of its economy and has set realistic priorities. This means that the Kremlin should step back from its former obstinate positions and be more amenable to compromise.

President Dmitry Medvedev made a revolutionary statement during an interview with a Danish journalist in April. When asked what face Russia should present to the outside world, Medvedev smiled and said: "It must be one that I have now: a smiling face. If this is the face of Russia, that of someone who smiles at other countries, I think that it's the right one." What's more, Russia should not "gnash its teeth at anyone, get angry, sulk or feel offended," Medvedev said. No Russian leader had ever spoken that self-critically.

Russia's relations with the West really are changing, but not because of any new strategy in Moscow. The foreign ministry document sets forth the same objectives and now defines them even more clearly than before. But the tactics are becoming more flexible. More specifically, Russia is now ready to offer "rewards" for constructive relations with the West in addition to its habitual and overused "retaliation" for destructive relations. Examples are the revised approaches to the US, Poland and Ukraine.

If Putin's policy was largely defined by the motto of "whoever offends us won't last three days", a remark he made in 2000, then 10 years later Medvedev has formulated a more positive version: "Smile at those who smile at us."

This latest attempt at pragmatism might prove to be more productive – that is, if unforeseen domestic or external factors do not interfere.

Fyodor Lukyanov is editor of Russia in Global Affairs.

Originally published in The Moscow Times.
All rights reserved by Rossiyskaya Gazeta.