Fridman succeeds in phone war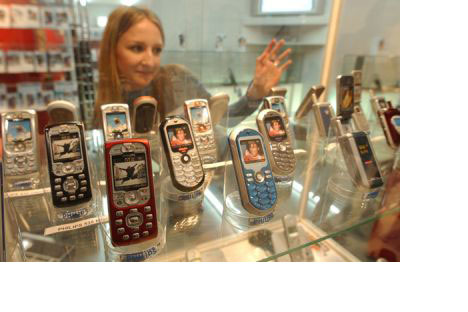 A luxury item for the privileged in the Nineties, mobile phonepenetration in Russia has now topped 140pc, with more than209 million SIM cards bought by a population of 143 million
From window cleaner to one of Russia's richest men, Mikhail Fridman has always set his sights high. And now it appears his telecoms dream may c ome true.
Of the original oligarchs who rose to prominence under Boris Yeltsin, Alfa Group founder Fridman is one of only two still in the game. He set his heart on telecommunications early on, and in April he cleared away the last obstacle to fulfilling his dream: to create a "Vodafone of the East".

"Fridman always made it clear that everything in the group was for sale – but not the phone business," says a former Alfa Group executive (who didn't want to be named) talking about the group's strategy.

Alfa Group was originally supposed to be a member of Mustcom, the consortium put together by Vladimir Potanin (the other surviving Yeltsin-era oligarch), which included a 25pc stake in the state's fixed-line operator Svyazinvest bought by international financier George Soros in 1996.

"We were pushed out by Potanin at the last minute," Fridman told this correspondent in an earlier interview. (Fridman refused to be interviewed for this article.) It was years later that Fridman began to formulate his plan to lead the Russian telecom sector.

Fridman's chubby figure and jolly demeanour is deceptive – in business he can be ruthless. And trouble has tended to follow in the wake of many of Alfa's purchases in the telecom sector.

The empire expands

The jewel in the crown in the group's telecom holdings is the stake in Russian mobile operator VimpelCom, which was set up in the early Nineties. With a sign-up fee of around £ 3,500 and usurious per-minute rates, it was profitable from day one; the company has since been a driving force in developing mobile telephony across Russia's nine time zones.

However, one of the very first reforms that president Vladimir Putin made on taking office in 2000 was to completely remake the telecom sector and create a level playing field. The reforms went so smoothly that its success has got very little attention – a lot less attention than subsequent reforms to sectors such as oil and banks that have gone less well.

The upshot is that Russia's telecom sector today doesn't look much different from those of Russia's western European peers. Growth of the sector has been quicker than most experts forecast: sim card penetration rate passed 100pc several years ago.

As the Russian market reaches maturity, the game is already starting to change, with the leading companies casting their eyes across borders to other emerging European markets that are still playing catch-up to Russia's lead.


Mobile telephony's market share
Fridman picked up a minority stake in Russia's third-largest mobile phone operator MegaFon in another long-running corporate tussle, as well as doing a deal two years ago to acquire a stake in Turkey's leading mobile company Turkcell. Alfa Group said in January that it wants to merge MegaFon and Turkcell into a holding company called Altimo, but Russia's regulator is not happy with the idea.

Yevgeny Dumalkin, a spokesman for Altimo, told newswires in January: "The 
potential of the telecommunications sector inside and outside of Russia is far from exhausted. In this regard, Altimo does not plan to part with its current assets in this sphere and will actually work to consolidate assets in the telecommunications sector."

But it is VimpelCom that holds the greatest promise and will be the cornerstone of Fridman's vision to build a mobile phone company covering the entire territory of the former Soviet Union and beyond.

Where next?

The merger – which featured a long-standing dispute between Altimo and Telenor, a Norwegian company that owned a 29.9pc stake in VimpelCom – marked one of the nastiest corporate battles in eastern Europe and did Russia's image a lot of damage. In the end, Fridman won out and both companies agreed to the creation of VimpelCom Ltd, combining his assets with VimpelCom and Kievstar, a leading Ukranian mobile operator.

One of the first Russian companies to list abroad, VimpelCom is listed on the New York Stock Exchange.

So far, the new company has said little on what its next step will be, but the merger means the company is already the leading operator in the two biggest markets in eastern Europe with a combined population of 188m people – equivalent to a quarter of the entire European population.

"VimpelCom Ltd says it doesn't have a strategy for now, but that it will be developed and announced in the summer," says Victor Klimovich, a telecom analyst at VTB Capital in Moscow.

"The only hint given is that the [former] CEO, Alexander Izosimov, said in February the company will probably concentrate more on mergers than acquisitions."

Fridman still has a clear field in most of the countries that the new company can expand into, but to really make the dream come true, Altimo will have to go up against the world's largest companies at some point.

"There's a rumour in the market that VimpelCom may bid for some of [the Middle East's mobile powerhouse] Orascom's assets – one of the biggest emerging market operators with operations in Africa as well as Pakistan and Bangladesh," says Mr Klimovich.

"It's thought VimpelCom is interested in the latter, but Telenor already has strong positions in those two countries – so that could see a problem again."
With the world's economy in tatters, the future for telecom companies is now in the fast- growing economies of the emerging markets, and Fridman has already placed himself in a strong position to emerge as one of the leaders in the race.
All rights reserved by Rossiyskaya Gazeta.