HP deal gives great credit to St Petersburg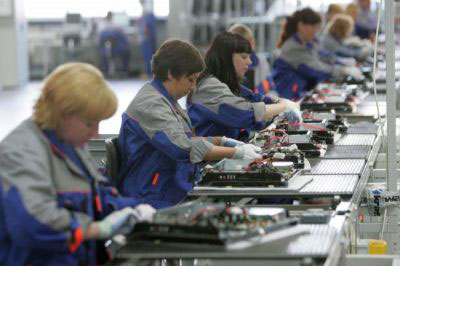 Long seen as a centre of excellence and innovation, Russia's second city welcomes an IT joint venture between two of the world's biggest players.
Hewlett-Packard and component maker Foxconn have opened a pilot assembly line to make computers in St Petersburg, but the partners offered few details on when their main production facility would be finished.

The April ceremony, attended by senior local officials including Governor Valentina Matviyenko, offered the US computer giant a welcome opportunity to showcase its investment in Russia after investigators raided its Moscow offices as part of a corruption probe earlier that month.

Jim Chang, executive vice president of Taiwan-based Hon Hai Precision Group, owner of Foxconn, said the plant would "probably not be finished this year" and could exceed initial cost expectations.

"Two years ago when we started this project, we announced the figure of $50m," he said. "We are still in the process of making our investment, but I have a feeling we may go beyond this figure."

The main factory in Kolpino, a suburb in southern St Petersburg, was supposed to be launched first, but because of the recession, the partners agreed to start with a pilot production line on a rented 10,000-square metre facility in nearby Shushary, HP and Foxconn sai d i n a statement.

The line, operating in test mode since the start of the year, will produce HP, HP Pro and Compaq models. It will initially employ 100 staff, though numbers will grow as production increases.

Eric Cador, HP's senior vice president in Europe, the Middle East and Africa, said the production pace would "be driven by demand".

The assembly line will produce up to 40,000 PCs per month. HP is now negotiating with its Russian partners on distribution, the statement said.

When asked by reporters about the logic of localising in Russia rather than importing from China, Chang conceded that the project had obstacles to overcome, at least in the short term.

"Like any company, from the efficiency point of view, we'd like to see ourselves in a profitable position, but we are realists," he said.

"At least at the beginning, this will not be a profitable project. We'll have to learn, but we are historically fast learners, so I'm optimistic about it."

"We are here for the long term, so I think it will be profitable," Cador added.

The main benefit to consumers, he said, will be faster access to new technology, since all updates will be made locally.

Matviyenko, who was on hand for the project's announcement in May 2008, said there was a good reason her city was chosen for the high-tech production. "The first radio and the first TV in Russia were made in St Petersburg, so we have a long tradition of innovation.

"We as a government are doing our best to create a hi-tech cluster, and this factory will become the first of its kind."

She then pressed a symbolic blue button to launch production, gifting the first 20 computers made there to a local school.
All rights reserved by Rossiyskaya Gazeta.