Russian galleries set up shop in the West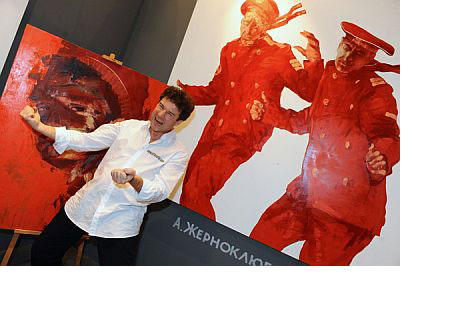 Contemporary artist Alexander Zhernoklyuev and his work atMoscow's Manezh hall
Frustrated by an underdeveloped and stagnant contemporary art market at home, a small but growing number of Russian art galleries are finding opportunity by opening up branches in Europe and the United States.
Since March, two Moscow galleries have opened in the West, and at least two more are pondering expansion. Late last year, a new gallery dedicated solely to Russian contemporary art opened in New York.

As these Russian galleries strive to realise their ambitions, it's clear that the international art market will never be the same. At the very least, international collectors will have greater exposure to Russian contemporary art. But if the Russian galleries can hold their own on foreign shores, and begin to successfully work with non-Russian artists, then they might be able to emerge as major players on the international contemporary art market and begin to influence collectors' tastes.

On March 15, Moscow gallery Art Kvartal became the first from Russia to open a space outside of the country, choosing Phoenix, Arizona, because of its vibrant gallery scene. Art Kvartal was soon followed by Regina, when the Moscow gallery opened a two-floor space in London's Fitzrovia on April 30.

"I need a gallery in the USA because about 70pc of my buyers in Moscow are foreigners, mostly expats," said Alexander Sharov, owner of Art Kvartal. "Few rich Russians buy contemporary art, and most prefer to buy antiques or luxury items – cars and yachts – because for them it's not easy to understand the lasting value in contemporary art, and that it will increase in value as the years go by."

Founded in 2005, Art Kvartal specialises in Russian and Ukrainian painters and interior designers whose styles range from realism and expressionism to the avant-garde. These include Alexander Zhernoklyuev, Alexei Alpatov, Maxim Bashev, and Andrei Syagalov. Many of the art works are large format, and sell for between $5,000 and $70,000.

"Russia is more than oil and gas exports, and fine art could become an important and lucrative export," said Sharov, a Moscow businessman who made his money with his paper trading company. "I see that foreign collectors, and I mean those people who really know art, have a strong appreciation for Russian art."

Regina Gallery's new London space "will develop activities to present the most exciting international art as well as focusing on established and emerging art from Russia and Ukraine", said Vladimir Ovcharenko, the gallery's owner.

"There are several reasons why we opened a gallery in London," said Ovcharenko. "We have a fantastic group of Russian artists who we want to show more often to the international audience. Second, more of our clients from Russia and Ukraine are often in London, even living there, and we need to be where they are, otherwise, they might find other galleries to work with."


Click to stop the slideshow. Click again to continue.

The opening coincided with Regina's 20th birthday, and in those two decades it has become one of Russia's most important contemporary art galleries.

It is one of the few to take part in the leading international art fairs such as Frieze in London, Art Basel Miami Beach and The Armory Show in New York.

"Opening a gallery space outside of Russia is definitely the new trend among ambitious Moscow galleries, who feel restrained by the limitations at home – the small pool of regular buyers, few innovative and dynamic artists, and the lack of an infrastructure to help galleries thrive," said Marina Goncharenko, owner of GMG Gallery in Moscow.

Heritage Gallery of Moscow is also considering opening a space in London, but at the moment would not comment on its plans. Heritage focuses on Russian emigré artists of the early to mid-20th century and contemporary Russian art.

"At the moment we're not committed to a certain timetable, but opening a gallery space in either London or New York is certainly part of our development plan over the next few years," said Goncharenko.

"Russian art galleries still have not become important players on the international art market, and few make it to major art fairs. So opening a space abroad is very important for one's development and image."
All rights reserved by Rossiyskaya Gazeta.