Strife in the beautiful game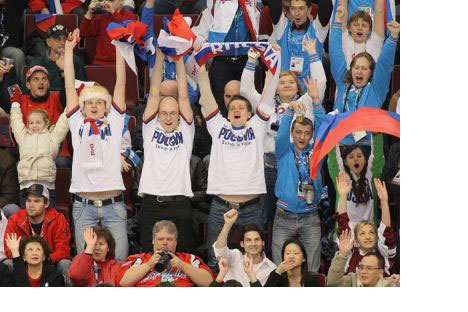 While enjoying a strong fan base locally, Russian footballclubs have yet to adopt to market realities
Russian football clubs are increasingly well-funded, but have not yet learnt to live by the rules of market economics.
These days, £11m would just about buy the left leg of a decent striker at Manchester United, Barcelona or Juventus. But that's what making it to the quarter finals of the Uefa Champions League was worth to Moscow's CSKA football team. It also meant CSKA had earned a sum comparable to the annual budget of an average Russian club.

If that comes as a surprise, it helps underline the see-saw nature of Russian football's finances in recent years. Most clubs simply live off sponsorship money and are funded either by regional governments or big corporations such as Gazprom, Lukoil, Rosneft or Russian Railways. Revenue streams which are crucial in the West, such as broadcasting rights, season tickets and replica shirt licensing deals, still provide only tiny amounts of cash in Russia.

A few years ago, Russian football clubs were showered with sponsorship money, driving teams into a frenzied shopping spree to buy top players in Europe and South America for tens of millions of pounds. Many analysts warned that this approach, with clubs spending twice what they could possibly hope to earn, would get them nowhere. The analysts were right and Russian football is being forced to think again about what is a realistic financial outlook.

At the onset of the global financial squeeze, the annual salaries of £2- £ 3m enjoyed by leading players wildly exceeded real earnings, even at the bigger clubs. However, the first "crisis" season of 2009 did not see serious attempts to shake up their business model. Most clubs cut their budgets by about 10pc, while some even refused to revise their spending.

One mid-table club, Tomsk, somehow succeeded in squandering its annual budget during the first four months and staggered to the brink of bankruptcy. Luckily, the sole Siberian club playing in the premier league received help from the government. A letter crying for help reached prime minister Vladimir Putin who summoned business heavyweights from Tomsk and "strongly suggested" that they should try and support the struggling team. The club suddenly won the hearts of seven sponsors.

A similar rescue operation helped keep afloat a famous club in Samara this spring. Not so long ago, Krilia Sovetov (Soviet Wings) had a reputation for packing in the largest crowds (up to 30,000) in eastern Europe. But the team's bosses took out loans by the truckload, and before the 2009 season the bill was approaching £70m.


Dutch auction for national coach

Russia said goodbye to Guus Hiddink without much regret. The failure of the national team to qualify for the 2010 World Cup marred all of his previous achievements.

On top of that, both fans and experts felt it was unfair that the Dutch coach, who actually withdrew from the job in November, would nevertheless continue to pocket a hefty salary for another six months. During that time, his sole responsibility was to prepare for a friendly with Hungary, which was of questionable value and which Russia failed to win anyway – not exactly a job worth € 3.5m, half of Hiddink's annual salary.

In mid-April, the once-popular national coach raised a fuss over his salary arrears, which had been building up since January. The Russian Football Union responded that it wanted to terminate his contract immediately; nobody could understand why they had not done so months earlier, when Hiddink signed a contract with the Football Federation of Turkey.

Dick Advocaat was officially announced as Hiddink's successor on May 17. Nobody ever doubted he would step in, as Russian Football Union president Sergey Fursenko has admired Hiddink's fellow countryman for a long time. It seems the Dutch element is here to stay in Russian football.
Despite vociferous fans' demonstrations and media drawing attention to the situation, Samara was about to go bust and kiss its dreams of trophies goodbye – until super-sub Putin stepped in again and persuaded local sponsors to open their wallets.

Nevertheless, the club's budget had to be reduced by two-thirds in order to pay off its huge debts.

When another crisis victim, FC Moskva, lined up for help, the authorities chose not to get involved. A month before the start of the 2010 season, Norilsk Nickel, the general sponsor and de facto owner of the successful Moscow club, withdrew its support. For reasons that remain unclear, they did not even attempt to sell the club to other investors and simply disbanded the team.

This was the first time in Russian football that a qualifying team had walked away from the national championship at the eleventh hour. Its place was taken by Alania Vladikavkaz, which finished third in the first division last year.

However, FC Moskva's dramatic exit shocked many fans and experts into realising that something fundamental needed to change in the world of Russian football.

According to analysts at Russian business magazine Finance : "The year 2010 could prove to be an evolutionary turning point. The previous season could not reflect the impact of the global crisis within such a short period.

"In fact, 2010 is the first year when seasonal budgets reflect the real potential of the football market."

There is some evidence that a reality check is starting to take place. The recession has reined in the gargantuan appetites of football clubs. None of them has become any richer over the past year and nobody is trying to set multimillion-dollar transfer records any more. Notably, last winter did not see any deals exceeding £5.5m – a clear sign that the managers have learnt to count every rouble.

Yet even these reduced circumstances are based on unrealistic assumptions. Zenit St Petersburg is Russia's richest club and spends £70m a year, with 80pc of the funds coming from its owner, the giant Gazprom. Zenit itself covers only 20pc of its total spending.

On a smaller scale, Lokomotiv Moscow, sponsored by Russian Railways, earns a little over £20m, or just under half of its total budget, which is not bad by Russian standards. Lokomotiv has the benefit of owning a modern stadium and does generate sizeable revenue from corporate box deals.

Yet most football clubs, including Zenit and Lokomotiv, do not disclose details of their budgets.

The Russian sports community has traditionally been reticent on matters of earning and spending. Senior executives mention only rough estimates and some guard even this meagre information jealously.

Last year, Moscow-based Dynamo ventured to publish a report on its £45m budget, but since no other clubs followed suit, it didn't bother this year. In the 2010 season, only CSKA disclosed its financial data, probably because it could boast a surplus. Having landed a number of fat sponsorship contracts, the club expects to make a profit of $168,000 – a drop in the ocean compared to its total budget of £116.5m.

But for many Russian teams, this kind of financial performance – backed by lucrative appearances in the Champions League – remain the stuff of dreams.
All rights reserved by Rossiyskaya Gazeta.