Russia's car sector stalls, but foreigners still investing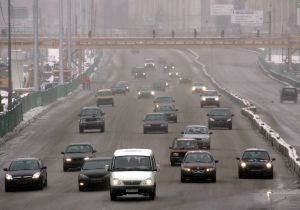 The global economic crisis cut the boom in car sales in Russia in half, but even in the depths of the meltdown international carmakers based in the country continued to pour hundreds of millions of dollars into new plants. Russia briefly took the title of biggest car market in Europe in the summer of 2008 and as the economy bounces back, it is getting ready to make another assault on the summit.
The latest foreign brand to set up shop in Russia is the alliance of carmakers Peugeot, Citroen and Mitsubishi, which officially launched production at a factory in Russia's Kaluga Region in the middle of April. Along with St Petersburg, Kaluga, only a few hundred kilometres from Moscow, has metamorphosed into a production hub for automobiles.

The €470 million Peugeot-Citroen-Mitsubishi alliance's plant has an annual capacity of 125,000 cars. The first car produced at the plant was the Peugeot 308, though Citroen is especially keen on Russia and announced plans to build a C-class car model especially designed for the Russian market at the new plant.

The explosive growth of Russia's car market has sucked in billions of dollars of investment by foreign manufacturers, who keep coming despite the heavy blows the market has taken over the last 18 months. At its peak during the summer of 2008, some 5,000 new cars were hitting the streets a week and sales were rising by 30 percent a year. Production doubled every year between 2003 and 2008.

The maker of Russia's Lada, Avtovaz, still accounts for about one in two of all cars made in Russia, but the foreign partnerships are catching up fast. The first major deal was a joint venture set up between General Motors and Avtovaz in 1999 to make the Russian Niva SUV. But the partners fell out, and GM gave way to France's Renault in 2008, which subsequently upped its stake in the Russian car giant to 25 percent. Since GM entered, most of the world's biggest carmakers have followed suit.

Russia's second-largest carmaker is Avtotor, which assembled about 60,000 cars in 2009 and accounts for 10 percent of Russian car production, making brands like BMW, Kia, and several of General Motors' Cadillac and Chevrolet models in the Kalliningrad enclave on the Baltic Sea. Likewise, Avtoframos, which is almost entirely owned by France's Renault, is Russia's third-largest carmaker, producing 49,500 cars last year. When the two next largest carmakers - Volkswagen and Ford - are added to the list, together all these companies account for over 80 percent of Russia's car production.

More recently, less well-known companies have also entered, such as China's Great Wall and Chery, while other companies like Toyota have set up banks to offer financing for customers that want to buy their cars. The entire sector is developing extremely rapidly.

Untapped potential

The appeal is that the huge potential of the Russian car market remains largely untapped. Car ownership among Russia's population is still well below Western European levels: there is one car for every two Germans, but just two cars for every nine Russians.

And as a middle class emerges with access to consumer credit, Russia managed to briefly overtake Germany to become Europe's biggest car market in the summer of 2008, selling 1.65 million units in the first half of the year, against Germany's 1.6 million units.

The crisis has done a lot more damage to Russia's car sales than in any western market, as credit dried up overnight: Car sales were down over 60 percent last year as most Russians put off big purchase decisions until the severity of the crisis became clear.

Now the economy is recovering, car sales are also recovering fast, up by 56 percent year on year between January and March to 218,05 units; Avtovaz boosted Lada sales by 60 percent in March alone to 32,000 units. Sales this year are being helped by the Russian version of the highly successful "cash for clunkers" programme that subsidies any car purchase up to a maximum of 600,000 rubles ($20,000). Some 70,000 subsidized auto loans were granted in 2009, or 4 percent of total sales, according to car statistics service Autostat.

Though forecast for sales through to the end of the year is still only 1.46 million units, according to the Association of European Businesses – a bit less than were sold in just the first half of 2008 - few doubt that the market will continue to recover. Industry and Trade Minister Viktor Khristenko said at the end of April that the market will return to pre-crisis levels as soon as 2012 or 2013 at the latest. And it is the foreign manufacturers who will be the biggest beneficiaries, as they were already outselling Russian-made cars before the crisis struck.

The outlook for the leading domestic players is less rosy. All the biggest Russian companies are tied to facilities that are well past their sell-by date and all of them (except Russian truck maker Kamaz) are labouring under heavy debt levels. But hidden behind the protective wall of the Iron Curtain, what the Russian carmakers miss the most is know-how. Avtovaz's best selling "Zhiguli" model of the Lada remains a rip off of the 30-year-old Fiat 124 model and can't hope to compete against the Ford Focus, now Russia's most popular car, the design of which was forged in the white hot fires of cut throat competition in its home market.

The answer has been to join forces and a string of deals have appeared in the last few years. France's Renault has already increased its commitment to Avtovaz, while Russia's second-tier carmaker Solliers has tied up with Italy's Fiat and truck maker Kamaz has gone into business with Germany's Daimler.

But these deals have not been easy to cut. General Motors backed out of deal to sell 27.5 percent in Opel to a consortium that included Gaz and another 27.5 percent to Canadian auto parts maker Magna, and agreed to pay an undisclosed amount in compensation at the end of April for breaking off the deal.

Daimler also ran afoul of the US government recently when it admitted to paying over $1.85 billion in bribes to win business in 22 countries; the company admitted its Russian unit had to pay more bribes than in any other country listed. The Russian Interior Ministry opened its own investigation in April to find out who was taking those bribes. The moves came after mounting public criticism that the Russian authorities were not doing much to find the guilty parties. Media reports that President Dmitry Medvedev eventually made a direct order to open a case.
All rights reserved by Rossiyskaya Gazeta.