Nokia set to join Skolkovo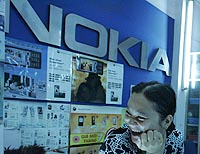 President Dmitry Medvedev and Nokia President Olli-Pekka Kallasvuo met at the Russian president's Gorki residence outside Moscow on June 3. Nokia's advantages include its strong record in startup operations and its proven ability guide innovative projects from the ground up. Medvedev and Kallasvuo also discussed the idea of making Skolkovo not just a research and development center, but also a good place for start-up businesses. Nokia's president said it is important for the company to discuss participation in Russia's modernization drive, including cooperation with the country's leading universities and research centers.
"Nokia has significant experience in the development of technology that could be used by science-intensive communities like Skolkovo," he stressed.

Kallasvuo said Nokia hoped to become one of the Skolkovo project's co-founders and send a representative to sit on the project's governing board.

"This would help us to provide our full support and contribute to Russia's modernization," he said. The Finnish phone maker plans to have a separate center in Russia's Silicon Valley, as the project has been dubbed, to supervise software research. Kallasvuo outlined his vision for future cooperation: "This would be to show our common achievements with Russia's leading universities, while at the same time demonstrating the technology that Nokia will be developing together with its partners."

Medvedev fully supported the idea. "We would certainly be happy to see you among the project's formal co-founders and leaders, as Nokia is indeed a very large company, which has become a household name in Russia thanks to its excellent products and strong reputation," The president said. Medvedev recalled that his first mobile phone was a Nokia. He thanked the Finnish company for its active operations in Russia: "It is important for us that Nokia is a major taxpayer. Given the brand's strong popularity and expansion on the Russian market, the company pays some 12 billion rubles a year in taxes."

The governing organizations of the foundation that will supervise the Skolkovo project are expected to be formed at the St. Petersburg International Economic Forum, which will be held in Russia's northern capital from June 17-19.

The co-founders include the Russian Academy of Sciences, Vnesheconombank, Rosnano, Bauman Moscow State Technical University, OAO Russian Venture Company and the Foundation for Assistance to Small Innovative Enterprises. It looks like Nokia is now on the way to joining them.

There will be three governing bodies: a board, a board of trustees and an advisory research council. At least ten representatives of the co-founders will sit on the board, which will be the project's supreme governing body. If Nokia becomes one of the co-founders, it will be able to send a representative to the board, too. The foundation will be co-chaired by Viktor Vekselberg and former Intel CEO Craig Barrett.

The composition of the research council will be determined by the supreme governing body. The council will be co-chaired by Nobel Prize winners Zhores Alferov and David Rodger Kornberg. A seven-member board of trustees will be formed by the Commission for Modernization and Technological Development. Its members will be named at the commission's meeting scheduled for June 19 in St. Petersburg.
All rights reserved by Rossiyskaya Gazeta.