Apple planting, not apple picking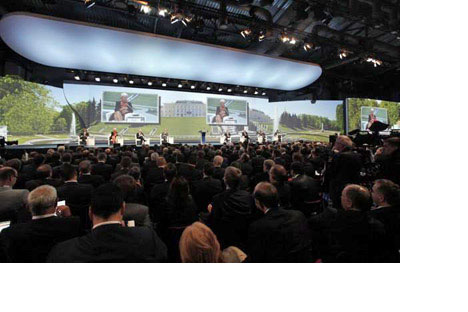 The high point was Russian president Dmitry Medvedev keynote speech, which redefined the role of foreign investors with new policies that the Kremlin hopes will make Russia a truly attractive investment destination.
The speech comes as the apex of a PR campaign to remake Russia's economy and unshackle the forces of private enterprise that has been gathering momentum all year. Crucially Medvedev's new policies are an extension of the previous policies, but are designed to make over the country's poor investment image to attract some serious foreign direct investment (FDI).

"Russia needs a real investment boom. Creating a comfortable climate for investors is essentially our most important task. Today we put it at the centre of our policies," Medvedev said to the assembled elite of Russian business and politics.

The trouble is that foreign investors remain unconvinced and say they want to see proof - concrete progress in improving the rule of law, reducing red tape and a concerted attack on graft amongst other things. The cynics say they have heard this speech before and nothing has really changed.

Inflows of FDI Russia dropped by nearly half in 2009 as compared to the previous year; worse than its neighbors in Central Europe, where FDI was down by only a quarter. The consumption boom that had fuelled domestic market-oriented FDI including real estate development in the past few years came to a halt and investors postponed projects. This is in comparison to Russia's Bric peers where FDI has held up remarkably well.

Investment in general recovered somewhat in the first quarter of this year, up by 9.3%, to $13.1bn according to Rosstat, but most of this was made up of credits; the more tightly defined foreign direct investment - which is money into concrete projects like factories, continued to fall albeit more slowly, down by 17.1% year-on-year. But analysts say the planets are aligning for investment to recover quickly.

"Russia is in the right place at the right time now," says Kingsmill Bond, head of strategy at Troika Dialog. "In the 1990s Russia was in chaos so there was little reform. Between 2000 and 2003 there was a first attempt to reform, but after oil prices soared over the next five years this ran out of steam as there was so much money about. In the last two years the government has been completely occupied with fighting the crisis. But now there is a real need to make reforms, but more importantly there the government also has a real desire to reform."

Delivering on the promise

Investors may have heard this speech before, but the very repetition is encouraging. Medvedev has pushed through a raft of real measures designed to tackle corruption, and the very repetitiveness of the PR campaign - an attempt to send out a single coordinated message that Russia is an attractive investment destination - is in itself encouraging. There are few dramatic changes the Kremlin can make to create a positive investment climate, rather it is a question of grinding away at the problems and solving them bit by bit.

"We had chaos in the 1990s," says Greg Thain, CEO of IMS marketing group, one of Russia's largest marketing companies. "What happens now is Russia will spend the next ten years growing up."

Still, Medvedev used the speech to announce several measures to underscore the government's commitment to change, and the newsmaker was his decision to reduce the number of sectors that are off limits to foreign investors.

"I am cutting the number of strategic companies five times...I have signed a decree to this effect today," Medvedev told the assembled delegates and press.

During the boom years when the government was flush with money, the widely criticized strategic sectors law made it very difficult for foreigners to invest into about 40 sectors of the Russian economy. Medvedev's decision to slash the list by 80% represents a significant volte-face in policy. Medvedev lamented the state's grip on the economy and promised to undo it, which is a major change in policy if carried through.

"People often think that the person who picks apples does the main job, but in fact it is the one who plants the apple tree whose job is crucial," he said. "The state should not always pick the apples on its own. In a free economy there will always be people who will do it better and faster," Medvedev said.

The president has recently pushed through a raft of laws to better define the relations between business and the police, which is also undergoing a major reform. He said the state was considering lowering taxes to boost growth if the global economic recovery continues; but taxes on dividends have already been cancelled at the start of this year and capital gains tax for direct investments will be cancelled at the start of next year. And the president proposed yet another state backed fund, designed to seed investments into key areas like infrastructure.

"I order the government to work on the idea of creating a special investment fund where state money will be augmented with private capital - say, we expect one ruble of state investment to attract three rubles of private investment. I think the idea should be implemented within a year," he said.

"Russia must become an attractive country, where people from the around the world will go in search of their dream, and in search of better opportunities for success and self-fulfillment, which Russia will be able to give to those who are prepared to accept this challenge and to come to view it [Russia] as their new, or second home," Medvedev said.

Medvedev sees foreign investors playing a central role and the new policies are off to a good start; presidential economic aide Arkady Dvorkovich said on Sunday that 50 deals worth €15bn were signed over the weekend - more investment than in all of 2009.

"International competition is the decisive incentive for modernization. Nothing serious will grow in greenhouse conditions," he added. "Under artificial curbs on competition, the state and businesses are doomed to a vegetable existence. Therefore, we want competition and we are prepared for it."


All rights reserved by Rossiyskaya Gazeta.