Young authors' bold new perspective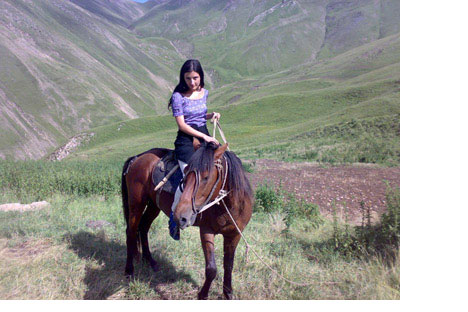 Alisa Ganieva rides a horse in the mountains of her nativeDagestan
A new generation of Russian fiction writers, free of the specter of a Soviet past, find excitement in the here and now. A new collection introduces them to Western readers.
Victor Pelevin, Dmitry Bykov and Maria Galina are among the best-known literary giants of the last generation of writers born during the Soviet Union. But they are no longer the story.

Russian readers are discovering their younger siblings, the writers born during perestroika or after. Now in their twenties, this breed never lived in the U.S.S.R., and are regarded as a clean slate for Russian fiction. A first-time collection of their work, "Squaring the Circle," published by the Russian house GLAS, introduces these emerging artists to English-language readers.

"These writers don't have to fight the Soviet past," said longtime GLAS editor Natasha Perova. Some critics suggest these writers are freer than their elders. They know that anything is possible, both the grimmest of fates and the greatest of opportunities.

"Those [who grew up in Soviet times] are always trying to analyze their experiences against a backdrop—such as how it was possible that such atrocities could have happened," Perova said.

The fevered soul searching of the Soviet and post-Soviet writer has been replaced with a look outward—but it is not yet clear what these writers make of what they see.

A Gogolesque journey
 in Dagestan

The smell of fresh coriander and the scurry of live chickens, the oppressive heat of a bazaar and the hills of sand for construction schemes that will never be finished. Girls wear hijabs, men pack guns and ride in foreign cars. These are the sights and sounds of Makhachkala, the capital of the Russian republic of Dagestan in the Caucasus, and they provide the exotic backdrop for one boy's ill-fated journey through the chaotic and violent city.

"Salam, Dalgat," (Hello Dalgat) a short story translated in this first collection of young literary prizewinners, is a powerful glimpse of a generation of young Dagestanis who live on a tightrope in a region torn by violence. Survival is based on a set of skills, mostly skills of evasion to avoid the worst fate. The worst fate seems unknowable, but could involve criminals, the police, prostitution or the Imam and his devotees proclaiming violent jihad.


RN Dossier
The Debut Prize


"The Debut Prize prompts writers to commit to literature their unique experience, what might be described as their first encounter with grown-up life," writes Olga Slavnikova, the director of the Debut Prize and winner of the Russian Booker Prize. The Prize began a decade ago without much fanfare, and it has since become a significant springboard for young writers who come to Moscow for "Debut Week."
The story, written by a 25-year-old Makhachkala native, Alisa Ganieva, won the Debut Prize, Russia's prestigious prize for young writers, in 2009. Ganieva wrote the story under the pseudonym Gulla Khirachev: Gulla is an old Avar name; translated as bullet, it has not been used much in the past century. Khirachev is a man's last name.

"People who live in Dagestan certainly understood that Gulla is not a real name, but they did think it was a man who wrote the story," Ganieva, who recently moved to Moscow, said in an interview. "After my unmasking, some felt offended that I deceived them…most of my countrymen disapproved of my story; they say I am washing dirty linen in public, or that the wounds of society should stay in the Caucasus." Ganieva did receive some hate mail and not-so-veiled threats from her peers, but she said a few grateful emails also made their way to her.

"Squaring the Circle" includes original stories by 12 talented young Russian writers. The title seems an odd choice to describe them, unless it is ironic in tone. The strength of this collection is the diversity of the texts and the writers' indifference to fitting in with expectations.

"The Debut is the only prize for young writers," said Perova, a longtime, relentless advocate of Russian fiction. "The literary world is so dissipated and scattered but this offers a chance to young writers. Otherwise you would never hear of these writers. "

Up to 50,000 writers compete for the Debut Prize, which is funded by a medical charity created to help provincial clinics. This year, Debut prizewinners are being introduced to foreign readers. This collection is available in English and Chinese and will be published in French, German, Italian, Spanish and Japanese by 2011. The publishers could strongly consider hiring a single, top-tier translator to create a more cohesive collection. The English-language edition is extremely uneven in translation quality, with baffling sentences and strange word choice.

Yet the quality of the work shines through. Ganieva's "Salam, Dalgat" is an odyssey of conscience, a plea for sanity and reason over the extremes of Dagestani survival.

The collection's opening story, Aleksei Lukyanov's "High Pressure," reveals Italo Calvino-style whimsy, an industrial magic realism. The setting is a factory of pipeline welders, and the story is amusingly anti-government in tone. In Igor Savelyev's light, atmospheric "Modern-Day Pastoral," a government ministry issues a decree to allow passengers to ride on the luggage rack above the seats.

The idea that these writers are free of Soviet ghosts is only somewhat true. The writing is fresh and present in the social upheaval of this moment in Russian time. But it is neither unburdened nor unknowing. The clamor of the past is in their stories much the way a dance is remembered in your arms and shoulders, informing your next move.
All rights reserved by Rossiyskaya Gazeta.