Coca-Cola starts selling kvas in U.S.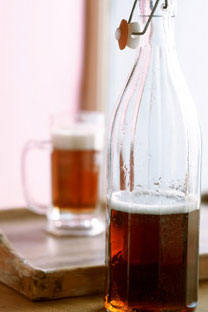 Krushka & Bochka Kvass, which Coca-Cola launched in Russia in the spring of 2008, went on sale in Whole Foods Market stores to commemorate President Dmitry Medvedev's visit to the United States last week, the soft drink giant said.

"We are pleased to be able to introduce authentic Russian kvas to New York in recognition of President Medvedev's historic visit," said Deryck Van Rensberg, president of Coca-Cola North America's venturing and emerging brands division, which promotes high-potential growth brands.

While kvas resembles beer and shocks foreigners who see children drinking large bottles of it on billboards, the drink with alcohol content of up to 1.5 percent is widely embraced as a symbol of Russian hospitality and has been drunk for more than a thousand years.

Moscow alone hosts about 200 kvas producers, according to IMC Network, a Moscow-based organization of marketing professionals.

A Coca-Cola spokesman said Russian sales of Krushka & Bochka Kvass had surpassed expectations last year. "Our expectations for yearly sales volume were met in August," the spokesman for Coca-Cola's Moscow office said Friday. He refused to elaborate.

In the United States, the kvas will sell in 0.5-liter bottles (16.9 ounces) in contrast with the 1.5-liter bottles in Russia because the taste is new to Americans and often provokes "an interesting reaction" among foreigners, the spokesman said.

Coca-Cola, however, is not the first company to export kvas to the United States. Last year, Baltika started selling its kvas brand Granary Land in New York, Pennsylvania, Illinois, Florida and California, while Russian producer Deka has sold its Nikola kvas in the United States since 2005, Vedomosti reported.

Coca-Cola's kvas will retail for $2.49, compared with 40 to 55 rubles (about $1.50) for 1.5 liters in Russia, a Coca-Cola official told Reuters.

Some analysts said the price was high for a soft drink in the United States, especially in a tough economy. "On average, an American consumer would not pay more than a dollar for a can or a bottle of soda," said Gary Hemphill, senior vice president of the information services division at New York-based Beverage Marketing Corp.

"The economy has been weak. Consumers have been a bit more hesitant to purchase new products," said Hemphill, who has not tried kvas.

Still, he said, kvas might find a niche like kombucha tea, a fermented tea sold for medicinal purposes in specialty and herbal stores in the United States.

Richard Haffner, Chicago-based soft drinks industry manager for Euromonitor International, said he has drunk kvas, which he compared to cream soda, and believes that Americans could acquire a taste for it if Coca-Cola marketed it right.

"As a specialty, this item is going to be a satisfying and small pleasure, even during recession," Haffner told The Moscow Times.

Hemphill said Coca-Cola made the right choice by selecting Whole Foods as a platform for selling kvas.

Whole Foods Market is a specialized grocery store that focuses on organic produce and healthy foods and has more than 270 stores across North America and Britain. Teh kvas will be initially sold at its 12 stores in New York, Vedomosti reported.

"Whole Foods caters to better-off, more-educated consumers with healthier lifestyles who are on the lookout to try new things," Hemphill said.
All rights reserved by Rossiyskaya Gazeta.