Dancing with The Bolshoi this summer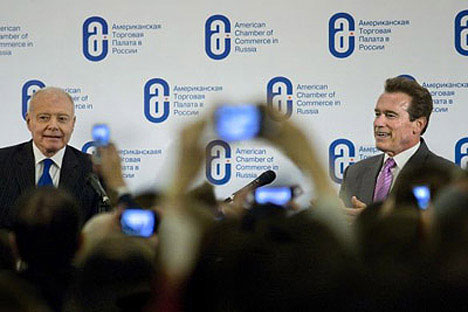 The Moscow ballet season is still in full swing. The Bolshoi barely finished with one premiere (Roland Petit's Le Jeune Homme et la Mort ) before readying the next (Michel Fokine's Petrushka , staged by Sergei Vikharev), while presenting such classics as Sleeping Beauty and Raymonda . Nevertheless, the troupe at the same time preparing for its performances at Covent Garden.
London in the Bolshoi's schedule is always a super-event: Despite its countless tours all over the world, success in the British capital is what counts for this theater. No matter the raptures or indignation of its own Moscow audiences, the Bolshoi has had a quasi-narcotic dependence on London's verdict for the last several decades. The reviews in the British press are scrutinised by the theatre at home, while balletomanes , with a passion comparable to that of soccer fans, put out comments culled from British ballet forums on the Russian Internet.

No surprise here. After all, it was in London, in 1956, that the Bolshoi Theater first received not only confirmation of its world-class level, but also the brand that is now known around the globe: "the Bolshoi." This fact made the patronizing and scornful attitude of London critics toward the troupe of the 1980s and '90s that much more painful: the Bolshoi was rich in potential stars, but without a clear program for its development, it was unable to fulfill its genuine potential. Not only in London, but also in New York, Paris and even Moscow, the Bolshoi became known as just a conveyor belt for productions such Swan Lake and Spartacus in which the dancers tried to compete with the likes of Ulanova, Plisetskaya, Maximova and Vasiliev, Bessmertnova, Semenyaka, and Lavrovsky and Liepa.

By the late 1990s, however, though London may not have noticed, the Bolshoi was ready for change: the brief tenure of director Alexei Fadeyechev afforded the troupe its first encounter with the ballets of Balanchine, Boris Akimov and Frederick Ashton, with Gorski's Futile Caution and the world premiere of Alexei Ratmansky's Bright Stream . But the Bolshoi was still associated in people's imaginations with the names of Marius Petipa, master of 19th century Russian ballet, and Yuri Grigorovich, ruler of the minds of men of the 1960s. Alexei Ratmansky's short (four-year) term at the helm of the Bolshoi was rich and full, not least because of his respect for the classics coupled with a dynamic mastery of new ballets. It was this combination that determined the Bolshoi's newfound success in London. The upcoming season at Covent Garden will end with a Grand Pas from Ratmansky's time. The work of the Bolshoi's newest director, Yuri Burlaka (who took over 18 months ago), will be represented by only a one-act Petrushka . Meanwhile, the six ballet programmes destined for London will show how Muscovites see the Bolshoi repertoire created by Ratmansky.

The tour will open with Yuri Grigorovich's surefire Spartacus . This production, with its red banners, wooden swords and fantastic groupings, with its picturesqueness recalling a painting by Ilya Repin, fits naturally into a surround of gold onion domes, crenellated towers and vast Russian expanses. However, no other production shows so clearly why for decades ballet in the Soviet Union was not an elite art, but a popular one. This time the slaves will revolt without the leadership of the Cuban-born Carlos Acosta, but son of a Soviet officer Ivan Vasiliev will return to this production its genuine folk spirit. This tour will also include the cyclone-like Don Quixote , Petipa's only ballet created especially for the Moscow troupe and, despite any alterations, an enduring symbol of the Bolshoi's unique versatility. But if the Bolshoi Ballet's London playbill is impossible to imagine without Spartacus and Don Quixote , it will also feature stellar performances seldom seen in Moscow. A magnificent Le Corsaire causes one's eyes to literally ache with the abundance of beauty created for several versions of the ballet over the course of the latter half of the 19th century and now squeezed into this one four-hour production. Coppelia is leaving Moscow for the first time. It was revived by Sergei Vikharev using archival materials found at Harvard University by Nikolai Sergeyev for the Novosibirsk Opera. But only at the Bolshoi Theatre, in this new Imperial-standard ballet created by set designer Boris Kaminsky and costume artist Elena Zaitseva, do we find a non-traditional Coppelia . Meanwhile, the Bolshoi's Giselle , rarely seen abroad because of being so traditional, has always been a production that crystallised the style of the Bolshoi dancers; it will be accompanied by Balanchine's Serenade . A grand Pahita with its parade of ballerinas will pair with Russian Seasons , created by Ratmansky to the music of a vocal cycle by the current musical director of the Bolshoi, Leonid Desyatnikov. This performance, originally staged by the New York City Ballet, has become a bestseller for its choreography, thanks to which one can see how the absolute mermaid beauty of a neoclassic sometimes reaches the height of tragedy in meeting with Russian histrionic voluntarism.

For the first time the Bolshoi's prima ballerina Svetlana Zakharova was forced to cancel a whole series of Moscow performances this year due to injury. Nevertheless, she will be back on the boards for the Bolshoi's London season with her signature turns in Giselle and Don Quixote , as well as roles in Spartacus and Russian Seasons . "Every arrival in London and every performance at Covent Garden is for me a significant event," Zakharova said recently. "The first time I danced at Covent Garden I was 17 and ever since then I have loved that theatre and the city of London where I found so many fans. I also especially love London for always having so many interesting cultural events. I have had the pleasure of going to performances there by Sylvie Guillem, to a concert of Carlos Acosta's. I hope that this summer's appearance by the Bolshoi Theatre with its classic and new productions will also be an important cultural event in the life of London."

Zakharova will appear in London along with such past favourites as Natalia Osipova, Maria Aleksandrova and Nikolai Tsiskaridze, and such rising stars as Ekaterina Krysanova, Andrei Merkuriev and Vyacheslav Lopatin, as well as the relatively unknown Anastasia Stashkevich. Perhaps one of these newcomers to London will manage to dazzle Covent Garden with a grand jeté in the manner of Osipova, propelled to world fame by her London triumph in 2006.

Anna Galaida is a culture correspondent at Rossiyskaya Gazeta.
All rights reserved by Rossiyskaya Gazeta.