Kemerovo: The high price of coal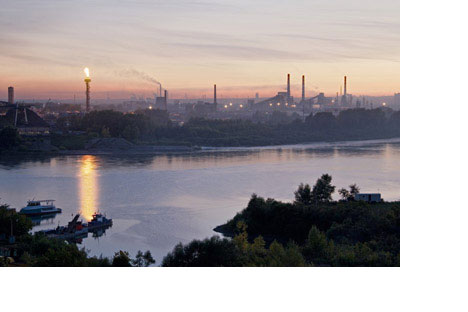 The industrial district of Kemerovo city overlooks Siberia's Tomriver from the right bank
While Russian miners risk their lives to hit targets and earn their bonuses, new legislation to protect their rights is being considered 
by the state duma.
Valery Kozelskikh is a proud miner. Short, but powerfully built, his broad shoulders and thick forearms are testament to a life of hard manual labour. Now a reflective pensioner, h e stands slightly stooped, a legacy of 34 years spent in cramped conditions deep under ground in Raspadskaya, the largest coal mine in Russia, and the black hole that was the livelihood of an entire region.

In Russia, mining runs in families. Mr Kozelskikh lost his 21-year-old nephew to a mining accident in 2002. "After such a tragedy, it is frightening to go down into a mine, but gradually you get used to it," he says.

The most recent disaster, which occurred at the Raspadskaya mine on May 8 and claimed the lives of 90 miners, focused public attention on the safety of Russia's mines and, specifically, on the Kemerovo region. Located in Kuzbass, one of the world's largest coal basins, at the time of the twin explosions Raspadskaya provided 10pc of the country's coking coal, but it is now closed indefinitely. A ccording to reports, i n the months before it exploded, the Raspadskaya mine had become a flammable hole, swirling with methane gas.


Following the fatal explosion of March 19, 2007, stunned Kemerovo miners are bussed from Novokuznetsk's Ulyanovskaya mine. Little seems to have been learnt from that catastrophe
Last month, instead of miners emerging into the night, families held a vigil for their dead with votive candles piercing the darkness. Angry locals pelted police with stones, and 28 protesters among the hundreds gathered were arrested. President Dmitry Medvedev issued a warning to regional governors to get their local protesters under control.

Medvedev's words had an impact, and local governors, including Aman Tuleyev, met the miners. He told them their salaries would be paid while the mine is closed.

Located in West Siberia, Raspadskaya still contains an estimated 80bn tons of coal. Along with coal mining and processing, the Kuzbass area is rich in iron ore and non-metallic minerals. Its deposits account for more than 13pc of the country's cast iron and steel output, as well as 23pc of graded rolled steel.

A walk down a neighbourhood street in the regional capital, Kemerovo, speaks volumes. Some buildings look as if they haven't been repaired in decades. Major manufacturing industries collapsed in the Nineties, leaving locals ever more dependent on the region's coal mines.


The Kedrovsky open-pit mine, near the city of Kemerovo. The mine is owned by 
Kuzbassrazrezugol, Russia's second largest steam-coal mining company
According to governor Aman Tuleyev, Kuzbass coal production was unaffected by the global economic crisis. In the first two months of 2010, coal production was up by 17pc. Yet the miners were not happy with the way they are treated.

They vented their outrage in a series of public protests. The first wave of the miners' revolt swept across the country in 1991; they continue today. In 1991, Mr Kozelskikh personally travelled to Moscow to meet government officials on behalf of his colleagues.

Now, 19 years on, he watches the latest demonstrations, but this time on TV. "The attitude toward the miner's job has to be changed from above. Coal mining is a lucrative business, and management should keep this in mind when calculating wages," Kozelskikh believes.

"Miners always do their best to meet the plan: this is in their best interests, as their wages consist of monthly salaries plus bonuses, which directly depend on plan fulfilment. Bonuses are as big as the salaries," he explains. (Salaries in the region vary from 20,000 to 40,000 roubles a month: £440-£880.)

According to industry experts, t his push towards increased production and the ensuing bonuses can lead to disasters; meanwhile, failure to meet a target results in a de facto financial penalty for the miners. Miner Boris Refko recently told Radio Free Europe that he routinely violates safety regulations to boost production and earn bonuses.


The Raspadskaya mine disaster occurred in Mezhdurechensk, a city in the Kemerovo region which boasts proud coal-mining traditions
In the case of Raspadskaya, dense methane gas seems to have been the main culprit, even leading to smaller, echoing explosions in the days following the catastrophe. Russian mines also tend to ignore methane sensors, however. In the US, the limit is 20 cubic metres of methane per ton of coal; when that limit is reached, the coal bed is abandoned. Kuzbass knows no such restrictions. Methane becomes explosive at concentration levels between 5pc and 15pc, the most dangerous being 9.5pc. Raspadskaya mine owners maintain that methane levels were within normal range, a point seriously disputed. The event is under investigation.

At the end of May, Russia's lower house of parliament, the state duma, passed the first reading of the bill on mine degasification. Some analysts also urge revising the structure of miners' wages by raising the percentage of permanent salaries to 70pc, while the other 30pc would be bonuses tied to output.

Despite the tragedies, generation after generation of Kuzbass miners descend into the earth, spending much of their life underground. Whatever the hazards, miners get used to the job, and it is a pity to lose such a job, confides Mr Kozelskikh . His son, Yevgeny, keeps him updated on the latest events at the mine. Yevgeny wants to continue the family's mining tradition: "I would like my son to become a miner, too. This is an honest and stable job for a man."


Investing in safety

An executive at Belon, Russia's second biggest coal miner, said the company made safety a top priority after an accident at Belovo in 2004, when a methane explosion killed 13 miners. "Due to the exhaustion of old mines, we now have to dig deeper and deeper in search of coal, and it's getting more and more dangerous," said the executive. In the Kemorovo region, Belon last year pledged to spend 256m roubles (£5.5m) on safety.

Analysts said Evraz, which co-owns Raspadskaya, has invested around £800m over the last few years in the mine. "Strict safety standards have always been a priority," said Raspadskaya spokesman Alexander Andreyev, adding that the company spends from 3bn to 6bn roubles (£65m to £130m) annually in innovations.

"In 2009, we invested in a decontamination facility, new ventilation fans and a ventilation shaft," said Andreyev.

But according to the Moscow Labour Industry Safety Research Institute, safety has always depended on companies' spare cash, with the dangers only coming to light after tragic accidents.

Russia's safety record is better than China's – where thousands of miners die each year in accidents – and Ukraine's. But Russia still remains far behind the countries with the best safety records: Germany, the US, Australia and Canada. According to a PricewaterhouseCoopers study in 2003, there were five deaths per 100 million hours worked in Australia and eight in Canada.
All rights reserved by Rossiyskaya Gazeta.