The rebirth of movie magic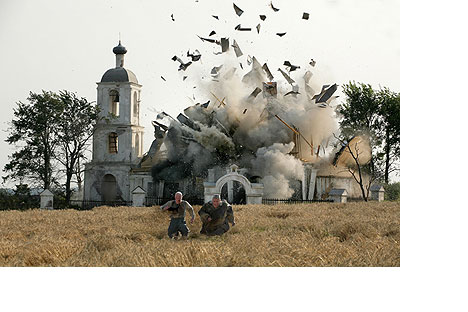 Mikhalkov's Burnt by the Sun 2
While the Soviet Union's most famous film studio has bounced back after the crisis, it nevertheless remains in need of new talent.
To count the number of movies made and produced at Mosfilm is a challenge. From Eisenstein's Battleship Potemkin and Romm's Pyshka , to Chukhrai's Clear Sky , Konchalovsky's Uncle Vanya , and Tarkovsky's Solaris , Mosfilm holds a place at the top of the cinematographic world. The experimental workshop, founded in 1924, had by the start of the Second World War become the first complete studio in Europe, being both a cinematographic village and a production company.

With the demise of the Soviet Union, the powerful national cinematographic industry, already dying, was also dragged down. It was only at the turn of the century that Russian cinema began to revive, while Mosfilm was undergoing a complete modernisation.

"Not a single sector escaped from a drastic levelling of standards," says Karen Shakhnazarov, the president of Mosfilm.


Zvyagintsev's Banishment
Since the beginning of the crisis, annual production has not exceeded 40-50 films. And there is another problem: "Today's Russian cinema does not generate artistic ideas as powerful as those of the Soviet era," Shakhnazarov explains ruefully.

Even if there are young and talented scriptwriters, one cannot yet characterise them as a new wave.

The different recording and soundtrack mixing studios (one of which can accommodate a 150-strong orchestra) were designed by European specialists and equipped with the latest technology. This enabled a diversification beyond the cinema. "Fifty pc of our work is recording music albums," says Andrei, a sound engineer.

A jewel in Mosfilm's crown is the recreation of a Moscow district at the end of the 19th/beginning of 20th century that includes paved streets, stone and wood façades, lampposts and period street signs.

The "Old Moscow" stage has been used, since 2004, as a set for more than 40 movies, changing into St Petersburg, Tbilisi or Copenhagen, as needed.

The only problem is that there's a skyscraper close by, which limits shooting to close-ups or forces the use of special effects.


Click to stop the slideshow. Click again to continue.
Kiselev and Voytinskiy's Black Lightning
Apart from its modern facilities, what allows the Moscow studio to be unique and reign supreme in a very competitive market are its business assets.

Sergei Plohov, head of the costumes and accessories department, has estimated that the studio has more than 400,000 pieces of clothing and military uniforms. In those Ali Baba-like caverns, tens of thousands of objects, from all periods, hang in disarray.

The undisputed stars of the luxurious second-hand goods are the retro vehicles: a 1913 Rolls-Royce and a 1927 Packard as well as other vintage buses and tractors.

The most famous cars, objects and costumes are displayed in the studio's museum, and are no longer used for filming.

Anyone, however, can rent a costume by the day and be a pirate, a Red Guard or tsarina. Costume rental is one way of making ends meet.


NUMBERS


736.2

million dollars were earned by movie theatres across Russia in 2009. This is 11pc less than in 2008.


1,900

cinemas exist across Russia, according to Nevafilm.
The most precious treasure of all is, of course, the film library itself, which Mosfilm has never agreed to sell, contrary to other big studios such as Lenfilm.

These films have been digitised, subtitled in English, and made available to the public for a few euros, either on a per item or flat rate basis, in a virtual video collection.

At present, public funds are unavailable to support the studio, which is why Mosfilm produces mainly television series sponsored by private funds.

These are large-scale projects, "not peanuts", insists Shakhnazarov, which use as many resources and efforts as would be needed for a feature film.

"The movie industry is rebuilt," says Shakhnazarov with pleasure. Now we only have to find wealthy producers and talented scriptwriters – ideally, in the same group."
---

Shakhnazarov: a life at Mosfilm

Mosfilm is Karen Shakhnazarov's company. Before taking over management in 1998, Shakhnazarov (born in 1952 in Krasnodar), learnt the ropes as an assistant, then as a scriptwriter and finally as a producer.

In 1983, he was widely acclaimed by the public and critics for his lively musical comedy We are the Jazz , portraying the difficult beginnings of the jazz scene in the USSR of the Twenties.

His latest movie, Room Number Six , is an adaptation of Chekhov's short story, and a reflection on psychiatric hospitalisation. Shakhnazarov is credited with 13 films as a producer.


All rights reserved by Rossiyskaya Gazeta.