The core of domestic navigation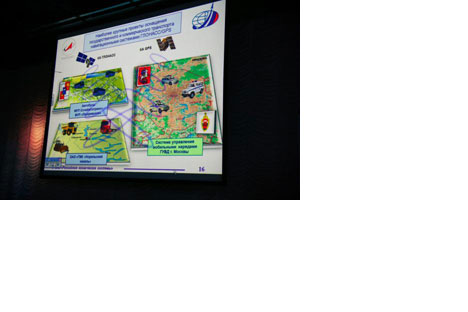 The 4th International Satellite Navigation Forum and the Navitech-Expo-2010 opened in Moscow yesterday. One of the hottest events at the Forum was the design firm Navis' announcement of its introduction of the first nationally-designed dual-system chip set GLONASS/GPS, which is comparable in performance to GPS-analogues.

A wide-scale introduction of GLONASS, a nationally-produced alternative to the American GPS navigation system, is constrained by primarily two factors: an incomplete satellite constellation and the lack of client devices on the market that could compete with GPS devices.

Both problems are gradually being resolved. Today, 21 out of the initially planned 30 satellites are orbiting the GLONASS orbital constellation (plus two spares). Head of the Federal Space Agency Anatoly Perminov stated at the Forum that seven more satellites will be launched by the end of this year, one of which is the new-generation GLONASS-K satellite, which will bring the orbital constellation a step closer to completion.

The problems with the GLONASS client devices are in many ways linked to the fact that they are created based on special application chips which are not optimized in terms of price, size parameters and energy consumption. Navis' design should become the first alternative solution, which was initially planned for "civilian" use.

Nationally designed chip receiver NV08C will be manufactured in Japan by the Fujitsu factories with the topological norms of 90 micrometers. Valery Babakov, general director of Navis, said at a press conference that a wide-scale production (about 100,000 modules will be produced in the first phase) should begin sometime before the end of this year. The price of a module in a set of 50,000 units should amount to $15-17, and power consumption in a normal operation mode will not exceed 100 megawatts, which is comparable with the corresponding characteristics of the GSP chip sets. Meanwhile, the double-system GLONASS/GPS receiver is able to provide greater reliability of navigation in conditions of limited visibility of satellites, such as in dense urban areas.

In the first half of 2011 the domestic market should see the first wide-scale introduction of personal navigations devices (PND) supported by GLONASS. Navis' partner, the Russian company Vobis, is currently holding negotiations with a number of Asian electronics manufacturers at the Computex Expo in Taiwan on launching the introduction of such client devices.
All rights reserved by Rossiyskaya Gazeta.