Kyrgyz crisis: Time for action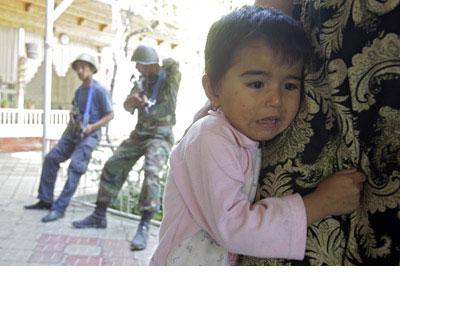 An Uzbek girl after Kyrgyz policemen conducted house-to-house searches in Kyrgyzstan
Recent ethnic clashes in Kyrgyzstan have spawned a humanitarian catastrophe, thus underlining the need for a global response to ensure regional stability.
When long-simmering ethnic tensions exploded into mindless savagery against minority Uzbeks in Kyrgyzstan, the former Soviet republic, which few Indians had heard of earlier, made it to the front pages of Indian dailies and primetime TV. Around 100-odd Indian students were feared trapped amid spiralling bloodshed, evoking widespread concerns about their safety. They were finally airlifted safely to Kyrgyz capital Bishkek, but the incident underlined the increasingly interdependent nature of the world we live in.
The worst ethnic violence in decades sent alarm bells ringing in Washington and Moscow, both of which operate air bases in Kyrgyzstan. The US has called for an international probe while a concerned Moscow is debating the pros and cons of military intervention to stabilise the former Soviet republic. Although the official toll is 208, independent estimates say around 2000 people were butchered and 200,000 p eople fled to Uzbekistan. The humanitarian catastrophe is still unfolding, triggering fears that unrest could spill over into other parts of Central Asia, a strategic energy-rich region that is getting infected by Islamic extremism. Key organisations with a stake in the stability of the region like Russia-led Collective Security Treaty Organization (CSTO) and the Organisation for Security and Cooperation (OSCE) are already at work trying to douse the fire. A coordinated international response can go a long way in restoring security, reviving economy and protecting civil rights to prevent the region's first parliamentary democracy with a per capita income of $2,100 from sliding into a full-scale civil war.
All rights reserved by Rossiyskaya Gazeta.