A growing class of workaholic Russians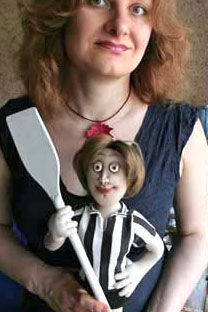 Greus holding one of her dolls, which she sellsfor $130 apieceSource: Igor Tabakov / MT
Polina Greus, a junior research associate in economics at Moscow State University, started freelancing as a textile artist by chance.

About four years ago, Greus stumbled across an ad for doll-making courses in the now-closed building of Detsky Mir, the FAO Schwarz of Moscow. She had walked into the store to pick up something for her 2-year-old son, Kolya, and ended up signing up for the courses.

Today, each doll takes her about two weeks to finish if she works a 9 to 5 schedule.

Greus, who is expecting her second child this September, finds freelancing a good way to earn a few extra rubles. She sells her dolls for about 4,000 rubles ($130) apiece.

"This, naturally, is only a fraction of my salary at the university, however small," Greus said. "Freelancing is a way to express myself, and if I get some money for it, all the better."

No one keeps track of Russia's exact number of freelancers — the consultants, independent contractors, temps, part-timers, contingent employees and the self-employed who set their own hours and often work from home. But experts agreed that their number — a class of unusually hardworking people who care more about their work than the pay — has soared amid the economic recession.

Full-time freelancers account for 500,000 to 600,000 people in Russia's 70 million-member work force, triple the figure before the recession hit in late 2008, said Denis Strebkov, a sociologist from the Higher School of Economics who co-authored a study on freelancers last year that is considered Russia's most authoritative work on the issue.

The 1 percent of the work force who identify freelancing as their primary source of income is miniscule compared with the roughly 30 percent of the population in the United States and the European Union.

A recent study by Kelly Services, an international HR management company, suggested that there are even more freelancers in Russia. Among 5,500 people polled by the company in Russia's biggest cities, 31 percent identified themselves as freelancers or self-employed.

The high disparity between the two studies might be explained by differences in terminology and polling methods, said a spokesman for Kelly Services, Artyom Davydov. But he confirmed that the number of freelancers had soared amid crisis-related layoffs.

Russia's largest online portal for freelance workers, Free-lance.ru, alone boasts more than 600,000 members, or twice as many as 18 months ago. Kadrof.ru, another web site for freelancers, has about 2,000 visitors a day, said its founder, Sergei Antropov.

Twenty-two percent of Russian freelancers work solely as freelancers, while 44 percent continue to hold a full-time job, according to Strebkov's study of freelancers, which was released last year by the Higher School of Economics in cooperation with Free-lance.ru. Other categories of Russian freelancers include students (18 percent of them have various freelance work), entrepreneurs (8 percent) and housewives (5 percent).

Fifty-eight percent of all Russian freelancers are young — between 18 and 26 — while only 6 percent are 41 or older. More than half of all freelancers have university degrees. Freelancers are concentrated in Moscow (30 percent), St. Petersburg (11 percent) and the Moscow region (5 percent), while the rest are scattered across the other 80 regions.

A 12-hour work month

St. Petersburg native Vyacheslav Yakovlev only partially fits the profile of a typical freelancer. He holds a university degree but at 56 is older than most.

"In my line of work, the youngest professional is at least 45," he said.

A chemist by training, Yakovlev has found a lucrative post-retirement career in freelancing full-time for pharmaceutical companies. Ten to 12 hours of work per month is enough to support all of his needs, he said, declining to provide a specific income figure.

He did say, however, that specialists like him, of whom there are about a dozen in all of St. Petersburg, according to his own estimates, earn about 1 percent of what pharmaceutical companies make on the substances that the chemists synthesize.

Yakovlev lives like he wants, waking up between 7 and 8 a.m. every day, and spends about four hours working out: Depending on the time of year, he could be playing football, swimming or skiing.

After a few hours on the computer, he proceeds to the actual synthesis of chemical compounds. Several milligrams — enough to fit in a thimble — of the substances that he produces at home or in a laboratory are then sent to pharmaceutical companies through one of the dozen middlemen that operate on the market.

"We all know each other, so trust isn't an issue," he said.

Not all freelancers make as much money as Yakovlev, with salaries varying drastically by region and occupation. But successful freelancers find their income comparable to and often exceeding that of full-time employees.

According to the Higher School of Economics study, 50 percent of all full-time freelancers earn up to 25,000 rubles ($800) per month, 30 percent earn 25,000 to 50,000 rubles and 20 percent earn more than 50,000 rubles.

Pay takes a back seat

The most popular industries among freelancers are the IT sector, design and multimedia, followed by work with texts, business consulting and engineering.

For most of them, interest in the work takes precedence over the salary. Many have tried their hand at various freelance gigs. Greus, the doll maker, flirted with journalism in college, worked on the political campaign trail, made hats and even wrote a science fiction book.

The preference of interest in their work over income puts freelancers in sharp contrast with traditional full-time workers, 96 percent of whom identify their salaries as their top criterion in choosing a workplace, Strebkov said.

"This makes freelancers a different breed of people," he said.

This set of values unites Russians with freelancers from other countries. They show much more initiative at work, tend to be workaholics and care about job stability much less than the average Russian, said Andrei Shevchuk, Stebkov's co-author on the study.

Many of them, like Yakovlev, call themselves "free artists" or "freelance artists." They set their own schedule and choose the kind of work they would like to do. The more experienced the freelancer, the pickier they get and the higher their salary, the study found. Most freelancers tend to be night owls and do the bulk of their work in the afternoon or at night.

Pitfalls of freelancing

But this freedom of work often comes at a cost. The top complaint for freelancers — both Russian and foreign — is the unpredictability of their incomes. Even if a project pays well, salary delays are frequent, and half of all freelancers fear that they will be cheated by their work associates.

These are among the main reasons why freelancers prefer to stick with familiar, reliable work associates.

"When I do sell my dolls, it is mostly to friends, people I know or at special exhibits for textile artists," Greus said.

Yakovlev, too, always works with the same middlemen.

Freelancers get no work benefits or future pension accumulations, however small. They often run into obstacles when trying to get a loan at a bank, applying for a visa to go abroad or doing anything that requires documented sources of income.

Unlike in the United States, where freelancers often act as independent contractors and can easily access all information about the taxes they have to pay, Russian freelancers lag behind on legalizing their work.

"Only 12 percent of all freelancers sign a contract with companies," Strebkov said.

He said only 9 percent of all freelancers are registered as individual entrepreneurs, which is legally required for all freelancers who work "systematically."

Many do not pay taxes and hope that the money they receive through Internet payment systems like Webmoney or Yandex Money will never surface with Russian tax authorities.

"Not paying taxes stems from a lack of knowledge about one's responsibilities and possibilities," said Irina Davidovskaya, deputy director of the Tax Consultants Chamber, a professional association of Russian tax advisers.

"An absence of transparent income makes it impossible to get tax credits, like the possibility to get a real estate tax credit when purchasing a home," she said.

Russian residents are supposed to pay 13 percent of their income in taxes and 30 percent if they are not tax residents who have lived in Russia for more than 183 days during a calendar year. Taxes are usually deducted by employers or subtracted by contractors. If they fail to do so, it is the freelancer's responsibility to file a tax return.

Few freelancers register as entrepreneurs or file appropriate tax forms, even fewer realize that they may be eligible to file taxes under the simplified tax system paying as little as 6 percent of their income and that, depending on their occupation, they may be eligible for anywhere from 20 percent to 40 percent of tax deductions for expenses, Davidovskaya said.

But while many freelancers fear prosecution by the tax authorities, Strebkov said, they still prefer not to file. Fear gives way to Russians' unwillingness to deal with bureaucracy, he said.
---
Art project "Drugie Veschi"
All rights reserved by Rossiyskaya Gazeta.