US shows its power in the post-Soviet space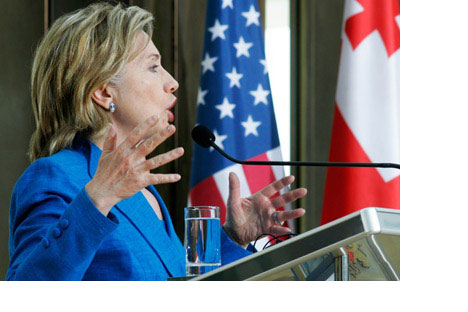 Hillary ClintonSource: RIA Novosti
U.S. Secretary of State Hillary Clinton completed her tour of Ukraine, Poland and three Caucasus republics early this week. The trip was meant to beef up Washington's waning influence in these countries and bolster the Nabucco gas pipeline project, which will bypass Russia. The goal of the visit was to show that, while improving relations with Russia, the United States is still monitoring Moscow's ambitions in the post-Soviet space.
Mrs. Clinton's tour, covering Ukraine, Poland, Azerbaijan, Armenia and Georgia, in many respects resembled last year's trip by U.S. Vice President Joe Biden, who visited Ukraine and Georgia following U.S. President Barak Obama's triumphant visit to Moscow, making clear that Washington would not abandon its allies for the sake of "resetting" its ties with Russia. Since then, however, the United States has lost much of its sway over the area. One major factor was the election of Viktor Yanukovich as Ukraine's president. Yanukovich has moved his country closer to Russia, among other things arranging for Russia's Black Sea Fleet to remain in the Crimea until 2042. Since he took power, not a single top American politician has visited Ukraine. Poland, for its part, has been harboring a grudge against the Obama administration for its about-face on plans to deploy a missile defense shield in the country. As for the Caucasus, this trip marked. Clinton's first visit to the region as Secretary of State. Moreover, the U.S. ambassador's seat to Azerbaijan is still vacant a year after it was given up. Washington says cannot find a proper candidate, which frustrates Baku officials.

Clearly, Clinton was unable to solve all the existing problems during her short trip, which had come hard on the heels of Russian President Dmitry Medvedev's trip to the United States. As Philip Gordon, Assistant Secretary of State for European and Eurasian Affairs, told reporters on the eve of Clinton's trip, her main goal was to show that Washington would not abandon its interests in the region for the sake of improving relations with Moscow. This was confirmed by the Secretary of State's stay in Kiev, where she met with Yanukovich to discuss Ukraine's improving relations with the West, while confirming NATO's readiness to accept Ukraine as a member.

Clinton's visit also had other important repercussions: The day she arrived in Kiev, the International Monetary Fund (IMF) announced its decision to allocate $14.9 billion to the country. According to Ukrainian Foreign Minister Konstantin Grishchenko, his talk with Clinton included "diversifying nuclear fuel sources" for filling stations in Ukraine. In June, Kiev signed a contract with Russia's TVEL Fuel Company virtually giving Russian suppliers monopoly status on the Ukrainian market. Now, it seems, Westinghouse, an American company that once supplied fuel to the South Ukrainian Nuclear Power Plant, will also get its piece of the Ukrainian pie.

Clinton had a busy day on Sunday, visiting both Azerbaijan and Armenia. During her meetings with Azeri President Ilham Aliyev and Armenian President Serzh Sargsyan, as well as with her counterparts Elmar Mamedyarov and Edvard Nalbandyan, Clinton used cautious language to encourage finding a solution to the long-standing Nagorno-Karabakh problem based on the Madrid principles agreed upon by the Organization for Security and Cooperation in Europe (OSCE) Minsk Group (Russia, United States and France). Given the conflict's long history, Clinton could hardly hope to encourage progress toward resolving it. Concurrently, she also had more important and pressing issues for the United States at hand. At her meeting with Sargsyan, Clinton discussed normalizing ties with Turkey, calling on Yerevan and Ankara to open their borders to each other as soon as possible. In contrast, the Azeri agenda focused on energy cooperation. Neither. Clinton nor Azeri officials elaborated on how the talks panned out. They most likely discussed the Nabucco project's fate, which has lost momentum recently because of incongruity between Baku and Ankara over gas transit issues. Aliyev has twice postponed his planned visit to Turkey to sign documents on gas supplies, most recently a month ago.

On the last leg of her busy trip, Clinton stopped in Georgia. On several occasions, she described Abkhazia and South Ossetia as Georgian territories occupied by Russia, striking a chord with Georgian President Mikhail Saakashvili. After talks with Saakashvili, Clinton also met with representatives from the Christian Democrats and Our Georgia political parties. While the former is represented in the national parliament, the leader of the latter, Irakli Alasania, fared well in the Tbilisi mayoral elections in May, claiming some 20 percent of the vote. Alasania is seen in the United States as a promising politician leading up to the 2013 presidential elections; a former U.N. envoy to Georgia, he is well-connected in the country.

Alasania's close ally, Alexei Petriashvili, who also took part in meeting with Clinton, told Kommersant that their talk focused on the 2013 elections, including the undesirable scenario of amending the Georgian Constitution to make the country a parliamentary republic, which would allow Mikhail Saakashvili to remain in power as prime minister.


---
Clinton: NATO door open for Ukraine (Reuters)


All rights reserved by Rossiyskaya Gazeta.