Censorship and sensibility is provocative art criminal?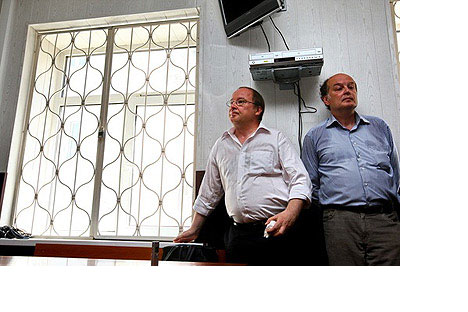 Andrei Erofeev and Yuri SamodurovSource: RIA Novosti
At least that is what Russia's most provocative curator, Andrei Erofeev, and the former director of the Andrei Sakharov Museum, Yuri Samodurov, found out this week. A district court found the two guilty of "incitement of religious and ethnic hatred" for organizing an exhibit of 20 art works that had been rejected or tossed out of other exhibits.

They were not acquitted, but their colleagues still breathed a small sigh of relief. Each of them could have been spent up to three years in prison; instead they were fined. Samudorov was ordered to pay 200,000 rubles ($6,483) and Erefoeev was fined 150,000 rubles ($4,862). Some court observers said they believed that the Kremlin had intervened to prevent a prison sentence.

The works in the show included images of Mickey Mouse as Jesus Christ, an icon made of black caviar and Lenin on the cross. The 2006 exhibit, aptly titled Forbidden Art, was and still is a litmus test for freedom of expression in Russia.

In recent weeks, the curators have witnessed an outpouring of support. In the last days of June, Russian human rights activists sent an appeal to United Nations High Commissioner for Human Rights asking for help in their attempts "to stop the punitive hand of quasi-justice."

A group of Russian artists, including highly acclaimed pioneers Ilya and Emilia Kabakov, Erik Bulatov and Vladimir Yankilevskiy, appealed to President Dmitriy Medvedev, asking him "to stop the prosecution of, and lift the charges" against Samodurov and Erofeev.

"A guilty verdict will be an indictment against the whole of modern Russian art and another step towards the introduction of open or hidden censorship," their appeal said. Finally, human rights ombudsman Vladimir Lukin said the show should be discussed in society, not in court, Interfax reported. The Russian Orthodox church even softened its stance in the spotlight of international attention, stating they should not be imprisoned.

The 2006 Forbidden Art exhibit opened with plywood in front of the 20 works, some of which parodied religion. Visitors could view the exhibit only by using a step ladder and then looking through a peephole. Viewing the art was supposed to be a conscious choice.

In the days after the 2006 exhibit, the prosecutor's office started getting complaints from religious activists as well as nationalist right-wing groups.

"Now it is the church that has a strong influence in the political sphere and contemporary art is an easy target to make a point," said Mark Kelner, a Washington, D.C.-based collector and dealer of Russian contemporary art.

Erofeev is among a handful of extremely talented Russian curators of international renown. He has brought Russian contemporary artists like provocative pranksters "Blue Noses" to the attention of mainstream museum directors and collectors. The curator is fearless, but his radical vision has made official enemies and cost him a job at the State Tretyakov Gallery when he added Blue Noses (who like to parody Jesus, Pushkin and Putin) to an official exhibit of Sots Art and brought it to Paris.

Some argue there would be no Russian contemporary art scene if it were not for Erofeev, a brilliant man who has been a passionate advocate.

"Since their arrest, it's become naive to leave politics abstract and apart from Russian art..the waters become even murkier for anyone — artist, writer, curator, or museum director – hoping to air an opinion about anything remotely controversial – they could go to jail for it," Kelner said.


---

Alexander Kosolapov's "Icon Caviar" was in the Forbidden Art show in 2006. In an interview not long after the show, Kosolapov said he created the icon out of sturgeon eggs to make a point about how Russia is perceived, not to blaspheme, but that the work was misunderstood.

The artist fled the Soviet Union in the 1970s and moved to New York's Greenwich Village. A pioneer of a Russian political art movement, the 1970s Sots Art, he merged highly charged symbols and played with Social Realism to create new meaning. When he moved to New York, his concerns changed: "McLenin's" showed Lenin with McDonald's arches emanating from his head; "This is My Blood" juxtaposed Jesus Christ and Coca-Cola.

Even Coca Cola began investigating and following the artist, whose work has been purchased by the Guggenheim Museum in New York.

See slide show
All rights reserved by Rossiyskaya Gazeta.