Dirty dancing at Coyote Ugly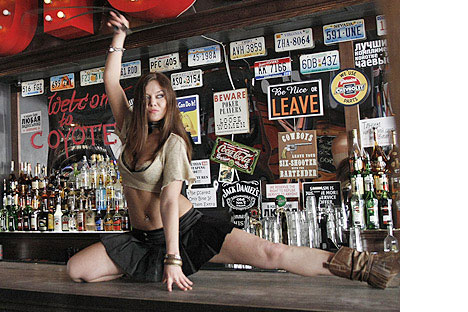 By day Olya is an ordinary college student. She goes diligently to her lectures at Russian State Humanities Universities where she is majoring in "exhibition work". In a year Olya will graduate. But she has no plans to organize exhibitions. To start Olya knows she wants to be a "coyote".
The American bar Coyote Ugly became popular after the release of the movie by the same name. In the movie, a provincial girl who's had no luck with men or a career, finds work as a barmaid and begins dancing on the bar top. After that her life changes miraculously for the better. Not surprisingly, this successful film acted as the best advertisement for the Coyote Ugly bar and now there are already 15 such bars in America. Several years ago the chain went international when two bars opened in Germany. And now there's a Coyote Ugly in Moscow. This happened almost by accident. A Russian businessman who specializes in restaurants happened to find himself in a Coyote Ugly in Texas. He liked it so much he decided to open one of his own in Moscow and took out a license.

The most difficult task was finding the right staff. In Coyote Ugly, only women work behind the bar, a traditionally male province in Russia. In addition, these barmaids have to know not only how to make drinks but how to chat up the customers in a somewhat provocative manner — how to joke, tease and create the right mood. "We looked at almost 500 girls," said Anna Zakharova, co-owner of the Moscow Coyote. "We needed girls with striking personalities and self-confidence, but not so uninhibited as to seem vulgar. We needed girls with what in English is known as sass."

I look at Olya, sitting opposite me at a small round table, and she doesn't seem at all sassy. A nice sweet face without too much make-up, even the coyotes' very revealing dress doesn't look provocative on her. It looks right for the weather: we're in the middle of a heat wave, after all. It's easier to picture her in a lecture hall that dancing on a bar. But according to Anna, Olya is one of the best. The scariest part said Anna was climbing up onto the bar and not looking down. But she quickly got the hang of it. Olya is used to taking care of herself — she has worked as a waitress since her freshman year. But waitresses make very little whereas a coyote can make over 80,000 rubles ($3,000) a month — an incredible sum for a college student.

True, it's very hard work. Coyotes work two days off, two days on: 18 hours during which coyotes have not only to mix drinks but to hop up on top of the bar every 40 minutes and dance seductively. Not surprisingly two of Olya's friends at Coyote Ugly gave up and left. Since the first "draft" last November, more than 40% of the girls have come and gone. But Olya isn't planning to go anywhere. She's crazy about her job. Most of all she likes her new image as a coyote: a self-confident, independent girl who knows her own worth. Still, just in case, Olya hasn't told her parents what she does nights. For her mother and father, who live in a small city far from Moscow, the shock would be too great: their daughter the college student dancing on a bar top!
Photos by Nikolay Korolev


She hasn't told her boyfriend either, only because she doesn't have one. "For now I'm not interested," says Olya with an independent smile. But in the wee hours, when her shift is over, there are always a
few admirers waiting for her at the door with flowers. Mostly mid-level managers, the bar's main clientele. The prices at Coyote Ugly are far more democratic than at the more pretentious bars nearby, Chapurin and The Most, and there is not face control. Of course, what the girls do is nothing like striptease, and there are bodyguards to protect them from close contact with customers. Still, half-naked nymphs dancing on a bar top is enough of a come-on for the crowds of men who turn up every night. Though not always enough for good tips.

"Yes," sighs Anna Zakharova, "Russians, unlike Americans, are not used to leaving tips." If a Russian man gets excited he can leave a lot. But for that you have to work over him. When a customer is particularly difficult — doesn't react to jokes, doesn't drink much — you can play a game with him. The girls have a special crocodile (stuffed, of course) just for such occasions. The customer and the girl take turns pressing its teeth, one at a time. One of the teeth has a hidden mainspring: press it, and the jaws snap shut. Unlike the customer, the girl knows which tooth. Needless to say, the customer usually loses and has to buy a drink. Other methods of enlivening a diffident customer include getting him to compete with fellow customers to see who can drink the most. One way or another, the customer will have to shell out. In the bar's overheated atmosphere, he won't even notice how it happened. But isn't that why he came here in first place?

"Tell me," I say to Olya, "what would you say to a man who was in a bad mood and just wanted to talk to you and complain about life?" "I'd say: You wimp! What are you moping about? Pull yourself together, get a girl and order a drink!" Olya grins. Oh, well. Poor guy… He won't get any sympathy from the coyotes. That said, when a coyote like Olya grows up, she may understand that sometimes, when you take pity on a man, you can get a lot more out of him — and not just tips.
All rights reserved by Rossiyskaya Gazeta.