Young art without borders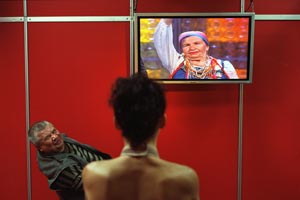 Sasha Shchednov, 22, arrived rather impressed from his hometown of Voronezh to participate with 600 other Russian and international artists in the second Moscow International Biennale for Young Art. Travelling with only a backpack and a huge pile of stickers – his artwork – he has been an eager visitor to the many exhibitions scattered around Moscow and hasn't missed an opening, where he carefully examines each piece he sees. "It's my first biennale," he explained. "I'm a little blown away by what I see, but it's fascinating." Shchednov has made a point to meet as many of his fellow artists as possible, both the Russians and those from around the world.

While watching two German artists who have linked their faces with wires to perform a slow, complex symmetrical choreography, Shchednov commented mockingly, "Yes, of course, they're very beautiful, but I don't really see where they're going with it." That's not to say his own work is crystal clear to everyone, either. He created the stickers specifically for this event (and that he will spend all week posting on the streets of Moscow) are a collection of the most absurd spam to be found on the Russian Internet. Grotesque pictures accompany these attention-grabbing texts with the aim of catching the eye of unwary Internet users. Do we detect a touch of Dadaism in what is he trying to say with these ready-made works? Shchednov tries to avoid the question. "I enjoy spamming the real world," he said. He prefers to leave the long, conceptual tirades to "Westerners who really like that."

For the majority of artists selected, this will be their first international biennale. The organizers have put together a series of wonderful exhibitions that are being used as a vast, informal forum for exchange between young artists. Of course, the established art world, including curators and collectors, have financed, framed, made selections and offered their opinions as part of the event. But audiences are drawn in by the artists' youth.


Various artists, selected works


However participants were looking for feedback from the established artists and curators, and were desperate to know if certain industry VIPs had seen their work and praised it. "I really hope to be invited to another biennale," one Austrian artist said while slightly drunk on the night of his opening.

The international artists are taking the opportunity to discover Moscow, both for its museums and the city itself. The atmosphere of warmth and freedom came as a surprise to most, but some questions still remain. "There are very few works that directly question sexuality, and depictions of the body are rare as though the organizers were afraid of something," said French artist Guillaume Le Moine, who came from Lyon to present Un nouveau Monde (A New World), a lithograph silicon disc made with beams of electrons, which makes the association between nanotechnology and utopia.

Has the Biennale self-censored itself this year? "Not at all," said Daria Kamyshnikova, one of two head curators who organized the Biennale's shows. "The only criteria for me are the quality of the works and the age of the artists, which is under 35. We [Kamyshnikova and co-curator Daria Pyrkina] chose a large part of the works ourselves (and we) chose curators tasked with selecting their own artists." Yet Kamyshnikova was vague on the subject of what criteria were used in the selection process. "I chose those who, in my opinion, best embodied the idea of rejecting borders." Did she come up against any boundaries herself? "Only financial ones," she said. "We had to refuse a few installations for budgetary reasons, massive works or performances that were too complex to carry out – but very few, in fact."

With opening week now behind him, Shchednov is getting ready to return home to Voronezh where, despite his modesty, he's already an unintentional celebrity thanks to a series of humorous collages he made featuring Vladimir Putin. Despite being accused of "extremism" by local authorities, the young artist said he isn't worried. He wished a fond farewell to his new friends in Moscow and invited them back for the next Biennale in two years time.

Find out more at www.youngart.ru
---
VIDEO:Festival of performances Kalabi-Yau
All rights reserved by Rossiyskaya Gazeta.