Memorial activist Natalya Estemirova was killed one year ago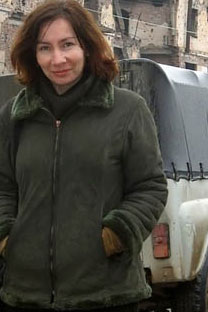 One year ago, on a hot July morning in the centre of Grozny, the capital of Chechnya, Natalya Estemirova, one of a dwindling number of human rights investigators there, was attacked by four gunmen and dragged into a white Lada car. Neighbors witnessed the abduction on July 15, 2009, but were too scared to report it to police. Her body was found lying on a side of the highway, her hands tied up behind her back, a big bruise on her face with two bullet holes in her chest and two in her head. She left a teenage daughter behind.

Russian journalist and Newsweek correspondent Anna Nemtsova was Natalya's friend as well as her colleague. "My colleagues and I remember Natashaґs calm voice on the phone telling us to "come and report on the abduction epidemics," she recalled a month after her death. "We did not report from Chechnia enough. We did not react to Natasha's calls enough."

A year later, it is unclear what leads, if any, have been developed in the investigation. Human rights activists have challenged the limited official accounts and bemoaned the lack of progress in the case. Last week, President Dmitry Mevedev made a surprise announcement regarding the case.

Following is a sampling of Russian press coverage on the first anniversary of the death of Estemirova.


THE MOSCOW TIMES
by Alexey Eremenko

President Dmitry Medvedev said Thursday that the killer of human rights activist Natalya Estemirova has been gidentified and an international search was under way, but he named no names, leaving critics wondering whether investigators were looking for a scapegoat. Medvedev spoke about the case in Yekaterinburg at a news conference with German Chancellor Angela Merkel, who prodded him on Estemirova's death, which occured exactly a year ago Thursday.

Law enforcement officials are hunting for the killer and trying to identify the person who ordered the killing, Medvedev said. "The hitman of the murder has been identified … but not the one who ordered this grave crime," he said. "It is important that Russia continues to investigate that murder," Merkel said. "In order to feel security in the legal system, it's important that such high-profile and public cases be successfully solved."

Human rights group Amnesty International and Council of Europe ombudsman Thomas Hammarberg also criticized the lack of resolution to Estemirova's murder Thursday.

Medvedev took a personal interest in Estemirova's killing shortly after it occurred, issuing an order during a news conference with Merkel in August to find and punish the killers.

Representatives of the Memorial rights group, where Estemirova worked, voiced skepticism that a manhunt was under way for the killer. Memorial head Oleg Orlov agreed, saying, "This is a highly dubious version but very convenient for the authorities," Interfax reported. Orlov accused investigators last week of ignoring evidence that Chechen officials might have been involved in the death. Estemirova collected information on illegal executions, kidnappings and arson carried out by Chechen law enforcement officers, Orlov said.

Estemirova was kidnapped in Chechnya's capital, Grozny, on July 15, 2009, and found shot dead alongside a road in Ingushetia several hours later.


Ъ-OGONIOK (Kommersant Group)
by Olga Allenova

In the year that has passed since the murder of Natalya Estemirova the investigation has seen little progress. Only one of the people who kidnapped Natalya has been identified – the Chechen militant Alkhazur Bashayev. By the time the crime scene exhibits were examined (a fragment of rubber from a pistol silencer), Bashayev was already dead. Human rights activists of course do not believe that the deceased Bashayev is Natalya's real killer, but rather a scapegoat.

This is a frequent occurrence in the Caucasus: Someone is killed during a special operation and then everything is pinned on them. "The criminal left a small piece of rubber at the scene of the crime, then we found the vehicle he bought for his crime, and inside the vehicle there was a pistol with a silencer that matches this piece of rubber, together with a forged law enforcement officer ID with a photo of Bashayev stuck on it," says Svetlana Ganushkina, head of the Civic Assistance Committee. "The only question remaining is whether there's a sincere confession by Bashayev, written by him before he died, lying around somewhere. The whole thing is somehow too improbable."

One serious obstacle to justice—no one who sees anything in Chechnya wants to talk—stems from fear. Alexander Bastyrkin, head of the Russian Federation Prosecutor General's Investigative Committee, admitted last year that the investigation had effectively stalled, because the witnesses to these abductions are afraid to testify. However, there are witnesses – Tatyana Lokshina, deputy head of the Moscow office of the human rights organization Human Rights Watch, who went to Grozny straight after the murder of Natalya Estemirova in July last year, found a female witness who had seen the people who kidnapped Natalya. In her haste, Lokshina forgot to take the witness's contact details, thinking it would not be difficult to find her. But it turned out to be very difficult. To this day there is in fact not a single witness to the abduction of Estemirova has come forward.

However only real witnesses could ever convince human rights activists (and the Russian public following this case) that Alkhazur Bashayev was one of the kidnappers.


POLIT.RU
by Tatyana Lokshina, Human Rights Watch

It's difficult to believe it's a whole year since we lost Natasha. It still seems as though she's gone away somewhere but soon she'll call and we'll hear her usual fast, insistent speech again: "There's such a… We must act quickly… It's just awful… We've got to do something…" When I'm coming back from a trip, I sometimes catch myself thinking that I'll get home and find Natasha at work in the kitchen. She often used to come over when I was away on my travels and let herself in with her own key, and the pelmeni dumplings and some sort of complicated vegetable mix that she bought a thousand years ago are still there in the freezer. I can't bring myself to throw them out, just as I can't bring myself to delete her phone number from my mobile. But it's time to throw them out and delete it, and to learn to live without Natasha. But the problem is, trying to do this is terrible.

It's as if Natasha Estemirova had always been there. She started to work for Memorial even before the Grozny office opened. She would travel to the hottest spots, report information, come back and then go away again. Then we all lived at her place. Sometimes three or four people would descend on her at the same time, and Natasha and her daughter would sleep doubled up on a tiny sofa in the kitchen in order to put up their numerous guests. At a certain moment her guests would set off back home, a bit farther away from the war, but she stayed – for all of us, and in place of all of us. And there could be no doubt that Natasha would find out and recount and do everything, and would welcome you the next time you managed to get out.

Someone will probably say: she was a Chechen, of course, so she stayed there, at home. And you, the foreigners, naturally left. But Natasha, who was Russian on her mother's side, had grown up in the Sverdlovsk region and had followed her father to Chechnya when she was a grown-up young woman. She had to learn to speak Chechen fluently. She did not think in categories of ethnicity, of "blood and soil." She could have lived just fine in Ekaterinburg, Moscow or St Petersburg. But she simply couldn't: she was physically unable to leave a place where people were suffering and where she could help someone.
All rights reserved by Rossiyskaya Gazeta.