Police investigate case of "Superdonkey"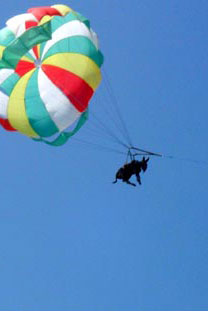 Animal rights activists have called for the prosecution of those responsible for flying a donkey over the Sea of Azov.
The stunt was an attempt by local businessmen to attract visitors to their private beach on the Sea of Azov.

The shocking incident took place in the Krasnodar Region. For half an hour the terrified animal, braying loudly, flew 130 feet above the sea as outraged vacationers demanded a stop to the torture.

After the flight, the donkey splashed down in the sea, by all appearances extremely frightened. Veterinarians will determine whether the animal sustained any physical harm. The donkey, accompanied by its owner, is back in Anapa for a medical examination.

Russian animal rights activists are demanding that the businessmen responsible for the flight be prosecuted. "Russian Animal Rights Center Vita has written to the Prosecutor General's Office demanding that criminal charges of cruelty be brought against the Krasnodar businessmen who strapped a donkey to a paraglider and sent it aloft," read a press release from the Center. Animal rights activists further contend that the cruel treatment of the animal traumatized sea-goers.

An investigation was launched after a video of the incident, which took place at the main beach in the Golubitskaya Village, was shown on national television on July 20.



If found guilty, the entrepreneurs could be charged under Article 245 of the Russian Criminal Code (cruelty to animals), RIA Novosti reports.
All rights reserved by Rossiyskaya Gazeta.