Fighting corruption in Russia is hard graft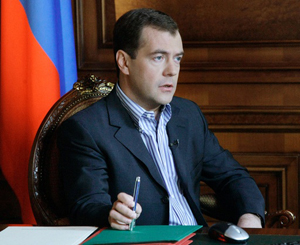 It was always going to take a long time, but Russian President Dmitry Medvedev admitted on July 14 that his crusade against corruption has not yielded much success so far. "It is obvious that no one is satisfied with our progress in clamping down on corruption," Medvedev said, adding that there had been no major achievements in a campaign he had flagged as a priority of his presidency.
Since taking office, the president has launched a long-promised campaign against corruption and nearly every week some high official or state employee is sacked or jailed. However, this is only a drop in the bucket compared with the million-plus state employees who've been extracting bribes as part of their job for centuries.

Medvedev himself pointed out that the fact the topic is being openly discussed was a positive sign. He also recalled that in the past, the dominant view was any fight against corruption was doomed to failure, but now ordinary people, businessmen, and "reasonable bureaucrats" believe that something has to be done. "But it is clear that too little has been done so far. However, this does not mean that nothing is happening, there are some results and our law enforcement authorities have stepped up their activities," said Medvedev.

Tip of the iceberg

While the level of corruption has actually gotten worse, according to official figures released early this year, this may be down to the state paying more attention to the issue and thus more abuses are being reported as part of the crackdown. "The overall number of such crimes is 10 times or even 100 times as large as the number that is uncovered. It's just the tip of the iceberg," Medvedev said at a session of Russia's Council of Legislators on July 14. A total of 43,000 corruption-related crimes were reported since the start of the year, the president said. "The number of uncovered bribery-linked crimes has increased 10 percent," he said.

Moreover, bne's sources report that the tax authorities have smelled the change in the air and curtailed their dodgy practices: In the years following the Yukos affair, when the Kremlin jailed the oil firm's owner Mikhail Khodorkovsky and nationalised his company using bogus tax charges, there was a huge increase in the tax police using the threat of raids to extort money from business. The problem was that by destroying Yukos, the Kremlin signaled to the bureaucracy that administrative power takes precedence over the rule of law, thus empowering bureaucrats to abuse their position. "If the president can ignore the law to achieve his aims, why can't I?" went the thinking.

What Medvedev has done is to introduce an element of risk to graft that wasn't there before. In the past, officials could take bribes with impunity, but now if you accept a bribe, there is a possibility you will go to jail. Even so, it will take a long time to break the back of this particular knot, as graft is inherently secretive and introducing some risk will simply make most bribe-takers more cautious. The key is for the Kremlin to push ahead with reforms that remove the levers bureaucrats use to extract their bribes. Here there is also progress, but again it is mixed.

Health and safety

A report in July said that businessmen find the tax and fire safety inspectors the most disruptive of all the state services. Medvedev has already ordered the number of inspections be limited and changed the law to make it harder to jail an executive when he's only under investigation - a favorite threat of the money-grabbing inspectorate. Small business owners tell bne that they are extremely encouraged by this last change, as potential detention (not even arrest) on trumped-up allegations was one of the main daily operational fears for business people.

A survey conducted by state-owned pollster VTsIOM in 2009 asked 1,200 business people to rate the performance of the state agencies regulating their businesses and found tax authorities were the biggest source of problems, with 65 percent saying they hindered their work. The fire inspection service was next in line, with an even 50 percent of businessmen crying foul, reported the Moscow Times. Frequent inspections by oversight agencies and regional administrations was another main problem, with 33 percent of the surveyed entrepreneurs citing excessive paperwork as their main concern during inspections and another 30 percent saying these inspections ended with bribes.

Given the sprawling nature of corruption, Medvedev can do nothing other than keep chipping away at the issue from both sides: reducing the bureaucracy and increasing the enforcement, which he has been doing.

In July, Medvedev called for the Duma to get more involved and set up an investigative committee to look into graft allegations to go along with the new committees at the Prosecutor General's Office and the Interior Ministry and called on bigger fines for culprits. One of the ideas on the table is to introduce multiple fines for corrupt deals, when the offender is obliged to pay a fine several times the size of the bribe accepted. "It is going to be a severe punishment, measured in dozens and hundreds of millions of rubles," he said.

Currently, fines for bribery can amount to 100,000 rubles or the defendant's income for up to one year. Medvedev though is pushing for tougher measures and agreed with a proposal by Sergei Mironov, speaker of the Federation Council, to treat corruption crimes as severe crimes and use prison sentences rather than probation as punishment for them. Medvedev is keen to get the government to get involved in the anti-raft drive. "The institution of parliamentary investigations is not being used fully. This method will not be used in each and every case, but it can play a role and be useful in curbing corruption," Medvedev said at a session of Russia's Council of Legislators on July 14. "We must fight against both those who accept bribes and those who offer them."

"Corruption has two sides, as we know. Blaming bribe-takers alone would not be enough. No smaller blame must be laid on bribers," Medvedev said. No law-abiding citizen in Europe would offer a bribe to a traffic police officer, he said. "In this country, as we know, this is done easily."

Medvedev also suggested that the tax authorities should inspect government officials' income statements. He has introduced a bill that would force all officials - not just MPs - to disclose the incomes of their close relatives, including spouses, children, grandchildren, parents, grandparents and siblings, Rossiiskaya Gazeta reported Wednesday. Officials have been required to report their own income since last year, but their families until now were exempt. "This is not only a problem of law, but also a problem of mentality, a problem of habits, a problem of respect for law by all citizens," he said. Amen.

All this talk is encouraging, but the president should broaden his focus. Russia remains way down on the World Bank's "Doing Business" country ranking and the two issues are linked. Knocking a few heads together and forcing bureaucrats to get even smarter about how they hide their money is not really going to help. But convincing these people that their job is to regulate business and allow it to flourish in a way that actually works would do as much or possibly more for reducing corruption. The president has talked a lot about innovation, modernisation and foreign investment, but this basic message to his own government apparatus - "Make business easy to do in Russia!" - is still largely missing. Rather than debate the size of the fine for corruption, the president would be better to make putting Russia at the top of the World Bank's list a goal.
All rights reserved by Rossiyskaya Gazeta.