Smog blankets Moscow on city's hottest day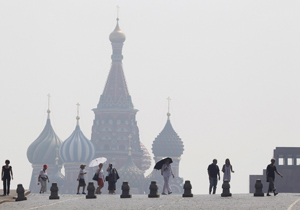 A heatwave has engulfed central parts of European Russia, and Siberia since June, destroying crops covering an area the size of Portugal. Green groups, including Greenpeace, say the temperatures are evidence of global warming.
"The all-time record has been broken, we have never recorded a day this hot before," said Gennady Yeliseyev, deputy head of Russia's state weather agency. The previous high of 36.8 degrees Celsius was recorded on August 7, 1920, he said. "The new record could be broken by Wednesday," he said.

Muscovites have struggled to deal with the heat, with most electronics retailers selling out of fans and air conditioners, and many cafes running out of ice and cold beer by early afternoon. Women were using golf umbrellas to shield themselves from the sun on Red Square. Bloggers have begun to complain of men riding the metro without shirts.

Unusually high temperatures have contributed to record deaths by drowning across Russia, which increased by 688 in the past three weeks, Rossiiskaya Gazeta reported on July 23, citing Emergency Situations Ministry data. Most of those who drowned were intoxicated, the government's newspaper of record said.

"This summer is very hard, physically and emotionally," said accountant Marina Veselkova, trying to cool off by a fountain in front of Bolshoi Theater after sending her children to relatives in the country.

The emergencies ministry said 34 peat fires and 26 forest fires were blazing on Monday in the area surrounding Moscow, covering 59 hectares (145 acres). A spokeswoman for the ministry said Moscow last suffered a similar attack in 2002, also from fires caused by hot weather. The ministry appealed to residents and holiday-makers to stay away from forests on Monday, saying it was unsafe.

The country's chief health official has urged companies to adopt a siesta regime of breaks for workers during the hottest part of the day to avoid injury and illness. Officials have also urged farmers to start harvesting at night to protect their combines from mechanical failure during the daytime heat.

Airports serving Moscow were unaffected by the smoke.
---
All rights reserved by Rossiyskaya Gazeta.