Kvas in the United States: Traditional Russian beverage wins Americans' hearts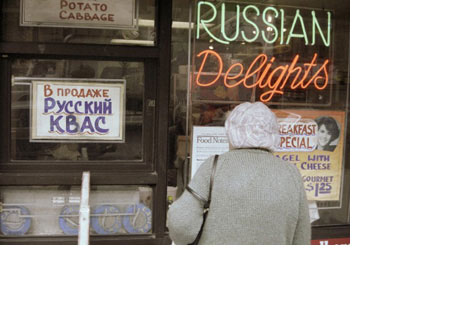 Adnan Mirvany, an ethnic Iranian who runs a shop in Brooklyn, is still unsure how to spell the Russian soft drink's name correctly and wonders how it became so popular with New Yorkers. He labels his drink both "Cwas" and "Cvass;" either way, it tastes good.

"I added the slogan 'a great product from Russia,' and, apparently, my clients believe it," said Mirvany. "When it is 86 oF outside, a glass of cold and refreshing kvas seems to be very appealing. Kvas's popularity allowed me to expand my business, open four more outdoor stores and, most importantly, obtain a license for selling kvas throughout the entire East Coast. In a couple of years, it will make me a millionaire."


How can a retailer make a fortune by selling an exotic Russian drink, albeit a very nice and refreshing one, if the only way for New Yorkers to learn about its existence is from residents of Brighton Beach? And what really are the chances of this small-scale and "no-name" beverage entering a market dominated by soft drink giants? Experts say that despite the challenges, Mirvany's optimism is not misplaced. Market analyst Daniel Makovsky says that the average American has a passion for everything exotic. After tasting sushi and sake out of sheer curiosity, Americans embraced Japanese food. Thanks to tequila and zamzam, America was introduced to Mexican bar traditions and Arabian soft drinks. Given this logic, Russian kvas could be a commercial success in the United States. And there is some data to support the claim.

A year and half ago, only one company in America - an upscale beer manufacturer - brewed traditional yeast-fermented kvas on a commercial scale, but today the number of kvas-makers has risen to 11, 10 of which are small-to-medium sized enterprises. It is worth noting that each of them has its own kvas recipe locked safely away as a top trade secret. Their business performance impresses many, with monthly sales volumes amounting to hundreds of thousands of dollars. It's true that so far kvas cannot compete with such giants as Pepsi or Coca-Cola, but it already has its own share of the U.S. soft drink market without investing in any big marketing campaigns.

The marketing strategy kvas-makers have embraced has kept clients coming back for more: They give the first taste as a sample. New York's kvas campaign was a great success. The trade companies and small retailers that took the risk of introducing the foamy drink to the U.S. market benefited from both the unseasonably hot weather on the East Coast this summer and marketing experts' elementary understanding of human physiology.

For almost two months now New York, Boston, Providence and Philadelphia have been melting in unprecedented summer heat. And what do you think hypertension-prone New Yorkers chose choose to quench their thirst in such hot weather? A Russian-language TV station in Boston recently broadcast a video about a street vendor who, to his great astonishment, discovered that his kiosk selling Russian kvas suddenly attracted a long line.

"I've seen such a thing only once before – on a beach in Florida where I was on vacation. But it never occurred to me that here people too would prefer 'bread water' to mineral water," he says.

Given the success stories, Russian kvas producers are now interested in entering the U.S. soft drink market, arguing that they know the true professional kvas-making methods and they are improving each and every day.

"Moreover, the art of making genuine kvas is a real philosophy," said Vyacheslav Galushko, an expert in Russian culture. "You don't realize it until you witness the entire production process. You'll have to learn what grain should be used for fermenting the yeast, why Russian fermentation is different from that done in Iowa and why even top kvas makers are unable to reproduce competitors' recipes."

Top Russian kvas experts, ranging from owners of kvas-making companies and ordinary housewives with their own secret recipes, are now ready to venture into the American market to promote the Russian national beverage. It looks as if the timing is right, at least as long as Adnan Mirvany and other storekeepers are eager to invest their time and energy into becoming millionaires.
All rights reserved by Rossiyskaya Gazeta.