Facing the heat: drought and fires wreak havoc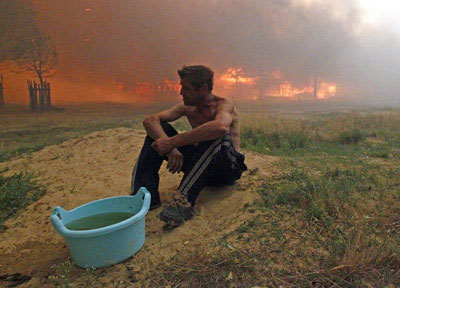 A man sits on the ground while a house burns due to severeheat outside the town of Vyksa, some 150 km south-west of theVolga city of Nizhny Novgorod, July 29, 2010.Source: Reuters/Vostock Photo
Russia's worst drought in 100 years has killed 54 people, destroyed crops and revived inflationary pressure. But the gritty Moscow is not giving up.
With temperatures soaring as high as 40° in Russia, the heat wave is breaking one record after another, devastating crops and spawning the worst drought in a century.

Twenty-seven regions from Urals to Siberia have declared states of emergency as hundreds of wildfires sparked by the heat wave swept the country, killing more then 50 people and rendering some 3,500 homeless. Fires have cropped up around Moscow, which now sits in a haze of smoke from blazes in the surrounding bogs. Forest and peat bog fires ravaged 14 regions, wiping some villages – such as Verkhny Vereyi – off the face of the earth.

With some 2,000 homes officially recorded as destroyed by the fires, both Prime Minister Valdimir Putin and President Dmitry Medvedev promised 3 mn roubles ($100,000) for each family whose home was burned down, pledging that people would have shelter again before November.

The resulting wave of panic from the ministries, concerned by the economic fallout of this unusual meteorological phenomenon, is not likely to ease the minds of millions of Russians dripping in sweat from Moscow to Siberia. The people of Russia are doing what they can do escape the heat and the exodus towards bodies of water has had led to some tragic deaths due to drowning. On July 19 alone, 71 people drowned in Russia while another 274 lost their lives in similar circumstances the week before. Many of these deaths were due to a tragic combination of swimming in unsupervised areas and alcohol consumption.

The extreme heat has impacted the economy severely, thus destroying crops and fuelling inflationary pressure. According to a July 23 estimate from Russian Agriculture Minister Elena Skrynnik, 10 mn hectares of wheat – an area the size of Portugal – was devastated by the heat, a fact that could also have repercussions on livestock farming.

The country will be able to produce 70 mn to 75 mn metric tons of grain, down from an original forecast of 90 mn tons, says Deputy Agriculture Minister Alexander Belyayev.

Last week Prime Minister Vladimir Putin announced a ban on Russian grain exports. Russia's worst drought in at least 100 years, which has driven wheat prices to an all-time high since 1973, will continue in August and threaten more crops and winter-grain sowings, says the Hydrometeorological Center. Rainfall last month in central Russia and along the Volga River was 10 pc to 30 pc of the long-term average, the center said.

It's a big blow to Russian exports, particularly since Russia had just overtaken the US as the world's biggest wheat producer. "It's easy to leave the export market but harder to return it to. It would be sad to lose the unique possibilities that were acquired with such difficulty these last five years," said Pavel Skurikhin, the president of the National Grain Producers' Union, who said he fears wheat prices could spike by 1.5 to 2 times.

Inflationary pressures are growing. "If the harvest is lower (than 80-85 mn tonnes), inflation numbers for August won't be affected, but the period from September to November will be," warned Russia's Deputy Economy Minister, Andrei Klepach.

The heat wave in Russia has come as a shock to many in India who identify the country with wintry landscapes. Greenpeace was the first to sound the alarm on the unseasonal heat. "The heat wave of the past two months is the consequence of climatic change and experts at Greenpeace have proof," the organisation said in a July 21 statement. "The Russian government should take steps to combat the effects of climatic change," the document urged.
All rights reserved by Rossiyskaya Gazeta.