Indian soil conducive to Russian fertiliser companies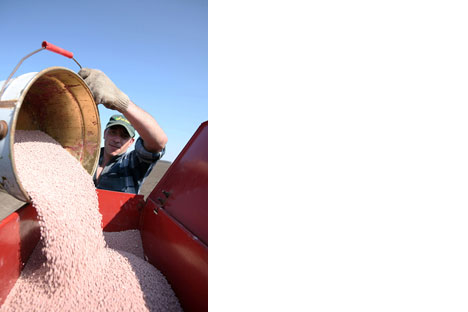 Indian demand will stimulate Russia's fertiliser industrySource: Victor Pogontsev, PhotoXpress
A growing market, business bonhomie and new subsidy changes make India the perfect soil for Russian companies to plant their dreams…
Maxim Volkov, chief executive officer of PhosAgro, Russia's largest manufacturer of fertilisers, is a busy man, stitching lucrative deals and planning an ambitious $1 bn initial public offering (IPO) for his company. When the going gets tough, he likes to relax, doing yoga, his only India connection for a long time.

Early this year, India ceased to be just a yoga land and zoomed high on his business radar screen. PhosAgro and India's leading fertliser company, IFFCO struck a $1.5 bn three-year deal for supplying diammonium phosphates to India during Prime Minister Vladimir Putin's visit to New Delhi in March this year.

The big breakthrough in PhosAgro's India foray happened after the Indian government expanded its system of subsidies to include three-component compound fertilisers.

PhosAgro, the world's second biggest producer of concentrated phosphorus-based fertilisers, moved in quickly and cornered the lucrative deal. "The Indian contract has secured almost 30 pc of PhosAgro's production capacity at a stroke, which has enabled us to minimise costs and plan a programme for manufacturing and marketing the product," said an excited Volkov.

The contract signed by PhosAgro includes supplies upto 1 mn tonnes, which will cover almost one fourth of India's current compound fertiliser consumption.

India's annual consumption rate of compound fertilisers of different brands is estimated at 3.8 mn tonnes, according to estimates by PhosAgro.

The deal was important for PhosAgro for another strategic reason. Before the system of subsidies for fertilisers was revised, the main supplier of diammonium phosphate to India was the American company PhosChem.

The US company's share has recently declined – between 2008 and the end of 2009 - it fell from 55 pc to 50 pc, while the Russian product's share doubled – from 10 pc to 21 pc. The sales for 2010 indicate that the Russian company's share will continue to grow.

Before the subsidy system was revised, Russian manufacturers preferred to supply only simple fertilisers to India. EuroChem, Russia's biggest producer of mineral fertilisers and one of the top ten world leaders, has been working successfully in the Indian market of phosphorus-based fertilisers for several years.

Two Russian potassium giants, Uralkali and Silvinit, whose joint share of the Russian market account for around 75 pc (10 pc of the world market) are firmly entrenched in India.


Maxim Volkov, CEO of PhosAgro
In March, Uralkali secured a contract with Indian Potash Ltd to supply around $333 mn worth of potassium chloride till 2011 through its exclusive exporter, the Belarusian Potash Company. In 2008, the Indian market accounted for 13 pc of Silvinit's profits (in comparison, Russia accounted for just 9.7 pc, and the EU countries 16 pc).

Another Russian manufacturer – Acron – has followed PhosAgro into the Indian market for three-component compound fertilisers.

The company has secured a contract to supply 200,000 tonnes by the end of 2010. "This is approximately 10 pc of the company's forecast sales of compound fertilisers for this year," said Vladimir Bespalov, an analyst with investment company VTB Capital. In the longer term, Acron intends to expand its presence in India and increase its sales to 300–350,000 tonnes per year.

Rye, Man & Gor Securities expert Konstantin Yuminov predicts that the overall market for all types of fertilisers in India will be 27 mn tonnes in 2010. Russia's share is projected to be 12-20 pc. However, the Russians are not worried by their relatively small share – they are trying to secure their 'place in the sun' in the booming Indian market. "It is no secret that the Indian market today is a key one in the world of concentrated phosphorus-based fertilisers, consuming almost half of all international trade. Imports have more than tripled in the last five years – and this year contracts have been placed to supply more than 7 mn tonnes," says PhosAgro's Volkov.

"The rate of growth is also impressive – the last five years have seen the consumption of mineral fertilisers grow by 50 pc and phosphoric fertilisers by 58 pc," says Volkov.

According to current forecasts, the fertiliser consumption in India will grow at a rate of 7–10 pc per year, he says on an optimistic note.

India's fertiliser demand is likely to rise by about five per cent to 56 mn tonnes in FY11, says US Awasthi, MD, Indian Farmers Fertiliser Co-operative Ltd (IFFCO) said recently.

"Getting into the Indian market should help to maintain Acron's profitability, despite rising costs, since compound fertilisers are a higher-margin product than simple fertilisers," explains Bespalov from VTB Capital.
All rights reserved by Rossiyskaya Gazeta.