ONGC looks to Russia for oil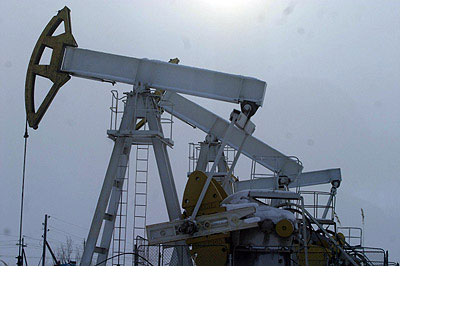 India's ONGC has suggested to Rosneft that the companies jointly bid in the tender for the Trebs and Titov oilfields, two sources close to both companies told Vedomosti. No final decision has yet been taken, and negotiations continue, a Rosneft official confirmed, refusing to elaborate. ONGC's spokesman did not respond to the request.
The Trebs and Titov fields will be sold in a single lot. The tender is scheduled for the fourth quarter of 2010, although neither an exact date nor a starting price has been set. Russia's Natural Resources Ministry estimates the starting price at 17.8 billion roubles, while the Energy Ministry puts it at between 22.9 billion and 101.6 billion roubles. Both oilfields are strategic deposits, holding 78.1m and 132.8m tonnes of АВС1 reserves respectively. Foreign investors are welcome to participate, but only as part of a consortium with a Russian state-owned company, which would retain control. Foreign bidders will also need a permit from the government commission on foreign investment.
"For oil companies, this is the last juicy morsel: there are no similar reserves left in the country, and Russian companies are unlikely to share such a juicy morsel with foreigners," said Denis Borisov, an analyst at the Bank of Moscow. Yet, if the starting price is set too high, Russian oil companies may ally with foreign bidders if the latter offer enough cash, believes Pavel Sorokin at Alfa Bank. Spokesmen for Russia's four largest oil companies refused to comment, though one of them admitted that his company would need a partner if the initial price was too high.
It is not the first time that ONGC has tried to obtain Russian reserves (see insert). Currently, the Indian company has a 20% stake in Sakhalin-1, which it purchased from Rosneft in 2001, and a 100% percent stake in Imperial Energy, which owns deposits in the Tomsk region. No wonder ONGC chose Rosneft as a potential partner for the bid: the two companies have a cooperation agreement, explains Borisov. According to a source close to ONGC, the companies are also considering other projects, including the acquisition of a blocking stake in Sakhalin-3 and the construction of an oil refinery in Russia or India. Rosneft controls 74.4% of Sakhalin-3, while 25.1% is held by China's Sinopec. This is a large project, with potential resources of over 700m tonnes of oil and 1.3 trillion cubic metres of gas. Negotiations are continuing with ONGC on Sakhalin-3, but no concrete results have been achieved thus far, a source close to Rosneft said. At the same time, the source denied reports of alleged plans to build a joint oil refinery with ONGC, saying that Rosneft was more interested in cooperation with China's CNPC to modernise an oil refinery in Tianjin.
ONGC's failures
Earlier, ONGC put out a bid for Yuganskneftegaz (which went to Rosneft in 2004), Sibneft (purchased by Gazprom in 2005) and the rights to develop the Shtokman and Prirazlomny fields. In the summer of 2006, in cooperation with Russia's Itera, ONGC wanted to buy Udmurtneft, a subsidiary of TNK-BP, but the company went to a consortium of Rosneft and China's Sinopec.
All rights reserved by Rossiyskaya Gazeta.