Who's saving Russia (+video)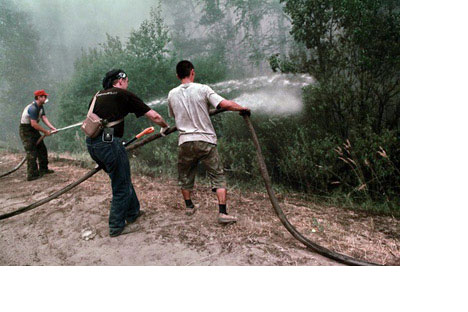 On August 11, when the U.S. State Department representative announced it would contribute $55,000 (1.6 million rubles) to help Russians who had lost everything in this summer's wildfires, snide Russian journalists could not resist belittling the gift. "That should be enough to pay for stamps to correspond with the victims," one wrote sarcastically.
Indeed, for such a mighty country as the United States, the sum does seem ridiculous. Tiny Estonia, whose budget is a fraction the size, contributed 100,000 euros to fire victims. And this despite the fact that Russia has far cooler relations with this Baltic state than with the United States, and no "reset" is expected.

In an effort to smooth over the negative reaction to their undersized gift, the Americans sent two jets with fire-fighting equipment to Moscow.

So let it go, no hurt feelings. In the end, who helps how much and in what way is a matter of personal choice. Russian President Dmitry Medvedev announced that he had donated 350,000 rubles ($11,500) of his own money to a fund established to help fire victims. The idea was that his example would catch on among other officials. So far it hasn't. Reportedly the Prosecutor General has donated 200,000 rubles and the Speakers of the Federation Council and the Duma 100,000 rubles each. But we haven't heard anything about anyone else. Perhaps they're waiting for a personalized invitation. Or perhaps they're just being modest and don't want to advertise their charitable gifts.

Russia's billionaires have been even more modest. This in a year when their numbers nearly doubled on the Forbes list (from 32 to 62 men), making Russia third in the world for number of billionaires. But so far not one of those billionaires has given so much as a ruble to the fire victims. One doesn't want to blame anyone, on the contrary one wants to believe that they "are just like other people and sometimes feel compassion in their hearts". But on the sites of Russia's best known charity foundations, created by the country's richest citizens, it's quiet as quiet. Not a word about the fires.

This sort of cold and distant, it's-not-my-problem attitude is characteristic of Russian big business, which, if it engages in charity, does so very selectively and only when it feels like it. Experts who know the situation from the inside say that Russian do-gooders typically live in large cities, have a higher education and earn at least $1,500 a month. They are members of Russia's middle class. It is they who, in their free time, deliver material aid to orphanages and volunteer in cancer wards and nursing homes. They were the first to turn up at the Cathedral of Sergei Radonezh when it was made a collection point for aid for fire victims.

When a fire in the Nizhegorod Region razed an entire village and left dozens dead, the Russian Orthodox Church was the first to announce a substantial relief effort. People seemed to be waiting for a signal. "Every day about 500 people came, and roughly 170 remained as volunteers," said Archimandrite Panteleimon (Shatov). The first week the headquarters worked round-the-clock they were so deluged. First people brought clothes. Then they brought drinking water and canned food. When the scale of the catastrophe became clear, they began bringing fire-fighting equipment: respirators, shovels, gloves, pumps. These were people of all different kinds: from punk youth to office workers, from housewives to millionaires. Many arrived in their own cars so as to help deliver aid to the necessary addresses. In fact, so many wanted to help there wasn't enough work to go round.

The blogger comanche_red wrote recently: "When I arrived at Nikoloyamskaya Street on Saturday morning I naturally asked them to load my car up with whatever so I could drive it to the back of beyond. But it turned out that the avalanche of volunteers overnight had already grabbed everything and delivered it." In the end this blogger did find work: he was sent off to some of the burnt-out areas on a reconnaissance mission.

What's amazing is how well everything was organized. A data base was created to list the specific settlements that had been damaged by the fires. Every day volunteers would set out on their own transportation to find out what kind of help was needed where. The data base is regularly updated with information about the number of victims, where they are, and whom one should get in touch with in order to help. Fire-fighting equipment began to be bought after this information was made public and it became clear that many settlements were lacking the most essential things — protective gloves, shovels, respirators.

The question arises: who else today is capable of organizing people so quickly to bring aid? Government structures? Not likely. No one would bring money and material aid to bureaucrats, they simply wouldn't believe them. Political parties? Even more doubtful. Charity foundations based in the West? They still don't have enough clout in Russia, and are virtually unknown here. That leaves the church. Although even with the church it's not that simple. Many people are put off by the way in which the Russian Orthodox Church is recapturing its positions in a secular state. But here Russia was in the midst of a catastrophe and it turned out that one of the few public institutions that people trust is the church — regardless of their confession. This trust didn't come from out of nowhere. It is the product of work done by the site miloserdie.ru. This site was created a few years ago by the church's charity division, headed by Archimandrite Panteleimon. Those who are interested in charity work know that this Internet address is one of the ones to which one can confidently send money and know that it will get to those who need it.

But this time the aid was not confined to just clothes and money for the fire victims, although the church was able to raise a significant sum — 18,268,000 rubles ($610,000) plus $7,000 — in a matter of days. The fire fighters too needed aid. By the end of July one had the sense that state structures were not entirely on top of the situation. Yet almost all of Russia was burning. Russia is home to nearly a quarter of the world's forests. This summer's fires devastated more than 800,000 hectares. When the flames began to encroach on populated settlements, thousands of volunteers turned out to help douse them. Their stories paint a rather sad picture. One volunteer, Vitaly, put it this way:

"People have nothing to put the fires out with; even a sack of gloves that I happened to take with me was accepted with great joy. The shovels broke one after another and now there's a shortage of them. Shoes melt, many people just run over the smoldering earth, there's nothing else to do… Water hoses are desperately needed. There aren't enough and you have to run with a rucksack on your back deep into the forest where the hoses can't reach. You need an awful lot of water."

Still, in the end they somehow managed to save the village from burning. Of course, volunteers cannot replace the Ministry of Emergency Situations and fire fighters. But it's also clear that in many places, especially in villages and dacha settlements where they didn't have the necessary equipment or enough people, the volunteers made all the difference.

One more important point. Many countries helped fight the fires in Russia. Poland, Italy, Armenia, Ukraine, Azerbaijan, and Belarus all sent fire fighters. It seems to me that that sort of personal aid is far more important than the thousands of dollars raised. It is easy to spend money and forget who sent it. But when your neighbors are battling disaster with you shoulder to shoulder, that you remember for a long time. The money we can raise ourselves.

As of August 16 the sum of funds raised (with the help of the church and the Public Chamber of Russia) totaled 42 million rubles ($1,4 million), $29,000 and 4,000 euros.
---
VIDEO: Volunteers show drive and courage amid fire disaster
All rights reserved by Rossiyskaya Gazeta.