Tough lessons after the fires rage (+multimedia)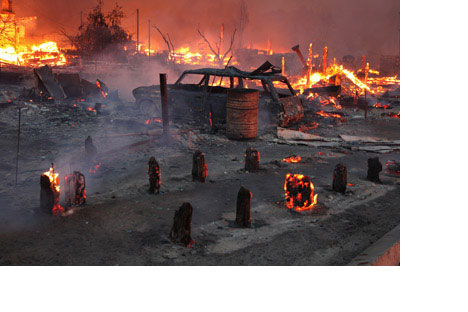 As the wildfires in Russia begin to subside, and with them the choking smog that has enveloped Moscow, Russians are counting the environmental, health and financial costs of an unprecedented heat wave.
They are also assessing the political damage that has burned from the Kremlin to the smallest city hall.

Sustained heat, reaching over 100 (Farenheight) degrees - never before endured in 130 years of record keeping - sparked more than 26,000 wildfires, including scores around Moscow where peat bogs, long ago drained by the Soviets to fuel power plants, caught fire and created the thick smoke that shrouded the capital.

More than 50 people were consumed by the flames, and the usual death rate doubled in Moscow in July, according to the Moscow Registrar's Office.

A correspondent with the newspaper Nezavisimaya Gazeta reported that bodies were stacked vertically in one morgue in the Moscow region because of a lack of space. Ambulance and emergency crews struggled to reach the rising number of bodies in apartments, in a city mostly without air-conditioning in Soviet-constructed residential buildings. Those residents who had not fled West or South often walked through the ghostly air in surgical masks.

"It felt like you were in a horror film and when the smoke clears, everyone will be dead," said Anastasia Shishkova, a Moscow resident and high school student.

The newspaper Izvestia reported a run on air-conditioners that saw their price jump from approximately $400 to $1,600. Central Russia's climate had never before stimulated such a run on air conditioners; tabloids were full of advertisements for them.

Lacking air-conditioning, Muscovites took to their showers to cool off, and as a result daily water consumption in the city jumped from the usual 280,000 cubic meters to 400,000 cubic meters every 24 hours.

A remarkable swell of volunteers aimed to fill in for the lack of a coherent state response. Special relief centers, air-conditioned movie theaters and offices opened their doors to overheated residents and small charities managed to pump out supplies to hard-hit regions. (See "Public Compassion" www.rbth.ru)

About 2 million acres of land and forest have been destroyed, including one third of the country's wheat crop. Thousands of people have been made homeless and some farmers, only recently among the most buoyant entrepreneurs in Russia, have been left on the brink of bankruptcy.

Russia's leaders were slow to respond to the crisis, and when they turned their attention to the unfolding catastrophe they faced a furious public. The internet blazed with anger, and both Prime Minister Putin and President Medvedev quickly changed their public profile.

Putin charged into the action, personally visiting the worst-hit regions, promising generous monetary compensation to victims and doling out time frames to local officials for putting out the fires. The Prime Minister was featured on television taking to the air in a fire-fighting plane and dumping water on a burning fores. He also ordered Communications Minister Igor Shegolev to install cameras at sites where housing was being restored with a direct web link to his office.

The President was compelled to return from vacation in Sochi. Castigating indolent or corrupt local officials, he promised a post-mortem, but as Nikolay Zlobin noted in the state newspaper Rossiyskaya Gazeta, the fires raise fundamental questions about the country's readiness to face non-military crises that threaten the security of Russia's citizens. In short, the fires exposed weaknesses in government structures at all levels in the face of a national emergency.

"When such threats are unexpectedly exacerbated, the state and its citizens become vulnerable and defenseless and the situation threatens to get out of control, to become unmanageable, and to lead to destabilization," he wrote. "That is why lessons must be learned for the future from this difficult summer."

Russia has only 22,000 firefighters compared to 27,000 in Germany, a much smaller country, and there is no tradition, as in the United States, of trained, volunteer fire-fighters.

Villagers were sometimes left to fight the fires with whatever equipment was at hand—shovels and picks to build flimsy breaches.




Fire-fighting equipment had also been allowed to decay, and in blazing forests fire-fighters found that access roads had become overgrown and ponds to replenish their water supply had been filled with debris and sludge.

A 2007 Forestry Law, which was backed by the government, gutted the forest service of 70,000 rangers, the country's first line of defense in the face of fire.

Emergency crews with aid and firefighting equipment airlifted in from Belarus, Italy and a handful of other European countries. Two U.S. military aircraft and a charter flight ordered by California Gov. Arnold Schwarzenegger, all of which landed in Moscow this month, brought water tanks and fire-protective clothing among other equipment to help fight the fires.

"We will always remember this gesture, this arm that was extended towards to us at a very difficult time," said Valery Shuikov, the deputy head of the international department of the Russian emergencies ministry, speaking at the airport.

Russian officials are now talking, not for the first time, of re-flooding the bogs, and bolstering the country's fire-fighting abilities. And Russian scientists, noting the specter of global warming, are warning that this year's long hot summer may be followed by others.

"Anthropogenic risks are growing and we should secure ourselves against them," said Dr. Alexander Ginsburg, a deputy director of the Institute of Physics of the Atmosphere in Moscow. "The climate is getting warmer and the extreme instability is growing along with it."
---
Slide show
Photos by Kommersant, Reuters, RIA Novosti, TASS, Vostock Photo, Legion Media
All rights reserved by Rossiyskaya Gazeta.