Why Russia has burned to a crisp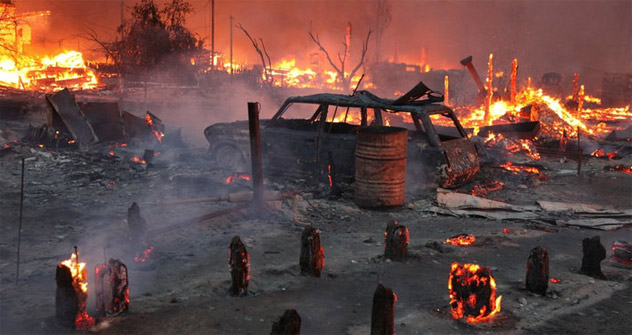 Photo by Mikhail Voskresenskiy, Reuters
Soviet bureaucrats as far back as the 1970's followed by their Russian counterparts, have been laying the groundwork for the Armageddon-like forest fires that affected Russia this summer.
The half-baked forestry reforms made by the government have virtually gutted the very system established to prevent and extinguish forest fires. Even the Ministry of Emergency Situations was ill-prepared for this goliath of a natural disaster. Russky Reporter tried to find out what lessons should be learned from this epic August inferno.

Peat bog curse

Answering a Russky Reporter journalist's question, Ministry for Emergency Situations Head Sergei Shoigu declared flooding the peat bogs as the elixir for freeing Moscow's air from the smoke and smog. This is old news; after enormous peat bog fires in 2002, this very same ministry ordered a land reclamation plan for outside Shatura from Giprotorf, a company that designs construction procedural guidelines. The company designed the plan and passed it on to the Ministry for Emergency Situations and the Shatura region government, where it just went up in smoke, most likely having succumbed to funding constraints. The professional flooding of peat bogs costs up to 30,000 rubles a hectare. The Moscow region has around 260,000 hectares of peat bogs, two-thirds of which went bone dry and eventually burned.

Peat bogs, originally cultivated for fueling power plants, have been problematic ever since the Soviet days. When state district power plants switched to gas, turned the peat bogs into big, spacious fields, says Yevgeny Shvarts, environmental policy director at WWF Russia, an environmental protection organization. Officials wanted not just to ignore them, but to drain them for dachas. Procedures were blatantly violated in drying the peat bogs out.

"Drainage outlines, in addition to installing canals, called for road construction, digging out new water basins, setting up a cut-off and control device, plus much more. The budget included all of this, but in reality either very little or nothing at all was done. The work, however, kept on going, and someone in on the entire process would share information at a Greenpeace forum. So what we have now is a network of dilapidated canals, no water basins for extinguishing the fires and decrepit roads that make reaching them impossible," said Shvarts.

The first major peat bog fires scorched the Moscow Region in 1972; there were major fires again in 2002. This year's fires, however, occurred not just in the Moscow Region, but across much of central Russia. Now the government seems willing to allocate the money needed for flooding the peat bogs, but everything could again hinge on the cost. When Moscow Region Governor Boris Gromov asked Prime Minister Vladimir Putin for five billion rubles to flood the peat bogs, Putin was caught a bit off guard by the price.

Surface fire

By comparison, the situation with the forest fires is completely different. In this case, the Soviet authorities carry no responsibility. The government's complete and utter ineptitude in fighting the forest fires is all thanks to dim-witted reforms to forest management practices in 2004. These reforms abolished the independent federal forestry service and, in its place, established a federal agency subjected to the Ministry of Agriculture. This was all then followed by the passage of a new forestry code.

This new code stripped the agency of its forestry protection responsibilities, which had been enforced by 83,000 forestry employees with state inspector licenses. Today, there are only 680 in-house federal inspectors for the entire country.

Yuri Shuvayev, deputy chairman of the Chamber of Commerce and Industries' Natural Resources and Environment Committee, confirms that after the forest agencies were abolished, fire stations were disbanded, but their equipment spared. Forest lease holders had the responsibility for extinguishing fires dumped on them.

Fifteen to 17 percent of our forests are leased, but when we made them responsible for extinguishing fires, we messed up. It turns out that they aren't fully capable of fighting fires, Shuvayev admits.

Large companies with enough money to have their own firefighters are the only land leasers able to protect the forests well, while everyone else fights fires strictly on paper.

The local authorities are supposed to protect public forest land. Procedure dictates that the Federal Forestry Agency is responsible for the entire budget for fighting forest fires. In doing so, the Agency allocated budget funds between regions, while local authorities hold forest fire extinguishing competitions among companies. The prize money involved, meanwhile, is ridiculously small.

In 2005, Chita Region First Deputy Governor Vladimir Okunev lamented in an interview with the local press, saying: "Moscow earmarked just 18 million rubles for the entire district, which amounts to 300,000 or 400,000 rubles per region. In 2010, Shoigu lists the very same numbers: The fire-fighting budget in the Shatura District of the Moscow Region for 2010 is 300,000 rubles, no matter how you extinguish the fires.

As a result, companies that do anything but impress with their ability to fight forest fires end up winning the competitions. Putin was given an ad-hoc reference sheet listing off what was being used to fight forest fires and was flabbergasted by what he saw: In the Perm District, a local state institution, Baza Aviatsionnoi Okhrany Lesov (Avia Forest Guard Base), was declared the competition's winner, even though it had just two airplanes and 69 personnel. Putin, a bit flummoxed, asked: "Are they able to fight fires with just that?" Don't bet on it. What's apparent, though, is that their budgets are cash-strapped.

Is the Ministry for Emergency Situations to blame?

When the regions aren't able to handle things, the Ministry for Emergency Situations comes roaring in, although that's not really what it is supposed to do in the first place. The Ministry's responsibilities cover cities, settlements and a five kilometer zone around them and industrial complexes. With no one else around to put out the fires, however, the ministry is forced to act.

Their equipment is backwards and their people have no fire-fighting experience. Greenpeace Energy Programme Administrator Vladimir Chuprov, in explaining the Ministry for Emergency Situations inefficiency, says that their hoses are capable of working with the necessary city infrastructure, making pumping water out of lakes out of the question.

What these fires have done is busted the myth that the ministry is this gigantic super agency that can handle any natural disaster. In reality, it has just a few exemplary, highly disciplined units and subdivisions that are able to act efficiently should there be a local emergency or a catastrophe like an earthquake or flood. Shoigu indirectly admits this himself. For example, said that the Ministry was invited in several regions to participate in forest fire-fighting competitions (alongside commercial businesses). The regional ministry divisions, however, turned down the offer.

Shoigu told a correspondent for Russky Reporter that these divisions didn't have the means to protect a community and deal with forest fire prevention at the same time.

What is now going to happen with the system for protecting against forest fires? Shoigu puts forward two possibilities: Leave the current forest protection competition system in place. He says that this is a typical market approach, but the competitions should themselves be more competitive with significant cash prizes. The alternative is to restore centralized forestry administration.

In supporting Shoigu's second proposal, Chuprov says that forest protection, one that should be an independent structure, needs to be restored through a 40 billion ruble budget and at least 20,000 employees.

Equipment and other troubles

The fire-fighting work being done has revealed a lot of problems, with each one have its own level of difficulty. It turns out that the Ministry is able to monitor the forest fires effectively thanks to American satellites that send information onto the Internet.

Russia has two satellites that can send this kind of information, but, as Shvarts explains, this information is not directly available. It takes a day to keep and process it, and only then can it be reviewed. That's why the Ministry for Emergency Situations and the Forestry Ministry's long-distance forest-fire monitoring information system use data from American satellites. Overall, though, this type of information should be made available for free on a special site.

And even if Russians are not to see the fire-blazing sun, the government should still commit to analyzing the flaws in the system that it has been able to identify.

Viktor Dyatlikovich is a political division correspondent for Russky Reporter.
All rights reserved by Rossiyskaya Gazeta.