Mother Teresa: "Life is an adventure"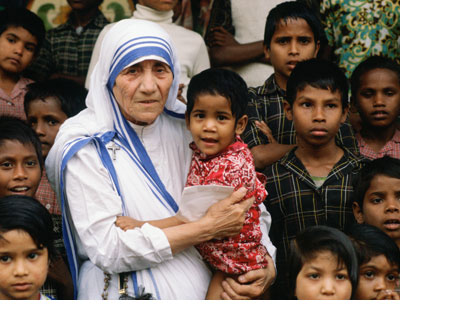 What made her different? How did she manage to do things others never dared? Her biography has little of the glitz and glamour of showbiz celebrities. She was born to an Albanian Catholic family in the city of Skopje, Macedonia, on August 26, 1910. Her real name is Agnes Gonxha Bojaxhiu. A Carmelite nun, she spent more than a decade teaching at a convent school in Calcutta, but then suddenly left the well-structured monastic life to devote herself to charity. She began by taking a woman from the slums into her home. Her body was badly bitten by rats and ants, and she stood little chance of survival. But Mother Teresa did all she could to ease the suffering of the poor Indian woman.

Taking care of the needy became Mother Teresa's mission for the rest of her life, and she pursued that mission in Calcutta, a city where poverty is so rife that it takes courage to just walk down the street.

An important fact of her biography is that she wanted to become an author and a journalist. She went to India to work as a correspondent. She had taken her monastic vows by then, and was going to work on an assignment from Zagreb's Catholic Mission newspaper. She had an obvious literary flair, and she had a message to tell the world.

She was canonized by the Vatican almost immediately after her death - an extremely rare thing for the Holy See, where the beatification and canonization process usually takes years. Her religiosity, however peculiar, does not conflict with the essence of Catholicism. But it does not correspond to some common stereotypes about hermits.

Mother Teresa was full of passion and energy, and she lived her life without fear and achieved the impossible. Most of her patients in Calcutta were Hindu, yet she never tried to convert them to Christianity, telling them instead that they should learn to be better Hindus.
Ill-wishers reported this fact to authorities, adding that they had heard Mother Teresa "allege" the Muslims and the Jews worship the same God as the Christians.

In Mother Teresa's life, there were times when she had serious doubts about the very existence of God (this never made her suspend her humanitarian mission, though). Many of the saints that came before her suffered from the same kind of doubts. But a layman fearful of any deviation from norms and standards may find this fact hard to accept.

The world's religions are constantly changing. Driven people like Mother Teresa either renounce an established doctrine to create their own, or they move their religion forward, trying to breathe new life into it. Mother Teresa's Catholicism is modern, ecumenical, open-minded. And very humane.

Life is an opportunity, benefit from it. Life is beauty, admire it. Life is bliss, taste it. Life is a dream, realize it. Life is a challenge, meet it. Life is a duty, complete it. Life is a game, play it. Life is a promise, fulfill it. Life is sorrow, overcome it. Life is a song, sing it. Life is a struggle, accept it. Life is a tragedy, confront it. Life is an adventure, dare it. Life is luck, make it. Life is too precious, do not destroy it. Life is life, fight for it." - Mother Teresa
All rights reserved by Rossiyskaya Gazeta.