Don't discount the discounters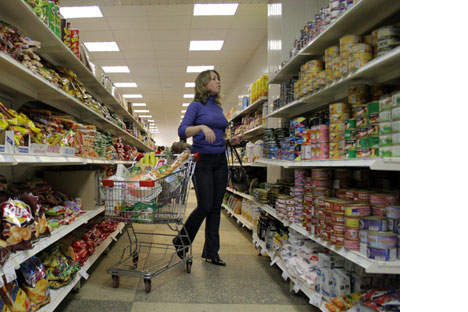 Perekryostok is battling with other retailers over pricesSource: ITAR-TASS
Food retailers are locked in a price war, while also feeling the pinch of state regulation of the prices of "socially important" goods during the crisis.
Food retailers are slashing their prices to survive amid a tougher post-crisis market, as the government steps up its efforts to protect budget consumers by stiffening price controls on a range of basic products.

In the most striking example, the Perekryostok retail chain cut prices by 20pc on a range of 3,500 products, including meat and fish, dairy, vegetables, groceries and baby food.

Leo Khasis, CEO of X5 Retail Group which owns Perekryostok, said: "X5 is working on keeping prices low and preventing inflation in the country, so we seek to keep more people loyal to the chain and outrival other companies."

The government's movement towards price controls began a year ago, when Prime Minister Vladimir Putin broke off a meeting where a trade law was being discussed and visited Perekryostok to hold animpromptu price check.

It was said that Putin was not impressed by the mark-ups and has since being pressuring retailers to curb prices.

Customers' shrinking budgets during the crisis have led to a growth in discounting shops – at the expense of mid-range and elite food stores.

Price-conscious shoppers

"The financial results of two concepts vividly showed the trend on the market and X5's possible strategy," said Viktoria Sokolova, an analyst at Troika Dialog.

"While in [the mid-range store] Perekryostok the number of customers fell by 10pc last year and total sales fell by 6pc, [discounter] Pyatorochka had 9pc more customers and sales rose by 17pc."

A survey on shopper trends carried out by consultancy Nielsen showed that price is still the most important factor for consumers.


TOP RETAILERS' INCOME


"The trend of abandoning expensive purchases and confining oneself to basic products has gripped the Russian market, even now when the crisis is supposed to have gone," said Denis Shirikov, a retail expert at Nielsen.

According to the survey, discounters have shown solid growth during the crisis of up to 8pc.

"Discounters were more popular this year as people tried to avoid buying too much stuff, which is inevitable when you go to [a hypermarket such as] Auchan, for example," said Shirikov.

"Thus Kopeika and Pyatyorochka were more successful."

Pressure on prices

With a law on trade coming into force this year, the government has put more pressure on retail business. Earlier this month a list of "socially important products" was published by a government working group.

The list includes meat, fish, chicken, buckwheat, rice, carrots, cabbage, potato, sugar, salt, tea, bread, flour, eggs, oil and butter, pasta and apples. The government can now cap prices on these products if they rise by 30pc.


The numbers

53
percent of Russians make their day-to-day purchases of food at corner shops, while only 16pc prefer to make a trip to an open-air market

60
new hypermarkets – or sizeable shops that combine food
produce with
department and other goods – were openned in Russia in 2009

3,228
shops are operated nationwide by food retailer Magnit, followed by X5 (1,372 shops, under different names, including Perekyostok) and Kopeika (587)
Analysts say that customers' more careful spending has already reduced the range of products available in stores, and predict the situation could get worse if the government dictates prices to retailers.

"Many retailers have withdrawn lots of expensive products already, because they became less popular with customers during the crisis," said Tatyana Shustova, a partner at Ernst & Young. "The range of products won't get any bigger due to recent government-initiated regulations – no one will sell products at a loss, so they will either vanish from shelves or 'non-social' items like alcohol will soar in price."

But some food retailers have said that they have had no problems with price controls.

"Despite the premium format of our stores, basic products have a minimal price mark-up, since sometimes we are the only supermarket in a neighbourhood and we make up for this with our exclusive products and delicacies," said Andrei Golubyov, a spokesman for top-of-the-range retailer Azbuka Vkusa.

New players

Despite the price controls, there's still potential on the Russian market due to the country's relatively small organised retail sector, said analysts.

"In Europe, there are 14 hypermarkets per 1 million people, while in St Petersburg there are 11 per million and in Moscow just three per million.

"There's still a lot of room to grow here," said retail expert Shirikov.

Apart from the existing players, international retail giants such as Walmart of the US are still looking for a way to enter the Russian market, including possible takeovers of local players.

Last year, the St Petersburg-based chain Lenta was one of the main takeover targets, and recently there has been speculation around the possibility of discounter Kopeika being snapped up.

France's giant Carrefour pulled out of Russia late last year after opening its first two outlets in Moscow and Krasnodar.
All rights reserved by Rossiyskaya Gazeta.