Government gives the green light to going green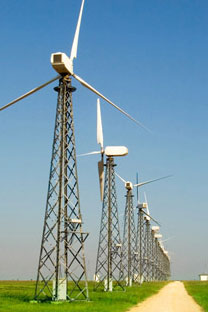 There is little wind power in RussiaSource: Legion media
An economic crisis and an oil spill have shown the Russian government the benefits of green technologies, but tax breaks and other policy incentives await approval.
As BP's share price collapses on the back of environmental disaster in the Gulf of Mexico, Russian companies are learning that going clean could bring in the green.
The country may be a world leader in natural resource deposits, but it also heads the stakes in energy inefficiency.

Russia uses roughly twice the level of energy that China uses, and six times that of the United States, to produce the same value of goods, according to a survey by McKinsey.

Yet if Russia lives up to a promise to invest in energy-cutting technologies, it could save up to € 150bn over the next 20 years, the consultancy claims.

Amid his push to modernise the country's economy, President Dmitry Medvedev has been directing his energy towards reducing such inefficiency.
A landmark law on energy efficiency was passed in November, in which the
government outlined its strategy to encourage energy-saving over the next decade, and setting a goal to slash wastefulness by 40p c by 2020.

Accusations and gas savings

However, ecologists still claim that government and businesses are ignoring their advice in favour of immediate profits.

"We can't speak about sustainable business since eco-friendliness is a 'barrier' for business and not an advantage," said Yevgeny Shvartz, head of nature protection at WWF Russia. "Today even big companies such as Norilsk Nickel are still trying to lobby for anti-environmental interests and postpone introduction of the Euro 4 ecology standard."

Not surprisingly, Russia's energy giants refute such allegations , claiming they're already doing their bit to reduce inefficiency.

M ajor oil producers such as Rosneft, Lukoil and TNK-BP say they're investing hundreds of millions of dollars to meet the government's target of increasing utilisation of flare gas (gas emitted as a by-product of oil drilling) to 95pc by 2012.

Go-ahead for oil majors

However, while the government has given the green light to the oil majors' projects, small-scale sustainable businesses claim little thought is given to them.

Ensat, a Moscow-based
company which produces energy-saving and cleaning technologies, says that understanding among business leaders as to why they should save energy remains rudimentary. "The economic crisis has shown Russian business and government that there is a real necessity to save energy, even in a country selling oil," says founder and owner Sergei Tishkin.

Meanwhile, the government has yet to sort out legislation to support sustainable development by construction companies, even though the rest of the world is focusing on building an eco-friendly future.


The graph shows how much energy is lost between generator and custome


"Green technologies can be more than a PR stunt," suggests Pavel Goncharov, head of the Guild of Managers and Developers, which is organising Russia's first Green Awards International ceremony for real estate firms this year.

"They can also help attract international investors, they work in terms of economy, and can save you money from the very outset of construction."

An office centre on Obvodnoi Canal in St Petersburg became one of the first buildings in Russia to receive an International Leadership in Energy and Environmental Design certificate.

It will save 47p c of the average costs on energy, water and heating, its developers say.

Rail on the right track

Russian Railways have also fast-tracked plans for sustainable development. Vice-president Valentin Gapanovich announced that the state-owned company will build "intelligent" stations in Murmansk, Anapa and Adler, according to RIA Novosti .

The projects – featuring nanotechnologies, sea and solar energy – will be carried out together with innovation companies Rosnano and Renova and will cost about € 50m, which will probably be financed by the European Bank of Reconstruction and Development.

Electric cars

Meanwhile, billionaire Mikhail Prokhorov is trying to take Russia's car industry on a ride to the future. The oligarch recently announced plans to invest € 100m in electric cars at a new factory in St Petersburg.

The hybrid car will be produced by Yarovit motors, and an online competition for the best name has been launched. The winner will get the first € 8,800 car free when mass production starts in 2012.

But the tycoon faces competition from other local producers who have clubbed together to jump-start the race for the first competitive eco-car.

In July automakers Sollers, UAZ, SsangYong and Fiat along with Kompomash, a producer of space and aviation machinery, unveiled Russia's first electric vehicle, the Ecobus.

Even the much-maligned Avtovaz – builder of the Lada – is getting into the business of green, after Renault (a 25pc shareholder) announced it intends to invest in electric car production in Russia.

Meanwhile, new legislation that will come into force next year, will make manufacturers label the energy performance of household appliances.
At the same time, new buildings will have to have meters installed for utilities, including gas, electricity, heating and water.
All rights reserved by Rossiyskaya Gazeta.