Turkmen gas for Pakistan and India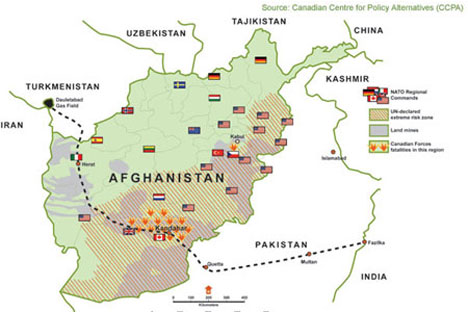 The 1,680 km long pipeline is expected to come online in 2015 and pump 33 billion cubic metres of natural gas a year. Experts voiced concerns, however, as the pipeline will be snaked through a troubled region on the border between Afghanistan and Pakistan.
The agreement was signed on Monday in Kabul at a Turkmen-Afghan intergovernmental commission meeting. The document was signed by Bairamgeldy Nedirov, Turkmenistan's Oil and Gas Industry and Mineral Resources minister, and Vahidulla Shahrani, minister for Mines and Mining of Afghanistan. This is the first concrete document in the project's 15-year history. The new pipeline, stretching 1,680 km, will link the Dovletabad gas field in Turkmenistan with the Fazilka settlement on the Indian-Pakistani border, running across Afghanistan. The pipeline, at intake, will have 33 billion cubic metres of capacity a year, and at exit in India, 17-18. If all goes as planned and construction begins this year, TAPI will become operational in 2015. Turkmen officials plan to visit Islamabad and Delhi over the next few weeks to sign similar agreements there.

Talks on the gas pipeline's route from Central Asia to India's growing natural gas market began back in 1995. There was little progress, however, until 2005, when the Asian Development Bank gave a grant to finance a feasibility and economic study for the project. All four partners signed a framework agreement in 2008 that confirmed their readiness to take part in TAPI. It was not until 2010, however, that real work began, with Turkmenistan playing a key role. On 13 August, Turkmen President Kurbanguly Berdymukhamedov told his ministers to sign all the necessary agreements before the end of the year. In a telephone conversation with Afghan President Hamid Karzai, they agreed to discuss TAPI behind the scenes at the UN General Assembly meeting in September.

Meanwhile, experts are sceptical. Mikhail Krutikhin, a partner of RusEnergy, a Russian oil and gas industry analytical company, says that political risks are too high, since the proposed route runs through Kandahar, the troubled Pakistan province partly controlled by Taliban fighters, and crosses into an unstable, Pashtun-controlled area of the country. Moreover, relations between Delhi and Islamabad remain strained. "There were a few times when it seemed the project would get off the ground, but every time serious investors, first and foremost Americans, withdrew because of the significant political risks involved. Even now things haven't improved one bit," Mr Krutikhin said. He sees political motives behind the TAPI project's recent revival. "By getting this project in gear, the participants want to urge the United States to step up its efforts to restore order in Afghanistan," he said.

Scepticism regarding whether there are sufficient resources is still another murky cloud looming over TAPI. In 2004, DeGolyer & MacNaughton, an American petroleum consulting firm, audited Turkmenistan's natural gas reserves, including those in Dovletabad. The report has never been published, yet the company's representatives and Turkmen officials have stated repeatedly that the reserves would suffice for exports to various markets. Dovletabad, until recently, remained the largest resource base for Turkmen natural gas exports to Russia. A long-term Russian-Turkmen agreement signed in 2003 provisioned for 2010 exports of 80-90 billion cubic metres. The contract, however, was amended following a gas conflict in December 2009, therefore limiting Russia to purchasing just 10 billion cubic metres of Turkmen natural gas in 2010. Accordingly, if Gazprom does not buy more natural gas over the next few years – which the Russian monopoly seems reluctant to do with there being unstable demand in Europe – Turkmenistan could just as well sell its gas to China and Iran, using the recently built pipelines, while India's hopes for buying Turkmen natural gas don't seem out of the question either.
All rights reserved by Rossiyskaya Gazeta.