Wildfires kill two in Volgograd region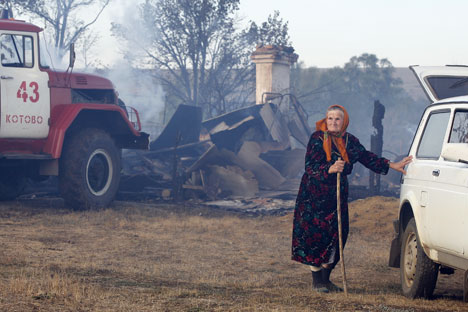 Lapshinskoye village after the firesSource: Dmitry Rogulin, ITAR-TASS
Less than a week after Russia's top emergencies official declared victory over the wildfires that raged through the summer, fires in the Volgograd Region killed two people and destroyed more than 450 buildings.
"One man was killed in the Danilovskoye district, in the Kotovsky district a woman died and 13 people were hospitalized. Most are in stable condition, but one of the woman has second-degree burns. Another person was injured in the Kamyshinsky district," a regional official told RIA Novosti on Thursday.

Some of the fires were started by sparks when gusting winds brought down power lines, while the Emergency Situations Ministry said careless use of fires and smoldering garbage dumps had exacerbated the dangers created by temperatures of up to 40 Celsius (104 Fahrenheit).

The combination of the high winds and unseasonably high temperatures meant more than 30 fires were recorded in nine different districts of the Volgograd Region. At least 450 buildings were destroyed, including 328 houses, and at least 20 settlements with a population of about 50,000 people are under threat. A further 14 houses and eight other buildings were destroyed in the neighboring Saratov Region.

Eyewitnesses said the village of Alexandrovka in Volgograd Region's Zhirinosky district was almost totally destroyed.

"Almost the whole village was burned. It was hell. It has still not all been extinguished," one witness said.

President Dmitry Medvedev ordered that measures be stepped up in order to contain the new outbreak of fires and help the victims, the Kremlin press service said.

Experts fear that the strong winds and high temperatures could cause the new fires to spread to other regions, including Astrakhan Region and the republics of Tatarstan, Bashkortostan and Kalmykia, an emergencies spokesperson said.
The fires that ravaged the European part of Russia a month ago burned down 2,000 houses, leaving 3,500 people homeless. More than 50 people died, most in the early days of the crisis.

The government's response to the summer's wildfires was widely criticized and the damage wreaked by the new blazes, coming just days after Emergency Situations Minister Sergei Shoigu declared the fires defeated, could provoke further criticism.

"We defeated the peat fires, we defeated the forest fires, we saved 4,500 thousand settlements," Shoigu said in a television interview broadcast on Sunday.
All rights reserved by Rossiyskaya Gazeta.