GLONASS to give GPS run for money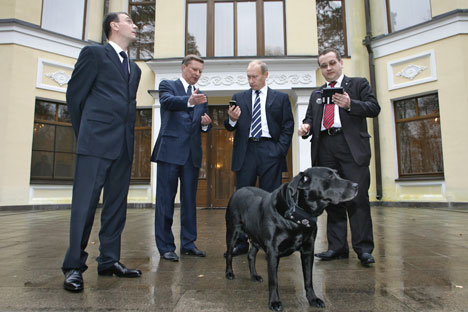 Russia is set to beat Europe and China by making GlONASS, an alternative to GPS, operational by end of the year. India is enthusiastic about embracing the new system
The wildfires that ravaged Russia this summer had an unintended fall-out: it ignited a new urgency about speeding up the decades-old GLONASS satellite navigation system, Russia's answer to American GPS. Relief services had a real tough time as it was impossible to keep track of emergency situations in so many different places at the same time. Russian Prime Minister Vladimir Putin quickly seized the challenge to accelerate the development of GLONASS, which will help, among other things, to create a single navigation system of control and response to emergency situations.
"GLONASS civil navigation signals will be provided to customers at no cost and without restrictions," Putin announced at a conference in Ryazan Aug 11. "Before the end of the year we plan to launch another six satellites. No fewer than 24 to 28 systems will be permanently in orbit." Three weeks later Russia put three more GLONASS satellites into orbit. If all goes well, the GLONASS navigation satellite system will be fully operational by the year-end. India, an early backer of the project, will be able to use the free signal even for military purposes.

The GLONASS's big advantage is that it can receive signals simultaneously from both its own satellites and from those of the American GPS. This guarantees a non-stop signal and libearates the user from dependency on a monopolistic provider for navigational services. Using GLONASS, Russia has recently launched two major projects: the introduction of a single telephone number (112) for all rescue services, medical services and the police in emergency situations; and the creation of an emergency response system in case of car accidents (ERA-GLONASS), which should be fully developed throughout Russia by 2014. Starting in 2012 all new cars sold in Russia may be equipped with this system.

To popularize the GLONASS system and to ensure what Putin has called "navigation satellite sovereignty," the government is considering a 25% import duty on consumer navigation devices that do not use GLONASS chipsets.

Russia plans to promote GLONASS globally, especially in India, the Middle East and Latin America.

India's interest in using GLONASS technology and in its joint commercialization was confirmed at Space Expo-2010 recently held in Bangalore. Vladimir Finov, Program Director for India-GLONASS (JSC Navigation-Information Systems) says Russia will begin work soon on a joint project with NIC and the Indian Space Research Organization (ISRO). It will implement projects on controlling and managing transportation with the use of GLONASS technologies. "India's transportation and railway ministries have shown great interest in our GLONASS-based products," said Finov. "So have the police."

The Indian market for directional systems based on the use of the GLONASS and GPS signal is estimated at $200 million over the next five to ten years. NIC has already found several partners, including Hyderabad-based HBL Power Systems Ltd , to promote and produce different satellite systems in India. "We believe GLONASS will offer better features that will be superior to the GPS. The system will operate on GPS and GLONASS," said the company's chairman Aluru Jagadish Prasad. The use of GLONASS/GPS dual-system receivers will, he says, provide uninterrupted service should the Americans decide for some reason to jam their GPS signal in a given region. Prasad's company is taking part in a tender to set up a comprehensive program for monitoring transportation from space using GLONASS/GPS for the municipal authorities in Delhi which have set over $40 million for this purpose.

The GLONASS operator in India is expected to be a joint venture between NIC and the state corporation Antrix. (Antrix is in charge of commercializing the services of ISRO.) This joint enterprise will develop the infrastructure and allocation of navigation services in India; it will organize the joint production of telematic terminals and personal navigation equipment on the GLONASS/GPS base in India for non-military users, including the production, sale and post-sale servicing of equipment and software.
All rights reserved by Rossiyskaya Gazeta.