Blinded by love? Wake up to marriage contracts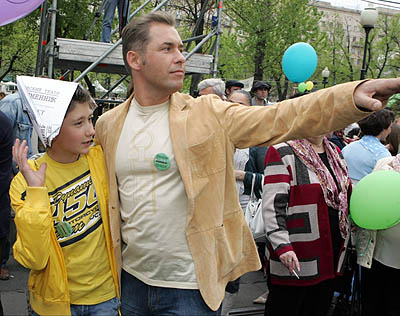 Mekhail Fomichov, RIA Novosti
Call it sentimentality or the afterglow of love. Despite 58 per cent divorce rate, most Russians are loath to ink a prenuptial contract that lays down conditions for splitting property in case they go in for divorce. In a country where marriages still have an aura of sacredness, the idea of bargaining over the affairs of the heart even before a marriage has begun sounds like a bad omen. Official data reveal that of nearly 1.2 million Russian couples who registered marriages in 2009, only about 25,000 — or about 2 percent — sealed marriage contracts.
The 28-year-old Yekaterina, a Moscow-based marketing expert, only signed a marriage contract with her husband after they decided to divorce and needed to split their apartment. Luckily, it ended amicably, with her husband deciding to leave her with the apartment, says she.
"Russians believe that love and a marriage contract are incompatible," says Alexander Tesler, a Moscow-based psychotherapist. Agrees Kirill Podyachev, a researcher: "A prenuptial agreement treats the wife and husband as equal parties, which is unacceptable for Russia's traditional patriarchal view of the family."
The country's legal system only introduced a prenuptial agreement — or marriage contract, as it is known in Russia — in 1996, says Alexander Latseiko, a spokesman for the Federal Notary Chamber. In the Soviet era, there was little need for this as most people had very little property to contest in a divorce, he added.
But this attitude is slowly changing, especially with a growing number of affluent Russians. In the last five years, the number of new marriage contracts hasquadrupled from about 5,000 in 2005 to 25,000 in 2009. "Marriage contracts are the evidence of the country's prosperity," says Tesler.
Legislation on the contracts, however, remains imperfect, as it only covers property rights, opines Olesya Yermolenko, a lawyer at the Moscow firm Annexus. Her law firm drafts marriage contracts — which can be signed after the wedding as well — for two or three couples a week. The business picks up in the nuptial season - March, April, August and September.
The idea is gradually taking hold, says a 2008 survey. Of the 1,000 urbanites polled in Moscow, St. Petersburg, Yekaterinburg and Novosibirsk, 59 percent approved of splitting property in a marriage contract.
Headline news about celebrity couples wrestling over property, too, have influenced the trend. Billionaire Dmitry Rybolovlev's fortune in fertilizers is set to shrink with his divorcing wife demanding a hefty share. Two years ago, Moscow tabloids had a field day reporting the divorce of Viktor Baturin, a prominent businessman and brother-in-law of Mayor Yury Luzhkov, from his wife, pop producer Yana Rudkovskaya.
All rights reserved by Rossiyskaya Gazeta.