Russia returns to pre-crisis employment levels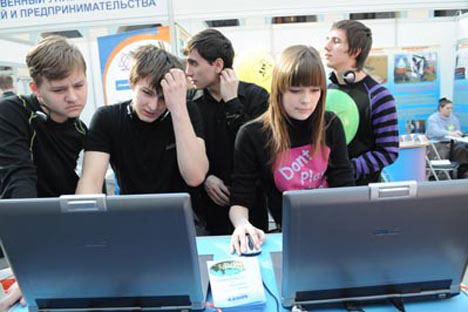 Unemployment amongst the young is still highRIA Novosti
According to official statistics, Russia's unemployment rates have returned to pre-crisis levels, prompting hope that the economic recovery is robust. In June, the number of unemployed people fell 347,000 from May, meaning 5.2m of the worforce – or 6.8% - are looking for a job, the Federal State Statistics Service reported in early August. June's figure is the lowest seen since November 2008. Unemployment amongst the young however remains high, with 16% of 15 to 24- year-olds jobless.

Unemployment peaked in February 2009, reaching 7.5 million, and has been stubborn since; it was still stuck at 9.2% in January. This reflected widespread layoffs during the crisis. White collar jobs were hit the hardest, whilst amongst other industries, the construction sector suffered the most.

However, the summer has seen significant improvement. "The number of vacancies throughout the entire country is approaching 2008 levels, and this trend is particularly strong in Moscow and other large cities," says Alla Seryogina, who heads the employment section at one of Russia's largest internet portals: mail.ru. "The number of manual labour positions has increased significantly this year, up 18-23 per cent from 2009, as well as jobs in manufacturing."

However, the rise in the number of jobs doesn't mean that the economy is now back competing at the same level as it was in the first half of 2008. During the boom before the crisis, salaries spiraled ever higher as companies desperately searched for skilled employees to drive their rapid expansion plans.

On average, wages remain 15% or so below 2008 levels, although there are exceptions: salaries in construction, banking and education having risen by as much as 7%. However, "it's too early to speak of wage rises as a trend," admits Seryogina.

New jobs and rising salaries meanwhile face an extra challenge in the limited access many debt-laden companies have to financing. With this in mind, many expect to see businesses pay far greater attention to productivity issues. Due to this, Alexander Osin, chief economist at Finnam Management says he doesn't expect to see "any significant changes on the labour market" in the short term.
All rights reserved by Rossiyskaya Gazeta.