Indian kids star in a "nuclear" play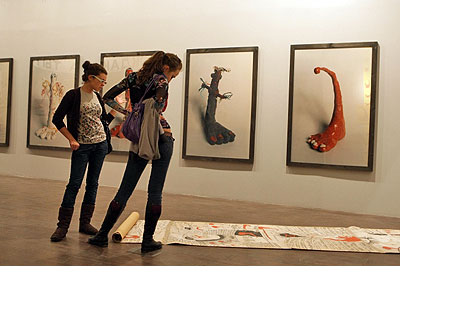 Sivagurunathan Sivaprakash, Rameshkumar Krithinkumar,Ragupathy Jothisree, Giridharan Rajagowri fromKudankulam visited Russia. ROSATOM
Four talented Indian teens from Kudankulam visited Russia as part of the NucKids international children's project. It turned out to be a rare feast of fun, learning and friendship.
The Earth cools down quickly, nearing eternal cold, and plunges into utter darkness. The coldest place is Megacity, decked up with seductive malls and garish advertising. But there is no trace of warmth and friendship in this icy materialist paradise. Only the children can save the world by being kind and helpful, unlike their egotistical parents. But can they do it?

Check out Come and See, a scintillating musical performed by talented children of nuclear workers from Russia, Ukraine, Bulgaria and India. When they staged the musical in Moscow and Kiev this month, the impact was electrifying. The innocent children, with their wonderful voices, literally fired up the audiences with their enthusiasm and energy. The applause was deafening.

And believe it or not, they managed to create this enchanting spectacle in barely 35 days! Cutting across countries and continents, a team of nuclear kids and experienced artists wrote the script and songs, staged the dances and finessed the musical, which ties youth problems to those faced by nuclear cities.

For four children from Kudankulam - Giridharan Rajagowri, Ragupathy Jothisree, Rameshkumar Krithinkumar and Sivagurunathan Sivaprakash – it was an experience of a lifetime. Russia is building two atomic reactors for India in Kudankulam.

They, along with 62 other children, got to sample the delights of Moscow and were treated to a visit to a dolphinarium. Like children in any summer camp, they also enjoyed discos and movies. Their charm infected even Russian pop stars who came to interact with them. One of them, Lolita, even selected several songs from the musical for her new album.

This was the second time Russia's Federal Atomic Energy Agency (Rosatom) brought together the most talented children of atomic industry employees from different countries in a creative children's camp to promote friendship and to popularize ideas linked to nuclear energy among the younger generation. The participants in the NucKids project are now better informed than many adults about Russia's atomic facilities and what wonderful people live there. Just like them, in so many ways.


All rights reserved by Rossiyskaya Gazeta.